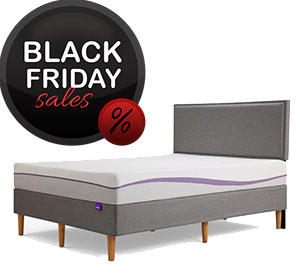 If you have been long dreaming about a professional-level mattress, it's a perfect time for a purchase. Welcome to our Purple Black Friday Mattress review! Here, we chose one of America's best manufacturers and thoroughly examined its top products that will be available at sales this autumn.
How much can we save? What is your perfect model? How not lose the best Black Friday deals? Let's answer all these questions together!
When Is Black Friday 2021?
It's officially announced that Black Friday 2021 will start on the 26th of November. The date has been stated in August, but customers still have lots of time to get ready for one of the craziest discount seasons of the year.
We decided to focus on mattress deals in our block of reviews since these products often seem too expensive for everyday purchase. However, Black Friday deals give us a chance of getting a top mattress model with a huge off.
About Purple Black Friday

And this time, we'd like to talk about a well-known Purple company. This is a popular American manufacturer occupied in the development of the so-called comfort technologies. Since 2015, the brand has presented a wide set of products for comfortable rest, including pillows, sheets, bed protectors, and even pet beds. But, of course, its primary focus of interest is mattresses.
We can also call Purple a unique company launching exclusive mattresses. Purple invented and patented a Smart Comfort Grid foam layer that perfectly retains motions, ensures excellent air-conditioning and pressure relief.
The Best Purple Models and Discounts
At the moment, customers can choose between two Purple series – Purple all-foam and Purple Premier spring mattresses.
The first option is the earliest and most popular brand's product. As we've mentioned above, the model consists of foam layers only that vary in density, firmness, and aims. All in all, we have three layers:
Purple brand Smart Comfort Grid;
Plush comfort foam;
Support foam;
While the support layer ensures a rigid base for your body, the first two layers serve for body enveloping, even weight distribution without much stress on some points (hips, shoulders, neck), as well as temperature control during the night. All materials are hidden in a knitted cover on the top.
attention
Please pay attention that the model is available in one firmness option only.
This is a medium-firm mattress, which is considered to be the most commonly welcomed firmness for most sleepers. However, we can pick up any size as Purple produces this model in all six sizes, from Twin to California King.
Last year, customers saved about $200 on each Purple, so Black Friday 2020 offers didn't surpass a 15%-20% off plank. The official website now offers Purple mattresses for $700-$1700 (depending on the size). If purchasing from the site, you can get a 10% off on any model. That's why we assume discounts to reach at least the same 20% level closer to November. So, look for $200 off on standard models and up to $400 off on the largest Purple mattresses.
Purple Hybrid model took all the best characteristics from the previous generation, like Purple Smart Comfort Grid and support base foam. By the way, Hybrid is also available as Hybrid Premier modification where you can choose the Grid height – 3" or 4". However, here engineers added a new layer of coils.
The Grid focuses on optimal temperature and hips and shoulders pressure relief, which are the most stressful zones for sleepers (especially side sleepers). A set of layers also ensure the mattress is hypoallergenic and collects minimum dust and bacteria. That's why the product suits allergic people and kids.
Coils add evener body support during the night. That's why we consider it as a mattress with a semi-therapeutic effect. Pick up the product if you're a heavy sleeper or suffer back pains. Partners will also like the model as it greatly isolates motions. Besides, coils mean longer service life for a mattress.
Purple Hybrid mattress with foams and coils provides a more firm sleeping experience, so it's a medium-firm model. All six mattress sizes are available.
You'll have to pay from $1500 to $2330 for the Hybrid product, which makes it a pretty expensive purchase. However, we hope for generous Purple Black Friday deals. At the moment, there is also a 10% discount on the mattress on the official site. But Purple is expected to launch 25%-30% off in November, so we'll be able to save about $400 on each model.
How to Find the Best Black Friday Mattress Deals 2021?
Though it seems like you can get lost in such a diversity of brands, models, and deals, there are several simple steps that will help you find the best Black Friday Mattress offers this November:

follow our information updates and read our new reviews;
select several brands and models you'd like to have this autumn and log in on their official websites;
subscribe to Amazon information mailing;
enter Amazon Prime program with its free trial period.
Thus, you will have the latest information, receive discount codes and coupons, be the first to learn about new deals, and get exclusive and limited offers.

Our team will continue monitoring the changes of the Black Friday 2021 deals and provide you with up-to-date information. So, stay with us to learn about the best mattress Black Friday discounts.