Casper vs. Nectar vs. Purple Mattress Comparison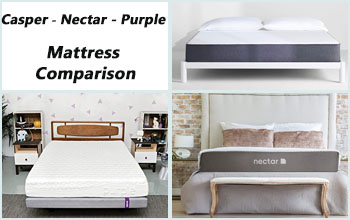 What is the best mattress in the Casper vs. Nectar vs. Purple mattress debate? That's what we want to discover today in this mattress review.
Casper Sleep Memory Foam 10 Inch Mattress, Nectar Gel Memory Foam 11 Inch Mattress, and Purple Hyper-Elastic Polymer 9.5 Inch Mattress are all from new mattress brands that have barely lasted five years on the market.
Today, they feature among the best mattresses ever courtesy of their cutting edge innovation and scientific approach to sleeping.
While these models, plus many others offer buyers variety, they often leave most confused on which mattress to go for. Each one has its advantages and room for improvement as well.
In this review, we have sampled the most popular mattress model from each brand and put the three of them to a contest. If you were stuck on which one to go for, this review will help you make a better purchase decision.

Model

Materials

Cover

Firmness

Support

Height

Trial Period

Warranty

CertiPUR-US Certified

Check
Price

Casper

Memory foam




Luxurious cotton blend covers

6/10

Zoned

10"

100-day nights

10-Year

Check Price

Nectar

Memory and poly foams

Tencel and cotton quilted with memory materials

6-6.5/10

Great

11"

365 nights

10-Year

Check Price

Purple

Hyper-Elastic Polymer™ and poly foams

Viscose, polyester, and Lycra

6/10

Exceptional

9.5"

100-day nights

10-Year

Check Price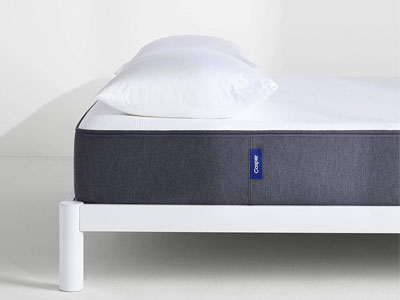 This is the flagship mattress from Casper, and since its release, it has continued to win the hearts of many sleepers.
As a queen size mattress, it is ideal for couples, and unlike what you've heard before about Casper, this particular model isn't that expensive as the new Casper mattresses.
It has a 4-layer memory foam construction for support and comfort. Back, stomach and side sleepers will benefit from this mattress. The open-cell hypoallergenic latex layer aids breathability and dissipation of heat.
The material is also resistant to dust mite and dander making Casper Sleep great of allergy sufferers as well.
It tags along with a 10-year warranty and a 100-day nights trial.
Being one of the best mattress brands, Casper Sleep should be a priority on your wishlist.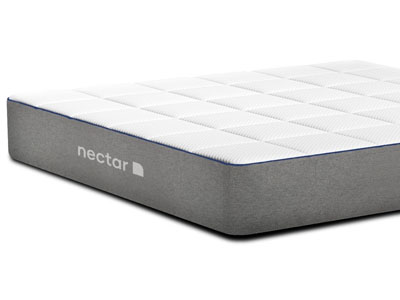 The catch with this mattress is the affordable price and a bonus of 2 premium pillows worth $150 at no extra cost.
As a queen size mattress, it is the right choice for The mattress also tags along with the most extended sleep trial in the market so far; 180 days when you buy via Amazon.
Regarding the construction, this is a gel memory foam mattress that is comfortable and sleeps cool.
As a queen size mattress, it is the right choice for couples and will benefit side sleepers as it is not too firm and provides just the right sinkage and relief to all the pressure points.
The Nectar Gel Memory Foam Mattress works with all types of bends including the traditional frames, box springs, and adjustable bases among others.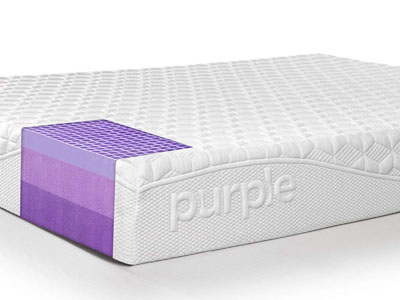 The Purple Original mattress boasts an entirely new honeycomb/grid design and an avant-garde hyper-elastic polymer layer.
It offers excellent comfort characterized by a bouncy feel and responsiveness.
As a Twin XL bed, Purple is best for the tall sleepers and will also be an excellent purchase for couples with an active sleeping pattern and those who sleep hot.
The grid design significantly reduces motion isolation and consequently, disturbance, when turning or moving out of the bed.
The mattress is also antimicrobial making it suitable for allergy sufferers and also has a unique airflow technology that hastens heat dissipation and shortens off-gassing.
Casper vs. Nectar vs. Purple: Who's the winner?
Now that we have a few facts about the three mattress, it's time we put them to a contest.
To help you get the most out of this review, we are going to compare them based on the important factors considered when buying mattresses.
Comfort Layers
The most important consideration when buying a mattress is the comfort it provides.
A good mattress should be able to relieve pressure points and contour around your body spectrum. As far as pressure relief is concerned, comfort layers come to mind, and the general thumb's rule is; the more the comfort layers, the more comfortable you get.
Here's how the three brands compare.
Nectar
The top layer of this mattress has a 1-inch quilted gel-infused foam and an inch 0f 4 lb/ft gel-infused memory foam.
The two layers provide the best responsiveness, support, and body contouring.
It is reinforced with a 3-inch with 3.5 lb/ft gel-infused memory foam just before the support layer.
Casper
The comfort layer of the Casper Sleep Memory Foam 10 Inch Mattress mattress has a foam similar to latex, but it is not original latex.
It offers a slight bounce and responds to pressure instantly.
Beneath it is another 1.5″ memory foam (3.5 lb/ft density) memory foam layer for body contouring.
Purple
The top comfort layer of Purple Original mattress has a 2-inch high-density polymer molded in a grid pattern.
In addition, there is 3.25 inches of 1.8 lb/ft density foam just before the support layer.
Winner: Nectar Gel Memory Foam 11 Inch Mattress is our choice here because of the gel-infused foam which offers a soft and responsive feel. But that is not to say Casper and Purple are not comfortable; the two mattresses are great as well only that Nectar is comfortable and affordable.
Support Layers
Besides comfort, support is also another crucial aspect of good sleep.
An ideal mattress should also have good support to make sure that the entire spinal column stays aligned all night.
The three mattresses are memory foam mattresses and have foam as the support layer.
But is the support the same? Absolutely not because different materials have been integrated, at different thicknesses.
Casper
This mattress has a 1.5-inch 2.5 lb/ft density foam, and 5-inch 1.8 lb/ft density foam as the support layers.
Nectar
Here we have 6-inch support with a 2.2 lb/ft foam. It is very firm and actually feels hard for light sleepers.
Purple
The Original series has only one support layer; 4-inches of 2 lb/ft density foam.
Winner: Nectar Gel Memory Foam 11 Inch Mattress is our choice for the best mattress with sturdy support. The thick 6-inch 2.2 lb/ft foam is everything you could want. Purple's 4-inch 2.2 lb/ft foam support is also impressive but definitely not better than Nectar because of the thickness.
Edge support
The mattresses edges should be very solid to support the entire body pressure exerted on a small area.
This is important for couples because you are sleeping on one side of the mattress only. Lack of proper edge support will make the mattress collapse on the edges when a little pressure is exerted. This is not only uncomfortable but unsafe as well for babies.
Let us review the edge support for the three mattresses.
Nectar
This mattress has quite an excellent edge support, and even though there is a roll-off feeling on the edges, the collapsed section is not so deep because the comfort layer is not so thick. Sitting on one area collapses the comfort layer. The overall feel is better edge support because the support layer is near the surface.
Purple
This on is not so different from Nectar. It also has a roll-off sensation when you sleep on the very edge. It is the comfort layers that collapse here and good enough, the hard support layer is not very far. When the mattress is new, the edge support is firm.
Casper
This mattress comes with what looks like firm edges but they when a little pressure is exerted. I would say that Casper's edges collapse almost the entire comfort layer but becomes firm when you reach the support layer if you sit on a specific area. But sleeping on the edge is different as the weight is distributed across. The mattress feels stiff and sturdy enough so unless it crunches a few years, expect steady edge support.
Winner: It is hard to call a winner here because all the three mattresses have just the same edge support. As you all know, memory foam mattresses don't provide the best edge support. If you want a mattress with firm edge support, look for a hybrid model from any of the three brands.
Firmness
There are so many ways that the firmness of a mattress can be described, but in simple terms, it's how hard or soft a mattress feels.
A good mattress should neither be soft nor hard. A soft mattress has a deep sinkage while a hard mattress will make you feel like you're sleeping on a stone. We always advise that you buy a medium-firm mattress and on a scale of 1-10, this mattress should be between 5 and 7.
So, what firmness levels do these three mattresses offer?
Nectar
This mattress is not too hard or too soft and is the perfect definition of a medium-firm mattress. Nectar mattress has one firmness level rated between 5.5 and 7.5 by the company, but in practice, we put it at 6. The mattress layers are hard enough to keep your weight afloat and the spine aligned, and at the same time, it is soft to relieve pressure
Purple
This mattress also has a medium-firm firmness score, but this time, we ranked it 6.5 meaning it's a little bit firmer. The polymer grid collapses by a definite measure regardless of your weight. It is an excellent option for heavy sleepers but for the light guys; they may not have the required pressure to collapse the grids, and that will make Purple a little bit hard.
Casper
This mattress has a much similar feel to what Purple offers. Here again, heavy sleepers (230 lbs.) will feel the mattress is just fine, with the right sinkage. However, light sleepers below 150lbs. find the mattress a little bit hard. This was in tandem with the 6.5 score we gave it on a firmness scale of 10. But this is when it was new. After a few months of use, when the body gets fully used to it, Casper becomes more comfortable.
Winner: We wouldn't say that there is the best mattress as far as firmness is concerned. This is because the sleeper's weight determines the right firmness and also, the pressure points of individuals vary. For light sleepers below 150 lbs. we recommend the Nectar Gel Memory Foam 11 Inch Mattress because it is softer than Casper and Purple. However, for heavier sleepers, say 170 lbs. and above, Casper and Purple's firmness will be ideal.
Temperature neutrality
This is all about the ability of a mattress to maintain a cool sleeping surface despite the heat your body releases.
The material and construction greatly determine the temperature neutrality of mattresses.
Casper, Nectar, and Purple each have different materials and layers, and consequently, the temperature neutrality varies.
So, which is the best mattress for hot sleepers?
Nectar
The Nectar mattress comes with a layer of gel infused open cell foam. The advantage of gel is that it dissipates heat faster. On the other hand, the open cell structure makes sure the mattress can efficiently circulate air and consequently fasten heat dissipation. On the top, the Tencel cover circulates air and wicks out heat.
Casper
This mattress also uses open cell foam that greatly enhances air circulation. The proprietary latex dissipates heat but not as efficiently as gel foam. The thin cover, on the other hand, is perforated to allow for efficient air circulation.
Purple
This mattress doesn't sleep hot at all, and we understand that this is largely because of the polymer grid structure that leaves air pockets where heat dissipates. Above all, this is a gel layer which is known to dissipate heat faster than other foams. There is also a thin, breathable cover that ensures air circulates in and out of the mattress freely.
Winner – The battle here is between Nectar vs. Purple. The air pockets in Purple mattress are the best heat dissipators. However, the gel-infused foam on the Nectar Gel Memory Foam 11 Inch Mattress balances the equation. Both mattresses sleep cool and are ideal for those who sleep hot.
Off-gassing
Memory foam mattresses are synonymous with off-gassing, and this refers to the foul odor released when the mattress is expanding. Sleepers with allergies really need to consider this when buying a mattress.
So, which of the three brands has the most off-gassing?
Casper
There is no much off-gassing with the Casper original, but the new Casper Wave will leave a strong bad odor even after days. As long as you leave the mattress in a well-ventilated room for 48 hours, there will be very little off-gassing after that.
Nectar
Also this mattress is good for allergy sufferers as it doesn't release any bad odor past two days. Just make sure it is in a ventilated room, and that's it.
Purple
This mattress leaves a foul smell long after the 48 hours promised. You need to be patient with this mattress for the odor to fade away. But that is not to say that the materials are substandard; Purple mattresses are CertiPUR-US certified.
Winner – Definitely the tag of war is between Casper Original Memory Foam Mattress vs. Nectar Gel Memory Foam Mattress because Purple is notorious for off-gassing. Between the two, Nectar is the best as the foul odor starts to fade in 24 hours and will clear in a shorter time than it takes Casper.
Motion isolation
This refers to the disturbance on the mattress surfaces created when intense pressure is applied to one part of the mattress.
Active sleepers need to consider mattresses with reduced motion isolation to minimize the chances of waking up your partner, or even yourself when you move around the bed.
So, which is the best mattress for active sleepers?
Nectar
When turning on the Nectar mattress, there is minimal noise and ripples on the mattress surface. Your spouse or sleeping partner will hardly feel the disturbance.
Casper
This mattress brand is also known for reduced motion isolation. The foam material absorbs energy and will hardly create disturbance in the middle of the night.
Purple
The grid pattern collapse in accordance with the weight emulating an innerspring mattress or hybrid. You can hardly feel any disturbance on the side when someone sits or sleeps on the other side of the mattress.
Winner: All three mattresses are suitable for couples as they have reduced motion isolation. However, it is Purple that is the best because of the proprietary polymer grid pattern. It works in the same way as a coil mattress in evenly transferring energy across the mattress surface.
Shopping and delivery
There are mattress brands that are available in offline stores and online stores, but some are exclusively sold online.
Another thing you need to know is that brands have different delivery terms.
Make sure the mattress can be delivered to your region, in what time and at what cost.
Some brands offer white glove service, and this includes setting up your bed and even disposing of the old mattress.
As a buyer, you really need to know which of the three brands offers the best shopping and delivery.
Nectar
The Nectar mattress is available online on the company website, and even though this was the only place to order a Nectar mattress, the brand is on Amazon as well at great discounts. There are no brick-and-motor stores so shoppers can't try the mattress. The mattress comes compressed, and vacuum sealed but doesn't come in a box. Instead, it has a protective carrier bag. The company offers free shipping in all states except a few in the periphery like Alaska and Hawaii. White glove service is also available at a cost.
Casper
This mattress is available on the official Casper website and the major online retailers. There are also local retailers who stock Casper mattresses. The Casper mattress will be shipped directly to customers compressed and in a box. The company facilitates free delivery and free returns as well, but there are some regions that this service is paid for. Casper also offers white glove delivery at an extra cost, and this includes in-home mattress set up and old mattress removal.
Purple
Purple mattresse are available online but not in local stores so still buyers can't have a feel of the mattress. Purple mattress comes compressed, and vacuum sealed and in a box making it a true mattress-in-a-box. The Purple mattress is shipped in the entire US except for the peripheries as well. There is no free white glove delivery with this mattress, but with the new Purple, you get free white glove delivery that includes in-home setup and old mattress disposal.
Winner – Casper is a favorite here only because shoppers can buy it in the local stores as well. That means you can try the mattress before buying it. As for the other related aspects like delivery schedule, all the three mattresses are the same.
Warranty & Sleep Trials
A warranty makes you eligible for a mattress replacement or refund in case you discover the mattress had a manufacturing defect.
Make sure to get an extended and genuine warranty and of course, go through the Ts & Cs of the warranty.
As for sleep trials, this is a period you can test the mattress to make sure that you really like it.
Remember, an in-store trial is not conclusive that the mattress will suit your needs. You need at least 30 nights for the body to adjust to the new mattress.
So, how does Casper, Purple, and Nectar compare here?
Casper
This mattress comes with a 10-year warranty that has no major restrictions. The brand also offers a 100-day sleep trial with no mandatory 30-day break in period. That means you can return the mattress anytime within the 100 days trial as long as it is a valid case and the mattress is in good condition.
Purple
With the Purple mattress, you also get the industry-standard ten years warranty accompanied by 100 days sleep trial. If you don't like the mattress, you can as well return it for a refund or exchange. The warranty is non-prorated so make sure to find out what it covers and what it doesn't.
Nectar
This is the mattress brand with the longest sleep trial; 365 days. This is when you buy from the company website, but on Amazon, you get 180 days. When it comes to the warranty, it has a lifetime warranty, but that doesn't mean a thing because the mattress won't last more than ten years.
Winner: Our choice here is Nectar because of the longer sleep trial and not necessarily the lifetime warranty. Casper is also a great deal because the policy isn't strict and actually allows the use of electric blankets.
Casper vs. Nectar vs. Purple: which is the best mattress?
Having looked at the three mattresses, it's time we declare the winner.
Contrary to your expectations, we have no winner because there is no such thing as the best mattress. Sleepers have different needs so when choosing a mattress, make a choice depending on your sleeping needs.
Below, we discussed some of the common sleeping needs and recommended the best mattress for each need.
Budget buyer
For a mattress like
Casper
, it is clear that you will spend a fortune to get it in your bedroom. That is already off the budget buyer's wish list.
The battle is between Nectar Gel Memory Foam 11 Inch Mattress vs. Purple Hyper-Elastic Polymer 9.5 Inch Mattress, and it is the latter that offers the most affordable mattress.
So, if you are on a budget, look for your next mattress from Nectar.
Back sleeper
The best mattress for back sleepers should be medium firm. The firm surface will support your back while the soft feel is to relieve areas like the shoulders and hips.
Here you are spoilt for choice as all the three mattresses are great for back sleepers.
However, Casper Sleep Memory Foam 10 Inch Mattress is the perfect medium firm so it should be number one on your priority list.
Stomach sleeper
The stomach sleeper wants something that can support the body and still offer soft support on the stomach area.
Here a medium-firm mattress with a gel foam is the best.
Nectar and Purple are good options, but the responsiveness of Nectar makes it the best.
Side sleeper
Here, you want a mattress that is not very firm. A good choice is one which has enough sinkage to cushion the shoulder and hip areas which are the main pressure points.
When buying mattresses for side sleepers, more emphasizes should be on comfort as opposed to support.
Either Casper Sleep Memory Foam 10 Inch Mattress or Purple Hyper-Elastic Polymer 9.5 Inch Mattress will do because of the soft firmness they have.
Couples
The best mattress for couples should have reduced motion isolation and firm edges. As far as motion isolation is concerned, the three mattresses performed equally so any of them will be a great purchase.
When it comes to edge support, Nectar is the real deal because it boasts a thick 6-inch 2.2 lb/ft foam which makes the edges firmer.
Back pains
Sleepers with back pains and other symptoms that require pressure relief will get the best service from Purple mattress.
The polymer grid design hugs the body, especially on the pressure points. Casper and Nectar are also ideal in such conditions.
Wrapping Up
That's all we had for today in this Casper Sleep Memory Foam 10 Inch Mattress vs. Nectar Gel Memory Foam 11 Inch Mattress vs. Purple Hyper-Elastic Polymer 9.5 Inch Mattress mattress comparison review.
We hope that you can now make the right purchase decision yourself.
Which is your best choice? Is it Casper, Purple or the cheap Nectar? Talk to us in the comments section below.