Bamboo Mattress Buying Guide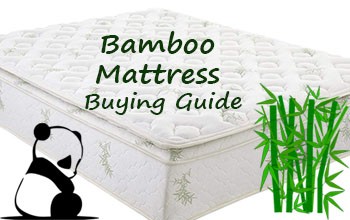 Which is the best bamboo mattress and are they worth or you should just stick to memory foam, gel, hybrid and spring models?
You will agree with me that organic mattresses are increasingly becoming popular. This is because of their Eco-friendliness.
Unlike the memory foam and other synthetic types manufactured using non-renewable raw materials, bamboo mattresses are manufactured from natural renewable materials.
Also, they offer the best sleeping comfort. It provides a plush firmness making them among the best for pressure-relief. Hot sleepers will also like the breathability and moisture-wicking properties of this organic material.
While many buyers acknowledge the benefits of sleeping on a bamboo mattress, settling for the best model is the elephant in the room. This is because there are many types and hundreds of models from both the renowned household names as well as the cheap companies that sell knock offs.
In this article, we have listed the organic mattresses that should top your wish list. You will also learn a few important things regarding shopping, and care for your new bamboo mattress.
Why bamboo in mattresses?
Bamboo is a natural product that is used to manufacture organic products including furniture and even pants. Yes, we have bamboo pants!
But why use bamboo as a mattress fabric? Well, the answer is simple;
Using bamboo is sustainable compared to synthetic materials.
It is among the fastest growing plant, and it is in abundance, so in as much as it is being used, replenishment is rapid.
Above all, it doesn't need any special care to grow;
No chemicals or fertilizer.
If you look at the foam, the manufacturing process degraded the environment. This is regardless of whether the mattress is CertiPUR-US certified or not. For materials like latest and gel, they are not in plenty to be sustainable.
Types of bamboo mattresses
Bamboo mattresses can be categorized into two based on the approach of bamboo construction.
The first type of bamboo mattress takes any ordinary bed and covers it with a bamboo mattress topper. This turns it to a bamboo mattress. These beds are usually made in memory foam, gel, latex or hybrid. Most of them offer medium-firm firmness.
The second type is that which incorporates bamboo fibers in the comfort layers. This is the true bamboo mattress and offers plush firmness and holds up more than the first type.
Benefits of a bamboo mattress
Sustainable raw material – Bamboo is a natural and abundant raw material that is not easy to deplete because of fast regeneration.
Great comfort – Whether it's a bamboo topper or bamboo charcoal, the comfort is incomparable courtesy of the naturally smooth nature of bamboo fibers. These mattresses are also breathable and wick excessive moisture if you sweat at night.
Hypoallergenic – No chemicals or pesticides are used to grow bamboo, so it has no effect on sensitive skins and doesn't trigger nasal irritations.
Some shortcomings
Bamboo mattresses have some disadvantages as well.
Plush firmness – Mattresses with bamboo charcoal infusion offer plush firmness which may not go so well with heavy sleepers even with the thickest models.
Sleeps hot – Bamboo itself doesn't sleep hot, but the models that use bamboo toppers only may sleep hot especially the memory foam mattresses.
How to select the best bamboo mattress
How do you identify the right purchase? Or better still, what criteria did we use to shortlist the below models?
There are several important factors to be considered when choosing a bamboo pillow.
Top brands have value
Which is the best Bamboo mattress brand?
There are hundreds of brands and as we always recommend, settle for nothing less than the renowned household names.
The list includes brands like Cariloha, Brentwood, Signature Sleep, Swiss Ortho and eLuxury just to mention a fee. Even though they are costly, they offer excellent value for money compared to these cheap mattresses that will start losing shape in a few months.
But that is not to say that all cheap bamboo mattresses are pathetic; some brands like LUCID really try.
Reading customer bamboo mattress reviews ratings for individual products can also be a great idea as they give you a practical feel of the mattress.
But also be aware of false marketing through splendid reviews and also, subjective opinions.
Who is the mattress for?
The construction of the mattress is the most important thing to consider when buying a bamboo mattress.
What type of sleeper are you?
We have the back, stomach, side, and combination sleepers. In addition, you should consider if you are a couple, a single sleeper or even a child. I say all these because no single mattress is best for everyone.
In our recommendations, you will find a variety of mattresses for different types of sleepers. When choosing the best mattress, consider the construction, and this is all about the size, cover, comfort/support layers, firmness, motion isolation, and thickness.
The size determines whether it is a couple who will sleep on the bed or a single person. Whether it is a tall sleeper or a short one.
Basically, there are five standard mattress sizes. It is imperative to understand how they each measure up to.
King » – 76″ x 80″
Cal King » – 72″ x 84″
Queen » – 60″ x 80″
Full XL » – 54″ x 80″
Full » – 53″ x 75″
Twin XL » – 38″ x 80″
Twin » – 38″ x 75″
Cover material
– When it comes to the cover, there are two options; Rayon and Lyocell. The former is the most common, but unfortunately, it is chemically processed so it releases some odor and may irritate some sensitive skin when new. As for Lyocell, it is much more expensive and the good thing, it is 100% hypoallergenic making Lyocell bamboo mattresses best for allergy sufferers.
Core material
– Under the cover, we have the mattress core, and it includes the comfort and support layers. Well, how comfortable or supportive the mattress will depend on the materials or approach used. The common types of bamboo mattress are the bamboo memory foam, bamboo gel infused memory foam mattress and bamboo latex mattress. The bamboo may either be infused in the core or the mattress topper. We also have the bamboo coil and bamboo hybrid mattresses. The two only have bamboo toppers as the core has a spring or coil system and comfort layers only.
Firmness
– This refers to how soft or hard the mattress feels. When talking about firmness, one thing comes to mind, the sleeper's weight. Light sleepers may find a mattress to be very hard while the same mattress may feel too soft for a heavy sleeper. Mattress firmness is usually represented in a scale of 1 – 10 with a higher score denoting more firmness. The best choice is a medium firm mattress, and on the scale, it averages 6.
Thickness
– Here again, the weight of the sleeper plays a role. If you are a lightweight sleep, go for a thin mattress, but for heavy sleepers, a thick mattress is the best. A heavy sleeper on a thin mattress will experience more sinkage, and that means less comfort and dipping of the mattress. A light sleeper on a thick mattress isn't comfortable also as the mattress turns to be hard.
Still, on construction, you want a bamboo mattress whose other components are Eco-friendly. Whether it is a bamboo latex mattress or a memory foam mattress, the little foam used should be CertiPUR-US certified. It should not be offgassing for more than 24 hours. The entire bed should have the ability to dissipate heat faster and to allow efficient breathability. Lastly, the mattress should be hypoallergenic, especially the cover. Thanks to bamboo's organic nature, you won't experience allergies like skin it itches or nasal irritations.
Warranty, sleep trials, shipping & delivery
A warranty will cover you in case the mattress wears faster or develops damages that result from poor workmanship. Most mattresses these days come with extended warranties so consider a bamboo mattress with at least ten years warranty. But this is not to say that the mattress will last for ten years.
Typically, the best Bamboo mattress should last around seven years.
Another important consideration is sleep trials. Orthopedics and mattress experts all agree that you need at least 30 days of sleep to confirm the mattress is good for your sleeping needs. At least three months sleep trial will be necessary though the most desirable is the full year sleep trial. If you didn't like the mattress, you can trigger a return and get a refund.
Make sure to read and understand the terms and conditions of the sleep trial.
Also, consider the shipping. While most mattresses are delivered to most regions, several peripheries are not covered.
For some brands, shipping charges are applicable. The models we have recommended ship to most places in the US and Canada and offer free shipping. For a few that have some shipping fees applied, they are reasonable especially in cases where you want expedited shipping.
Talking of expedited shipping, you may wonder, how long will it take for my bamboo mattress to be delivered? Well, it largely depends on the brand, and the courier used. At times it takes less than 24 hours, but on average, your package should arrive in 48 hours.
Lastly, there is a White Glove Service. With this package, the delivery team will not only expedite your shipping, but your old mattress will also be removed and the new one set up for free or at an extra charge. Definitely, this is a desirable service.
Best Bamboo Mattress for 2020
Model

Weight

Height

Material Type

Sizes

The Layers

Ideal for

Warranty

CertiPUR-US Certified

Check
Price

Brentwood Home Gel HD Foam Mattress

66.1 pounds

13-inch

Gel HD Memory Foam

Twin,
Twin XL, Full, Queen, King, CA King

Removable Cover
New Zealand Wool
3.5-Inch Gel Memory Foam
2-Inch Ventilated Airflow Zone
7.5-Inch Base Foam

Couples

25-Year

Check Price

Blissful Nights Dahlia

111 pounds

11-inch

Bamboo Charcoal Memory Foam


Twin XL, Queen, King, CA King

2 inch of 4 pounds Bamboo Charcoal Visco Memory Foam
2 inch of 3 pounds 100% Pure Visco Memory Foam
7 inch Air Channel Support Base foam


The heavy back sleepers

20 Year

Check Price

Customize Bed Inc. Mattress

55 pounds

10-inch

Gel Memory Foam

Twin,
Twin XL, Full, Queen, King, CA King

Memory foam and gel mold

For occasional sleep

5-Year

Check Price

Cariloha Luxury Signature

104 pounds

23 inches

Memory Foam

Twin,
Twin XL, Full, Queen, King

Bamboo Comfort Foam
Luxury Memory Foam
Advanced Side-Wedge Support Signature Bamboo Comfort Foam
Flex Flow Dual Density Base Foam

All kinds of sleepers

10-Year

Check Price

Live and Sleep Queen

63.1 pounds

9.5 inches

Cool Twist Gel Memory Foam

Twin,
Twin XL, Full, Queen, King, CA King

Serta PillowSoft Foam
Cool Twist Gel Memory Foam
886 Custom Support Firm with Best Edge Foam Encasement

For back and stomach sleepers

20-Year

Check Price

Signature Sleep Hybrid Coil Mattress

93.5 pounds

13 inch

Hybrid Coil Mattress

Full, Queen, King

1" of 3-Zone foam
10" of independently encased coils

Any couple

1-Year

Check Price

Classic Brands Queen

65 pounds

10 Inch

Bamboo Charcoal and Aloe Vera Infused Memory Foam

Twin,
Twin XL, Full, Queen, King, CA King

1.5"
Bamboo charcoal
1" Aloe Vera Infused Memory Foam
1" Support Foam
5.5" Edge Support

Lightweight and side sleepers

10-Year

Check Price

Classic Brands Queen

9 pounds

3 Inch

Gel memory foam

Twin,
Twin XL, Full, Queen, King, CA King

Plush, therapeutic memory foam
Memory foam
Infused bamboo charcoal

For small bedrooms

10-Year

Check Price

Best Price Mattress Grand

141 pounds

12 Inch

Confirming memory foam

Twin, Full, Queen, King, CA King

1" Plush Foam
2" Memory Foam (Infused with Charcoal)
3" Ventilated Cool Foam (Pressure Relief System)
6" High-Density Base Foam

Deeper sleep

10-Year

Check Price

Comfort & Relax Mattress

96.8 pounds

8 Inch

Memory Foam

Twin, Queen, King

Bamboo Fabric Cover
1.5" Ventilated Gel AirCell Technology
1.5" AirCell Technology Channel
5" Polyurethane Supportive Base Foam

For the light sleepers and teenagers

20-Year

Check Price

Snuggle-Pedic Flex

43.9 pounds

10 inches

Foam

Twin,
Twin XL, Full, Queen, King, CA King

Soft Micro-Vented Cover
Patented Airflow Transfer System®
Kool-Flow®
Extra Breathable

Hot sleepers

20-Year

Check Price

ExceptionalSheets Rayon from Bamboo

29 lbs

18-inches Inch

Bamboo-Derived Rayon

Twin,
Twin XL, Full, Full XL, Queen, Olympic Queen, King, CA King

Plush rayon from bamboo cover

For a more comfortable night's sleep

1-year

Consumer Product Safety Commission 16 CFR Part 1632
Check Price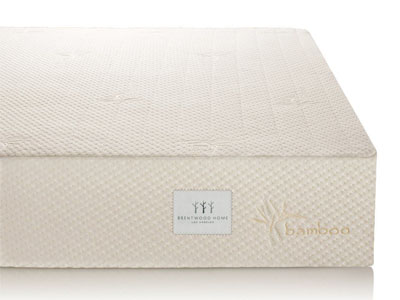 This is a gel memory foam mattress that comes with a bamboo cover; the bamboo is not infused in the core.
It is perfect when it comes to pressure relief courtesy of the responsive gel comfort layer. We like the zippered bamboo rayon cover lined with New Zealand wool.
It ensures temperature regulation and comfortable sleep even during hot summer nights. The wool, on the other hand, wicks moisture and acts as a fire barrier.
Under the cover, we have a 3.5-inch gel layer for maximum pressure relief and reduces tossing up. Its responsiveness and excellent motion isolation make it great for couples with active sleeping patterns.
Beneath the gel, there is a 2-inch breathable layer which boosts air circulation in and out of the mattress. Lastly, the support is a 7.5-inch foam layer which absorbs your weight and also dampens energy transfer when turning, getting in the bed or out ensuring minimal disturbance.
The Brentwood bamboo mattress comes compressed and rolled for easy shipping and tags along with a generous 25 years warranty.
Unfortunately, there are several negative reviews with the thin 10-inch models. Most customers complain that it starts sagging on the pressure points.
But with the 13-inch model, this is not the case. The only concern is the rather weak edges that start sagging after a few months. But as far as comfort is concerned, this is a great deal.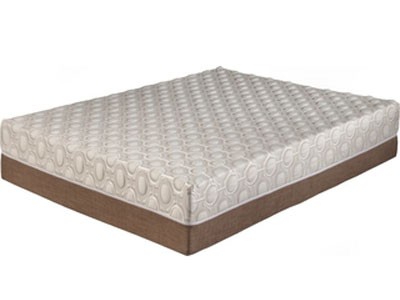 This mattress is the true bamboo mattress as it has bamboo charcoal in the core. The advantage of bamboo charcoal is it's comfort courtesy of the soft porous fibers that also enhances moisture wicking and air circulation.
Above all, the materials are CertiPUR-US certified. The king model is an excellent choice at $800 but does it hold up?
As an 11-inch mattress, this mattress is not for the heavy back sleepers as it offers medium plush firmness.
Besides being removable and washable, the cover is antimicrobial and hypoallergenic.
The first comfort layer is a 2–inch layer of bamboo charcoal viscosity foam which is responsive and hugs your body's pressure points.
It is followed by a 2-inch memory foam layer which also adds to the comfort of the mattress.
The third layer is the support and consists of 7-inch foam with Air Channel Support for breathability and Relief Contour Channels for pinpoint support.
Even though it is a reliable mattress, there are a few shortcomings. First, it will release an odor for around three days which is quite long.
It is also quite expensive, but the extras like Patented Wedge Edge Support makes it a worthy mattress. The edges hold up for a longer time compared to your ordinary bamboo memory foam mattress.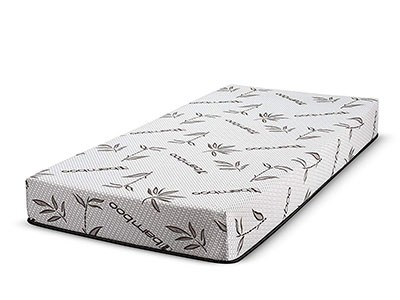 If you want a mattress with several choices of colors, this is the best shot. This mattress is best for places like dorms, cabins, RVs bunk beds, and guest rooms.
This versatility is courtesy of the foldable and lightweight design. It is also very affordable considering you get the Queen size at around $300 only. But is it the best affordable organic mattress?
The Customization Bed Inc. is a gel and memory foam mattress that comes with a bamboo cover. It is hypoallergenic and antimicrobial, so it won't harbor allergens like dust mites.
This cover is tougher than most we have seen and won't wear off fast. As far as comfort is concerned, this is a memory foam and gel mattress. The gel is infused in the foam to boost temperature regulation and air circulation.
With a medium firm feel, it is great for back, stomach, side and combination sleepers. Memory foam and gel mold around the body relieving all the pressure points.
The problem with this mattress is that it doesn't last long is you are buying it for a couple. It's the kind of bed that is suited for occasional sleep.
Its memory isolation is also poor.
The 5-year warranty is also not so convincing considering other brands offer up to 25 years.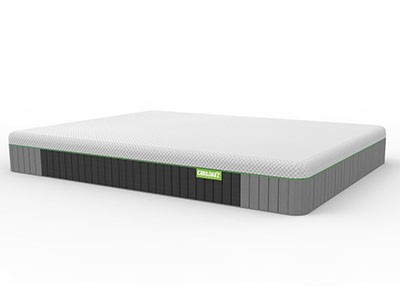 One of the common questions we are asked is whether Cariloha mattress is any good. As a brand, it is a great choice, and affordable too. But as far as the features and comfort are concerned, it's imperative that you match a mattress depending on your individual needs. So who is this Cariloha bamboo mattress best for?
This Cariloha Queen size mattress offers a medium-firm firmness. The cover is soft, comfortable courtesy of the plush viscose bamboo which also wicks moisture efficiently. Under the covers, we have a solid Flex-Flow base foam which drastically improves airflow so you can keep cool.
We recommend this bamboo mattress to all kinds of sleepers, including couples as long as you are light to medium weight. The Wedge Edge Support holds up very well when sitting on the edges.
We have not seen so many Cariloha mattress reviews.
One negative review caught our eye, and this is regarding the free sheets that the company promises with the purchase of the Cariloha mattress when not in a sale. A verified customer claimed that he was charged for the sheets. But I'm glad the company is steadfast in honoring the 100 days trial and the 10-year warranty.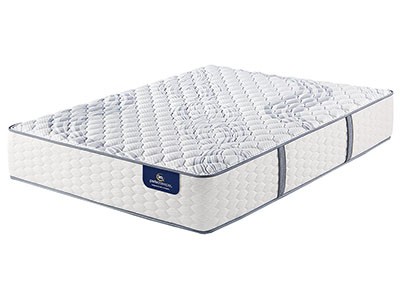 If you want a hybrid bamboo mattress, consider the Serta Elite Firm 600. It combines innerspring coils and a combination of gel and memory foam.
The result is a comfy firm mattress ideal for back, and stomach sleepers. Active sleepers and couples will also benefit from this mattress as its motion isolation is excellent. Innersprings also boost air circulation and harbor no allergens.
This mattress boasts a robust support core that consists of 600 individually laid coils. It ensures the back is well supported for proper spine alignment. It also guarantees that the mattress doesn't sag or dip from the weight of the sleeper. The Edge Foam Encasement makes the edges strong and sturdy when sitting on them. For comfort and body contouring, Serta designed this bed with a Cool Twist Gel Memory Foam and Serta PillowSoft Foam.
The problem with this mattress is that it sleeps hot.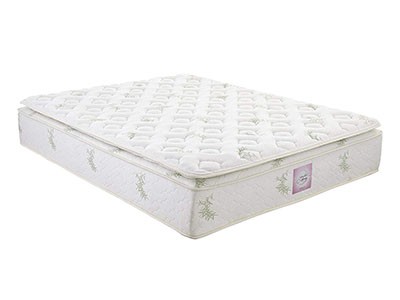 This mattress from signature Sleep can be described as the best value for money.
It costs less than $500 for the King size and provides excellent comfort and durability just like the high-end players in the industry. The mattress itself is a hybrid type that combines could and memory foam. On top is a Rayon bamboo cover and that's what makes it a bamboo or organic mattress.
We recommend this mattress for any couple looking for a great bed, at an affordable price as it is superb in motion isolation. The soft plush also makes it best for the side sleepers and those who want maximum pressure relief. At the top, there is a lavish and soft memory foam pillow top. A 3-inch Zone Foam follows and is essential for distributing body weight and dampening the energy transfer when moving around.
This mattress has been criticized for being too soft and plush. Even as a 13-inch model, it can't suit heavy back sleepers because of drastic sinkage.
Also, a one year warranty is a joke considering others offer up to 25-years warranty.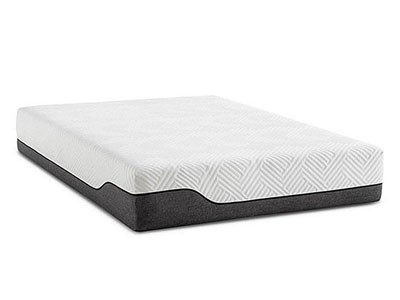 We really liked this Lucid mattress as it combines the properties of a hybrid mattress and also infused bamboo fibers in the core.
It is best for sleepers looking for a medium-plush feel and deeper sink. That means it is best for lightweight and side sleepers as well. Its pressure relief is excellent and so is the support.
For support, we have individually encased coils which are responsive and allow unrestricted air flow. They rise to 6.5-inches. Above it is a 2-inch dual transition layer for distributing the eight for an even feel. At the top is a 3.5-inch memory foam with bamboo charcoal infusion blended with aloe extract. The bamboo delivers a comfortable and cool sleeping surface while aloe extracts suppress bad odor associated with foam.
Even though the inclusion of fiberglass fire retardant is a great idea, it's sad that in some mattresses, customers have complained that the fiberglass leaks through the cover. Otherwise, the 4.4-star rating after close to 1000 review tells you Lucid is a top contender for the best bamboo mattress.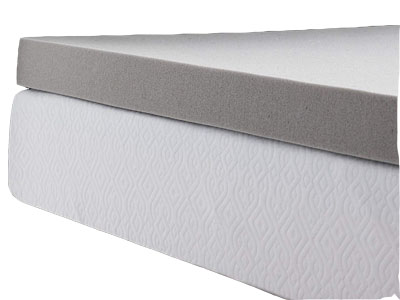 This is another medium plush Lucid bamboo mattress but this time in 14-inch thickness.
This mattress doesn't have a bamboo cover but has memory foam infused with bamboo fiber-boosting it's breathability and ultimately, comfort. With a price tag of less than $400 for the Full size, it is the best deal for homeowners with small bedrooms that don't fit Queen size models well.
At the base of this mattress is a 10-inch HD Polyfoam support for proper spine alignment. Next up is a 3-inch gel memory foam layer for motion isolation and most importantly body contouring. At the top is where bamboo charcoal memory foam has been infused in a thin 1-inch layer for pressure relief and also moisture -wicking and air flow. All the foam is CertiPUR-US certified. As for the cover we have high-quality Lyocell and Tencel material.
This model boasts over 1300 reviews and has maintained a 3.9-star rating. Well, it is not so impressive, but most of the negative reviews are misinformed. Offgassing is pretty bad as it will still produce a bad odor for three to four days.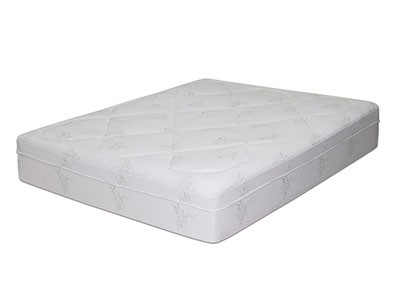 If you want the best mattress for the whole family, we recommend this Best Price Mattress California King size bamboo mattress.
It is wide enough to accommodate heavy couples including the kids and maybe your pets. This particular package also includes a premium steel bed frame, but no headboard. For the price, it is great value for money and a clever choice if you don't have a base yet.
The Best Price Mattress is the best bamboo mattress as it comes with a bamboo cover and also infused bamboo fibers in the core. The cover is made from a blend of poly-jacquard fabric and bamboo. The top layer is an inch of plush foam followed by 2-inches memory foam with infused bamboo charcoal. The third layer is a ventilated cool foam for pressure relief and also enhancing air flow. As for the support, the mattress has a 6-inch HD base foam.
Our only concern is the bulkiness. The order is shipped in two large boxes so on the day of set up, expect to trudge on the staircase if your bedroom is upstairs. We recommend you get an extra hand.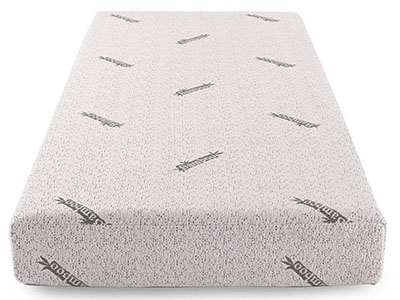 This 8-inch mattress is ideal for the light sleepers and teenagers regardless of their sleeping style. At least the thickness won't make the mattress feel hard.
Actually, it offers a medium-plush firmness. With the King size going for less than $300, it is among the cheapest bamboo mattress. But is it a worthy purchase or it's just one of the crappy cheap mattresses?
Comfort & Relax HK8 is a gel memory foam mattress but comes with an antimicrobial bamboo top cover blended from poly-jacquard fabric and bamboo fibers. At the bottom is a non-slip cover which is zippered. The comfort layers are two, each measuring 1.5-inches. The first is a ventilated gel memory foam for body contouring and maximum pressure relief. Second, we have an AirCell-Tech Gel-infused Memory Foam layer for air circulation and motion isolation. The base is a 5-inch HD polyfoam for excellent support.
We didn't find anything wrong with this mattress. We re even glad it has excellent ratings. For example, on Amazon, it has a 4.5-star rating after 300+ review which is such a great fete for a cheap mattress.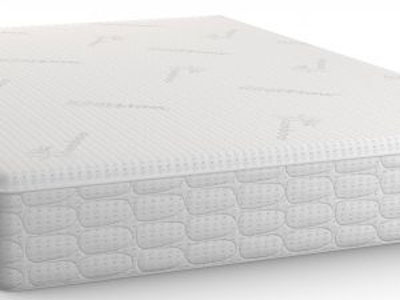 As the name suggests, this mattress will snugly hug your body giving you excellent comfort and pressure relief.
Besides, it offers unrivaled airflow making it best for the hot sleepers. Buy the Snuggle-Pedic if you have constant bedsores and backaches. It's hypoallergenic and microbial nature also befits allergy sufferers and sensitive skins.
On top of the mattress, we have what Snuggle-Pedic calls Kool-Flow Extra Breathable Micro-Vented Cover. 43% is viscose bamboo, 56.4% polyester, and 6% Lycra. The Flex-Support system is excellent in supporting the entire spinal column.
This mattress last boasts it's Patented Air Flow system which boosts breathability by up to 100 times. This mattress tags along with a 120 days sleep trial and a free customization policy alongside the extended 20-year warranty.
But then, this mattress is a little bit on the higher end at $900. However, it is worth every penny considering it is a top brand and offers the best in class comfort as far as support and pressure relief is concerned.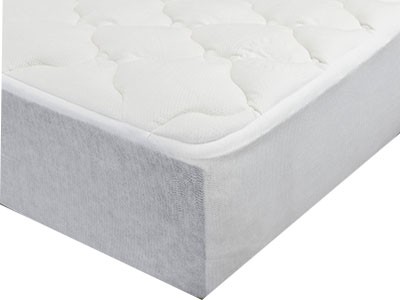 Not at all times will you need to invest in a new bamboo mattress. You can convert your Casper or Nectar to a bamboo mattress by buying a mattress pad like this one from ExceptionalSheets.
The topper is available for all mattress sizes with a thickness of up to 18-inches. We chose the Queen size which costs just a hundred bucks saving you from the high cost of a new bamboo mattress.
ExceptionalSheets mattress pad has been crafted from Eco-friendly materials sourced locally in the USA where the production hub is. The pad offers a plush and cloud-like feeling courtesy of the hypoallergenic down alternative RevoLoft Cluster Fiber which is filled inside. The backing blends 70% Polyester and 30% cotton. The surface sleeps cool and wicks moisture if you are the kind that sleeps hot.
As far as comfort is concerned, this mattress pad is excellent as it can turn a hard mattress to soft. However, for support, it will entirely depend on your existing mattress.
Unfortunately, the cover is so fragile and shouldn't be washed frequently, especially in the laundry machine. We recommend a soft clean with soapy cold water.
How to maintain a bamboo mattress
There is no fixed number of years your bamboo mattress will last. Even if you buy from the top brands, it's your maintenance that will decide whether it will last for ten years or just two years.
So, how do you maintain your bamboo mattress?
Machine washable topper – It will come in handy to protect your mattress from stains.
Keep off pets – Sharp cat claws will damage your bamboo topper son in as much as you love your kitty, your mattress is essential as well.
No foodstuffs in bed – Breakfast in bed is romantic, but the stains are not a good idea for your mattress. Some stains will be permanent
Where to buy a bamboo mattress?
You have two options; buying from the local stores or shopping online.
With local stores, the advantage I'd that you can try out the mattress before purchasing it. You get to feel the actual mattress. Also, there is no waiting time as you can bundle the mattress in your truck and sleep on it the same day.
As for online mattress shopping, you get a wide variety of options at competitive prices. The convenience of home delivery and White glove service is also something to smile about.
Frequently Asked Questions
Here is a round-up of the common questions we get from our readers regarding bamboo mattresses.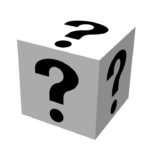 1. What is Bamboo foam?
This is a type of foam made from the natural and smooth bamboo fibers. It is mostly referred to as bamboo charcoal infusion.
2. Is bamboo mattress any good?
Yes. Bamboo mattresses offer excellent comfort and temperature regulation. Apart from the comfort, it is a sustainable material which has minimal impact on the environment compared to synthetic materials like memory foam.
3. What is a bamboo mattress cover and do you really need it?
Also known as a topper, this is a mattress padding that converts any ordinary memory foam, gel, latex or hybrid mattress to a bamboo mattress. The bamboo is integrated with materials like Rayon and Lyocell.
4. How do you clean a bamboo mattress protector?
If it is machine washable, only wash it in a commercial machine. Otherwise, wash it using cold water without any bleaching agents.
5 .Is Lucid a good bamboo mattress brand?
Yes. While it may not be the best of mattress brands, it holds up quite well. The brand also offers bamboo mattresses at affordable prices.
Wrapping Up
We've come to the end of this review. Which is the best Bamboo mattress for you?
Is it a foam mattress with a bamboo topper or one with bamboo charcoal infused in the core? Talk to us in the comments section below and our experts will be glad to engage you.