Best Pillow for Neck Pain in 2020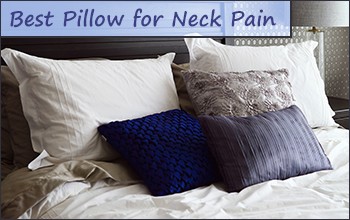 In this review, we have recommended the best pillow for neck pain depending on the type of sleeper you are and sleeping needs in general.
So far, we have reviewed a number of good mattresses for maximum comfort and support.

Today, we want to shift focus on head support. This is because, even with the
best mattress
, you still need a good pillow for proper spine and neck alignment lest you end up with neck pains and a stiff neck.
Also, if you have conditions like arthritis, torticollis, fibromyalgia, and plagiocephaly, it is still necessary.
In the first section of this review, we have listed the product recommendations while in the second segment, we have a detailed pillow buying guide.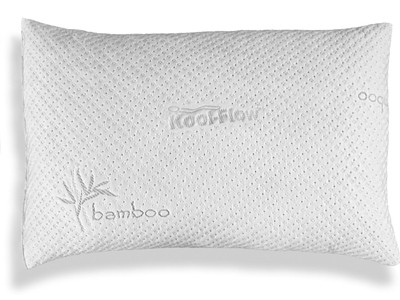 For the hot sleepers, and allergy sufferers, the Kool-Flow Neck Pillow will be a great purchase.
The pillow has been constructed from breathable memory foam that has met stringent content, emissions & durability standards. It has a micro-vented bamboo cover that boosts air circulation in and out of the mattress.
Also worth mentioning is the fact that the materials are hypoallergenic meaning it doesn't harbor dust mites and molds or any other allergens.
The package arrived packed in a cellophane bag and did release some bad odor, but the off-gassing ceases in a day or so.
This pillow has been filled with shredded HD foam which can be added or reduced for a more customized experience.
The maintenance is also easy courtesy of a machine washable cover. It comes with a 5-year never-flat warranty, and returns are also accepted in case it doesn't work for you.
Besides hot sleepers and allergy sufferers, the Xtreme Comforts Kool-Flow is best for back and side sleepers.
We have tested several sizes, and we recommend the Standard or Queen size.
Highlights
Removable shredded foam
Breathable and hypoallergenic cover
Machine washable
5-year warranty + returns
Good for
Hot sleepers
Allergy sufferers
Back and side sleepers
Those who want adjustability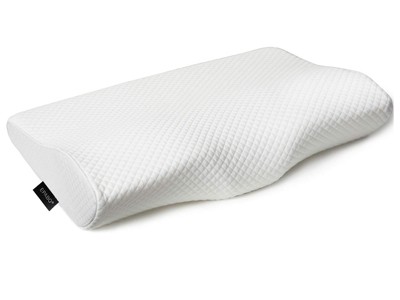 This pillow has a contoured design that features an arc at the center for supporting the head.
This makes it best for sleepers with neck pains.
Under the quilted hypoallergenic rayon/polyester proprietary blend cover are layers of breathable foam and not shredded foam.
Even though you can adjust the size, it is not as customizable as pillows with shredded foam.
The good thing is that it doesn't have a bad odor but will still need at least a day to release the foam odor fully.
One of the shortcomings of this mattress is that it is uncomfortable for the small and light sleepers. It feels too firm and may not properly align the head with the spine, even with a layer of foam removed.
Another thing, the cover is not breathable as advertised, and for hot sleepers, you can feel it become hot as it absorbs your body heat.
The head indent is also not deep enough and may leave your head tilted facing upwards.
Highlights
Contour design
Rayon/polyester cover
20% more foam
Good for
Sleepers with neck pains
Back and side sleepers
Medium to heavy sleepers
Therapeutic relief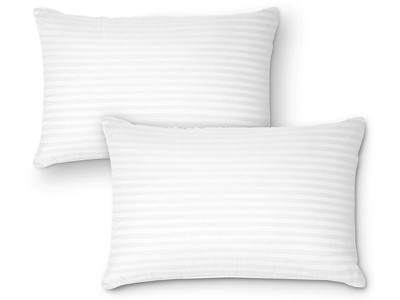 For couples on a budget, we recommend the DreamNorth PREMIUM Gel Pillow that comes as a pack of two pillows at a very affordable price.
The pillow is available in several sizes, and for $32, you get the Queen size. The pillows have a medium-firm feel, and even though they may feel hard during the first days, you will slowly get used to them.
Inside the plush cotton breathable cover, we have poly gel fiber and as you known gel has better cooling properties.
It will also withstand long use and doesn't flatten like your ordinary pillows.
The pillow has been described as hypoallergenic, and this is quite true. However, the cover is not as breathable as hyped by the manufacturer. We noticed it slept hot and will not be ideal for sleepers in hot weather because cotton is not good at cooling and lacks any form of perforations that would bring a difference.
Apart from that, the cotton cover gets dirty easily, but the good thing is that it is machine washable.
Highlights
Pack of two
100% cotton fabric cover
Medium-firm feel
Filled with poly gel fiber
Good for
Couples on a budget
Back, side and stomach sleepers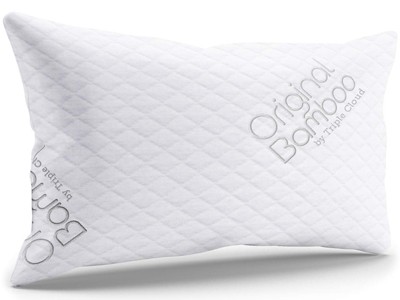 For sleepers with a cloud-like mattress, this premium foam pillow will complement it well.
Manufactured by Triple Cloud, this pillow boasts a rayon blend cover which ensures fast dissipation of heat although itself it is not effectively breathable.
But we like the fact that it is highly adjustable courtesy of the finely shredded memory foam. You can add, or reduce the exact amount of foam for the perfect head and neck alignment.
This makes it a great pillow for sleepers with neck pains as it can relieve even the slightest pressure points.
The problem with this pillow is that the fine foam shreds often clump together. This makes it rather firm and may end up hurting you. Several complaints have come up from users who have had the pillow for over a year. But this shouldn't be a serious concern.
Putting the pillow in a dryer to regain fluffiness is the solution. But how long will you keep doing this?
Highlights
Finely shredded memory foam
Bamboo-derived breathable rayon cover
Superior adjustability and moldability
Hypoallergenic cover
Good for
Sleepers with neck pains
Back and side sleepers
Allergic sleepers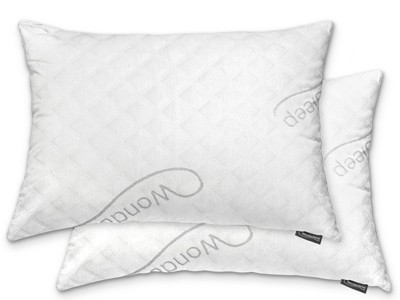 If you are looking for a pillow for you and your partner, grab this offer.
It comes as a set of two Queen size pillows. The WonderSleep PREMIUM foam has a dual layer cover and has been stuffed with 80% shredded memory foam for maximum support and 20% polyester fiber for comfort. The pillow allows for precise adjustments so that you may sleep with your head and neck aligned.
When it comes to allergens, we're glad the foam and cover materials don't harbor dust mites and allergens in general.
But unfortunately, this pillow will still sleep hot. Memory foam, without any perforations, will hinder efficient air circulation. The cover, on the other hand, is 60% polyester and only 40% rayon, without any perforations for air circulation.
To some extent, it is breathable, but it's not a pillow we'll recommend for hot sleepers.
Highlights
Pack of two (Queen size)
Polyester/rayon zippered cover
Fully machine washable
Hypoallergenic
Good for
Couples (two pillows)
Combination and side sleepers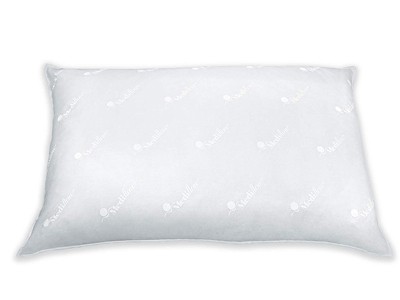 This pillow is among the few clinically proven pillows for neck pains. It has been approved by the Johns Hopkins School of Medicine.
This pillow is among the few clinically proven pillows for neck pains. It has been approved by the Johns Hopkins School of Medicine.
Even though there are other upgrades, the Mediflow The First & Original Water Pillow remains a force to reckon.
Water is highly responsive, conforms to all body movements, and relieves even the slightest pressure points.
Mediflow is best for back and side sleepers.
However, for stomach sleepers, putting your face on the pillow might not be very comfortable. Temperature neutrality is excellent because water dissipates heat fast and efficiently.
One problem with this pillow is the bulkiness caused by the water in the support layer.
Another thing, finding the right water filling is tricky because it involves emptying and filling water, unlike shredded memory foam where you just add or reduce the shreds.
But as far as relieving neck pain is concerned, this is the real deal, backed up by thousands of positive reviews.
Highlights
Waterbase technology
Hypoallergenic
Therapeutic support
Good for
Severe neck pains
Back, and side sleepers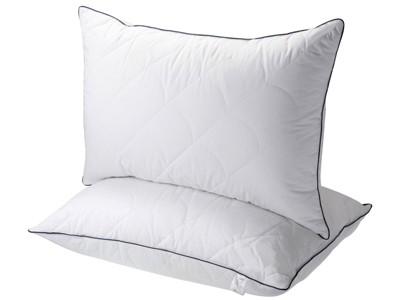 For sleepers looking for the best comfort, the goose down alternative works magic in this pillow.
It offers a soft plush that supports and relieves even the slightest pressure points making it ideal for all kinds of cervical pains.
As a goose down alternative pillow, the pillow is 100% hypoallergenic.
The cover is zippered and allows for easy pillow adjustment. You can add or reduce the fiber to increase or reduce the height of the loft.
The Sable SA-BD013 pillow is ideal for all types of sleepers; back, stomach and side sleepers.
The problem with the Sable is that it is not temperature neutral. While the fiberfill allows for easy air circulation, the 100% cotton cover doesn't dissipate heat efficiently.
It also tends to catch dirt easily though it is machine washable.
Highlights
100% hypoallergenic
Adjustable loft
Zippered cover
100% cotton cover
Good for
Couples (two-pack)
Back, side and stomach sleepers
Allergy sufferers and sensitive skin
Sleepers with varying loft comfort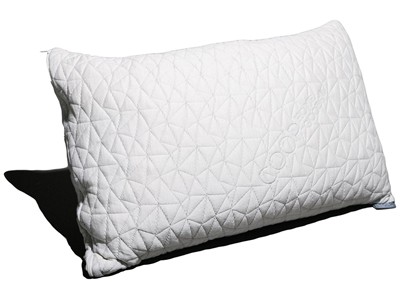 This pillow has been filled with fine shredded CertiPUR visco-elastic memory foam.
You can easily adjust the loft by removing some foam or stuffing in more to make sure when you are on it the neck is correctly aligned with the spine.
The foam is breathable and doesn't have any, and the materials are all hypoallergenic and dust mite resistant. The cover has been manufactured from 60% Polyester, and 40% Rayon.
It has an average cooling capability and doesn't catch dirt easily like a cotton cover.
One of the shortcomings of the Coop Home Goods – Premium Adjustable Memory Foam Pillow is that the shredded foam clamps together upon prolonged use. You need to fluff it regularly lest it flattens.
The other thing, it doesn't sleep very cool because of the polyester cover and also, the cover lacks any perforations.
Highlights
Adjustable loft
100 days trial, five years warranty
Machine washable polyester/rayon cover
Good for
Side, back and stomach sleepers
Sleepers looking for an adjustable pillow
Allergy sufferers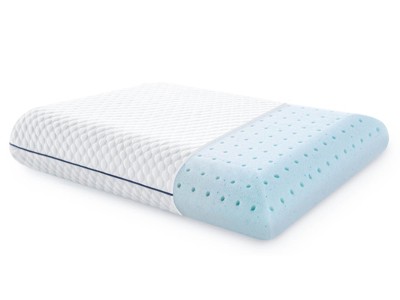 If you are looking for a portable travel pillow for neck pain, here's the real deal.
The WEEKENDER Ventilated Gel Memory Foam Pillow is available in three sizes; Standard, Queen, and King.
It comes with an ultrasoft cover, and inside it, we have the main component; perforated memory foam infused with temperature-regulating gel.
Yes, it sleeps cool, but again, the non-perforated cover derails air circulation. During the hot summer nights, expect a little sweating.
For hot sleepers, this is a no unless you get it another breathable cover.
The problem with the WEEKENDER is that it is a mid-loft pillow that can't be adjusted. That means the standard pillow is designed for the small bodied and light sleepers.
The heavy guys, especially side sleepers might find their neck misaligned with the spine as the loft is too low.
The cover is also very light and would easily get damaged if you have pets around the bed. Also, it doesn't look long lasting so buying a pillow cover is inevitable.
Highlights
Perforated foam
Easily portable
Gel-infused
Good for
Frequent travelers
Back and stomach sleepers
Pillow Buying Guide; what you need to know when choosing a cervical pillow
Now that we have recommended some of the top pillows for neck pain, it is time we learn a few things about cervical pillows. To start, we will try to understand what pillows are, and their essence.
What is a pillow and why do we need them?
A pillow is a small sleeping accessory we use to support the head or neck when sleeping.
The main reason you need to sleep on a pillow is to ensure your head and neck are properly aligned with the spine.
The pillow has a raised loft that ensures your head is in the upright posture even though it is laid on a flat surface.
Without a pillow, your head will have to bend to get the support of the mattress. This causes improper alignment of the neck and head and is the reason you wake up with neck pains or a stiff neck.
We also have specialty pillows which are mostly recommended by orthopedics for therapeutic use. These are different from the ordinary ones and are in fact called cervical pillows.
Types of pillows
Just like mattresses, you will find various kinds of pillows for neck pain in the market. These pillows have been classified based on the composition, shape, and application. Here are the popular types.
Memory foam pillows
The popular pillows on the market are memory foam pillows. They may come with different cover upholstery, but inside, there is memory foam for support and comfort. Now, the memory foam may be in layers/block or shredded foam.
The layered/block memory foam pillows are great for relieving neck pain. The problem is that few are adjustable and don't offer accurate customization.
On the other hand, the shredded foam offers the best adjustability as you can remove or add the shreds to get the best loft height. This approach also realizes a much cooler mattress, best for the hot sleepers. The problem with shredded foam is that they clump together and flatten, so you need to be putting them in the dryer frequently to get back the fluff.
You will also find pillows with gel infusion but note that memory foam will be the largest composition.
Water-based pillows
While memory foam pillows have foam for support and comfort, water-based pillows have a tube filled with water.
Water conforms to the slightest body movements and provides a pain-free sleeping surface, and this is why a pillow like Mediflow is recommended for therapeutic use and are also ideal for stomach sleepers. Water-based pillows will also not flatten like memory foam.
Latex pillows
These are very similar to memory foam pillows only that latex is softer than foam.
If you want pressure point support, this is the pillow you want.
The latex may be natural latex or synthetic. Its breathability is better, and this is a reason most latex pillows and mattresses are best for hot sleepers.
The problem with latex pillows its that they may be too firm and are heavier than foam pillows.
Roll shaped pillows
These are versatile pillows that can be used to support the head and neck region but also under your stomach to align the lower back.
But they are best for neck support because the roll design and diameter allows it to fit the neck region.
Contour shapes pillows
These pillows have a contoured design. There is a curve that supports the back and cradles the neck comfortably.
Interestingly, the contour design ensures your airways stay open all night long thus reducing snoring.
These pillows are best for side and back sleepers.
Cervical pillows
Also known as orthopedic pillows, these are designed for long-term sleeping aid and also to alleviate the pains related to injuries.
Cervical pillows are designed to support the head, neck and upper body simultaneously.
Besides these, we also have innerspring pillows which feature coils between the dual comfort layers. The advancement of technology has also led to the introduction of smart pillows that integrate anti-snoring technology, sleep monitoring systems, speakers and streaming services among other features.
When to buy a new pillow
Many sleepers are not aware when they should consider getting a new pillow.
The first reason you need a new pillow is if you constantly wake up with neck pain and a stiff neck. The reason you have a cervical pain is that your head is tilted when you're asleep.
The other reason might be that your current pillow is worn out and requires frequent fluffing. You need to get a new pillow when yours is flattened out. You can physically examine the pillow for signs of wear and tear and also fading.
If you constantly battle with respiratory problems, it could also have something to do with your pillow. Maybe it is not allergy friendly meaning it harbors allergy triggers for example dust mites and pollen. In this case, a hypoallergenic pillow will be necessary.
Factors to consider when buying neck pain pillows
When buying a pillow for neck pain, it is imperative that you get the right type of pillow from the ones we have discussed.
Besides getting the right pillow, there are several other crucial aspects that you should weigh.
In this section, we have discussed all the important factors that you should consider when buying a pillow for neck pains.
Size and adjustability
There are three popular pillow sizes;

We recommend buying the standard size if you are a small and light sleeper.
However, the best universal choice is the queen size pillow. If you want the biggest pillow, go for the king size but remember size is proportional to price.
A good pillow for neck pain should also be adjustable.
The memory foam shred pillows are the best because you can add or reduce the foam shreds to your liking.
Some layered pillows can also be adjusted, but the adjustments are fixed as you remove whole layers.
Pillow cover
The cover of your pillow is essential as it protects the inner components from damage and also, from catching dirt.
When choosing a pillow, go for one that is machine washable and can maintain its condition even after washing it severally.
Most come with zippers that can be opened and closed with ease.
The material is also of concern as it determines the comfort of the pillow.

Here, you want something that offers plush comfort.
Second, it should be breathable to allow for air circulation in and out of the pillow.
Pillow composition
Just like in mattresses, the composition of the pillow is really important.
There are different kinds of pillows, each stuffed with different components.
Memory foam pillows are the most common and have foam inside them for support and comfort.
Water pillows, on the other hand, are synonymous with therapeutic and orthopedic pillows because water conforms to the slightest head and neck movement better than foam.
Other pillows have been filled with gel, while others have coils and foam for support.
Pillow firmness
This refers to how soft or hard the pillow feels when you lie on it.
A good pillow should be medium-firm in that it supports your head and neck and doesn't feel hard.
But again, there is no such thing as the right pillow firmness. What might be comfortable and plush for me might end up flattened by someone else.
On the other hand, what a heavy sleeper may consider soft may end up to be hard for the light sleepers – it just works like mattresses.
Pillow thickness/ loft
The thickness of the pillow is really crucial here than in mattresses. In the pillow context, the thickness is referred to as loft.
An ideal pillow loft should be equal, or almost equal to the distance between your head and the surface of the mattress after the pillow is compressed.
This is to support the head at an angle of 180° – parallel to the sleeping surface.
It is imperative that you buy a pillow with the right height or loft.
When the lift is too low, your head will tilt downwards and cause improper alignment.
On the other hand, when the pillow is too high, your head tilts upwards, and that again is improper cervical alignment. When your head and neck are improperly aligned, you will have neck pains and neck problems.
Moldability
This refers to the pillows' responsiveness and refers to how the pillow contours around your head, regardless of whether you are s side, back or stomach sleeper.
The best pillow should mold itself to fully support every part of your head such that every part is supported accordingly.
Shredded foam offers the best moldability followed by latex and then memory foam.
The sad thing about moldability is that it is all about how soft the pillow is and this, in turn, may alter the firmness. That said, make moldability a secondary consideration and not a primary one like firmness.
Temperature neutrality
Just like mattresses, some pillows tend to get hot as they absorb your body heat. This is because the cover or pillow construction is not breathable.
Although many pillow brands advertise their pillows as breathable, most of them will get sweaty in the hot summer nights.
Also, for the hot sleepers, they fail to maintain the room temperature for a peaceful night.
We recommend a pillow with a perforated cover and a material with cooling properties for example gel and breathable foam.
Warranty & sleep trial
A long warranty will be a great idea as it cushions you in case you discover any manufacturer's defect on your pillow long after delivery. The standard pillow warranty is for one year.
However, note that some pillows may have warranties that extend to 3 and five years. These are the best, but that doesn't mean the pillow will last for 5 years.
Sleep trial period will also be important as you can't judge a pillow from a single night's sleep. The standard here is 30 days after which you can return the pillow if you didn't like it.
But make sure to read and understand the instructions to avoid any inconveniences in the future. It will also be essential to look for customer reviews and ascertain whether the particular brand really honors the sleep trial because many companies and retailers are frauds and prove to be dodgy whenever a return is triggered.
Brand
The brand you are buying should be an important consideration as well. There are hundreds of pillow brands ranging from the household names to the cheap knockoffs.
We always recommend the top brands because most have a history of excellence and a reputation to cultivate.
The big dogs here include Mediflow, Nectar, Xtreme Comforts, Sable, and Sleep Innovations among others. With these brands, you are guaranteed value for money and most importantly, genuine warranty and sleep trial.
Where to buy pillows for neck pains
Pillows are available in the local stores. The advantage of buying in your local store is that there are no delivery charges or the long waiting time. You can test the pillow's feel and comfort and go with it to your home on the very day.
The problem with offline shopping is that the prices are quite high and you don't have a wide variety of pillow to choose from.
The smart buyer knows that just like mattresses, you will find the best pillow deals online.

With online shopping, you get a wide variety of choices ranging from the top brands to the cheap brands.
The heavy competition also means that you get the best prices.
We really recommend buying pillows for neck pain from online outlets as you will get the best prices and the convenience of home delivery.
Frequently Asked Questions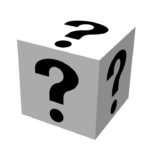 1. What causes neck pain at night?
Also known as cervical pain, the common neck pains are a result of improper neck and head alignment. You find that when you sleep with the head and neck tilted either up or down, the neck muscles are strained. This is why you should use a pillow to support your head and neck.
2. What pillow should I use for neck pain / cervical pain?
Not every other pillow will ease cervical pain. A good pillow should support the head and align the neck with the rest of the spinal column. Of essence here is the height of the loft; it should not be too high or too low. Make sure that the height of the pillow leaves your head and neck parallel to the sleeping surface at an angle of around 180 degrees.
3. Is sleeping without a pillow better for your neck?
Certainly not. While there are people who can sleep without a pillow, it doesn't mean that this is good for your neck. A pillow is essential as it keeps your head in the right posture when sleeping. Experts warn that many people endanger their health by ignoring a pillow and this may lead to serious concerns like insomnia, thyroid disease and respiratory complications including snoring.
Wrapping Up
There you have it ladies and gentlemen; a review of the best pillows for neck pains plus a detailed buyer's guide.
Which one is your favorite pillow and why?
Please tell us in the comments section and feel free to ask our experts anything regarding pillows and cervical pain.