Best King Size Pillow Buying Guide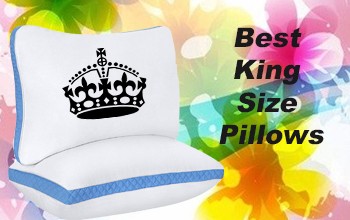 In this article, we want to find out which are the best king size pillows to buy in 2020.
If you are torn in between the down vs. down-alternative pillows, this will be an interesting read.
In the first section, we have reviewed the top king size pillows, and in the second part, we have a detailed buying guide. If you are not sure what you're supposed to look for in a pillow, you should be able to choose the perfect piece by yourself at the end of the review.
In the end, we have also shared with you the answers to the common questions asked regarding pillows.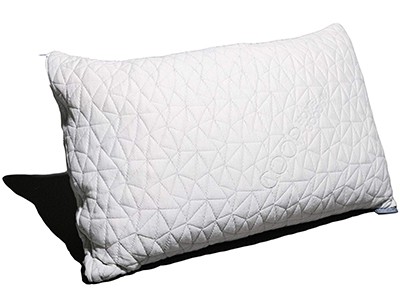 This pillow is quite expensive. A single pack goes for slightly over $60, but in general, it offers excellent value for money.
If you have a bamboo mattress, accompany it with this bamboo pillow for a comfortable sleep even in hot weather. The fact that its loft is adjustable makes it best for all types of sleepers. To adjust, the shredded filler foam can be added or reduced. It also suits the allergy sufferers as all the materials are 100% hypoallergenic.
Coop Home Goods bamboo pillow comes with a 60% polyester and 40% bamboo-derived rayon cover which is hypoallergenic and resistant to dust mites. Inside it, the pillow is filled with shredded visco-elastic memory foam. Occasional fluffing is necessary to keep it in good shape.
A two-waymoney. You also get a generous five years warranty on workmanship defects and a 100 days sleep trial.
Another shortcoming is offgassing. Even though it is breathable, you will have to put up with a strong odor during the early days of use.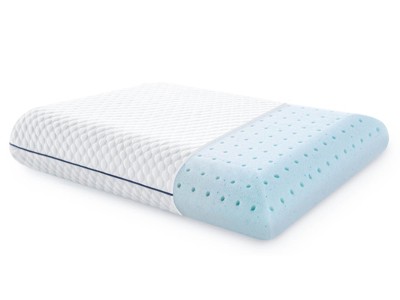 This WEEKENDER gel memory foam pillow is ideal for the back, side, and stomach sleepers.
Please note that it has a fixed mid-loft design about 5 inches high and firmer than a traditional down or down alternative pillow. If you sleep hot, you will also like the breathability of this pillow.
This pillow comes with a soft and plush machine washable cover.
But we don't recommend washing it frequently as it tends to wear faster. Inside it, we have a single block of memory foam infused with gel for temperature regulation. In hot summer nights, the sleeping surface remains cool and so is the case in the cold winter nights as well.
In addition, Pincore technology further promotes air circulation courtesy of the tiny perforations on the foam. The pillow materials are CertiPUR-US certified and are backed by a 3-year warranty but comes without any sleep trial.
This pillow is also expensive and will set you back around $70 for a single king-size pack. It's also not adjustable, so you need to be very careful with the sizing.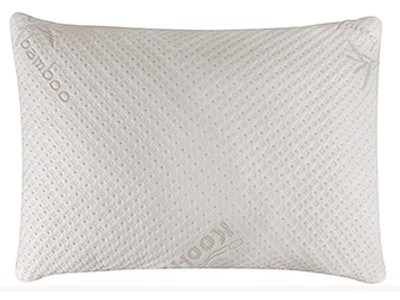 Snuggle-Pedic is best known for its orthopedic mattresses. Today, meet their revolutionary orthopedic bamboo pillow with an adjustable loft. The adjustability makes it great for all types of sleepers including expectant mothers. The materials are all hypoallergenic, and CertiPUR-US certified. Allergy sufferers and hot sleepers can now sleep comfortably without any distractions.
Snuggle-Pedic comes with a machine washable zippered removable cover. It has been designed using Kool Flow Micro Vented Technology that blends 43% viscose bamboo, 56.4% polyester, and .6% Lycra. Inside the cover, the pillow has Biogreen and CertiPUR-US certified finely shredded proprietary foam. Add or reduce the foam depending on your desired loft height. The foam comfortably contours around your head and ensures your neck is properly aligned with the rest of the spinal column.
The only concern with this pillow is the fluffing requirements from time to time. This is because the shredded foam tends to form a lump or gets flat. But with a 20 years warranty and an industry leading 120 days sleep trial, Snuggle-Pedic is a great deal.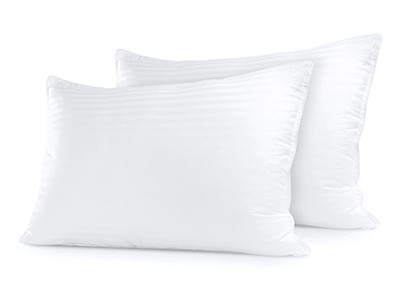 If you're on a budget, this is among the best choices for couples. The Sleep Restoration Gel Pillow package includes two pillows, at an affordable price of less than $50. That translates to $25 per pillow which I'd very affordable.
But will you get value for your money with this pillow? And who are the pillows best suited for?
In terms of comfort, all types of sleepers will benefit from the plush comfort of this pillow. It has been filled with high-grade gel fiber. It provides the best support and contouring, relieving all the pressure points and ensuring your head and neck is properly aligned. The cover is crafted from 100% cotton which is hypoallergenic but definitely not stain resistant.
On the downside, the cover of this pillow is not breathable. You may have problems during the hot summer nights. There also seems to be a problem with the warehousing of the company. Many customers have received pillows with molds on the cover.
Fortunately, the company offers a 30-day satisfaction guarantee so if you're unlucky to find a pillow with molds, you can easily return it for exchange or refund.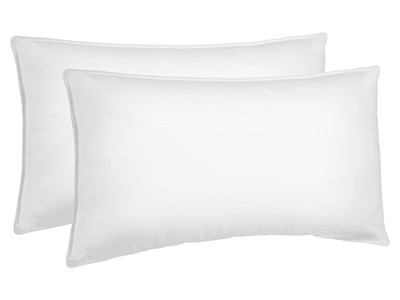 This AmazonBasics pillow is the best if you are on a tight budget. It comes with two pillows for just $30.
It has been designed to offer the comfort and plush feel of a real down pillow, but inside, it has been filled with down-alternative making it an excellent purchase for allergy sufferers. Stomach and back sleepers will have a good time sleeping on this pillow but for some side sleepers, the loft may be too low and will leave the neck and head improperly aligned.
This pillow boasts a 100% microfiber shell with piped edges. Inside, it has been filled with down-alternative giving the pillow a plush feel. Well, it is not very firm but will hold up the weight of your head very well. You don't have to worry about flattening like in your regular pillows. However, occasional fluffing will be essential to help it maintain its natural condition.
One of the shortcomings of this pillow is that the cover catches dirt very fast. Also, the fact that it doesn't have an adjustable loft makes it uncomfortable for some people. There's also a little offgassing which will go away after three to four days and not 24 hours as promised. Otherwise, for less than $30, it is still a great bargain.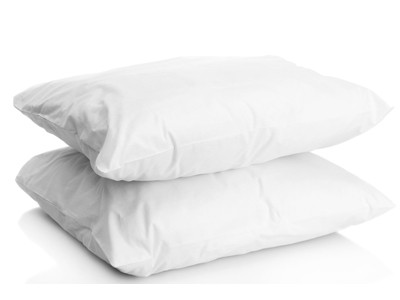 This is another set of very affordable down-alternative pillows. The package consists of two pillows for around $25. Digital Decor understands that different sleepers have different sleeping needs and no one pillow is universal. While the pillow's loft is not adjustable, at least it is offered in three density levels. We have the soft variant, medium, and firm so whether you are a stomach, back or side sleeper, this pillow will suit you.
We really liked the high thread count 100% cotton machine washable cover. It may not be the best for breathability but then, the 100% virgin synthetic polyester no-shift fiber allows for easy air circulation, and in addition, it is hypoallergenic. The fiber offers excellent support and ensures your head and neck is properly aligned the entire night. Unlike most cheap pillows, this one is not lumpy and doesn't flatten easily. Fluff it from time to time to keep it in condition.
Just like the rest of the pillows, this one has shortcomings as well. First, the no-shift construction is a hoax. The fiber keeps moving around leaving some areas with more fill and others with lesser fill. Durability is also a concern as most reviews pointed out that they flatten almost completely after six or so months of daily use. This is not a shocker considering it is among the cheapest pillows in the market.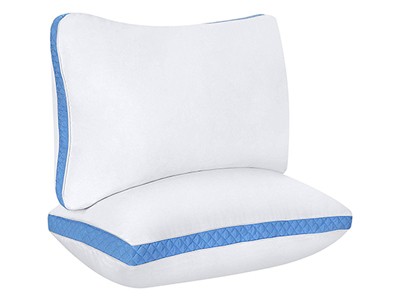 If you want decorative pillows, Utopia has got your back covered. It has been expertly tailored with a neat double stitching. The top is white and is complemented by either blue piping or a grey one, and that means it is available in two color options. This package includes two king size gusseted pillows and costs just $26 making it among the cheapest pillows for couples.
For comfort and support, Utopia used 950 grams plush microfiber fill in the king size model for a cozy and comfortable sleep whether you are a back or side sleeper. The medium-firm feel gives your head adequately support while relieving the pressure points for a peaceful sleep. The cover is machine washable for easy care and rarely catches dirt. But we recommend dry cleaning it for durability.
One thing we didn't like is the fact that the pillows get hot and lumpy. You also need to fluff it more often, and just like other cheap pillows, it is not that durable – it may do a year on average. Stomach sleepers may not like this pillow because it lacks breathability though the company insists that it is breathable.
This is a great purchase if you are looking for a cheap pillow with medical backing. The company reports that in their study, all the participants increased their deep sleep length while 96% sleeps with reduced interruptions.
But is this true or just part of a marketing strategy? From its pricing, $49 for a single pillow, you expect to get a comfortable and durable pillow.
The MyPillow Classic Series is available in four color options. To suit a wide range of sleepers, it is also available in four loft sizes. We have least-firm, medium-firm, firm, and extra-firm. The pillow comes with a 10-year warranty with free returns.
Unfortunately, if you look at the reviews, they are so discouraging. Well, many of the negative reviews are from customers who chose the wrong loft size. One problem that seems consistent is that the pillow gets lumpy upon long use without fluffing. This is contrary to what the company promises with its Patented Adjustable Interlocking Fill.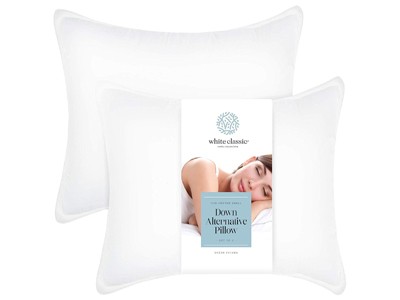 This is another pillow that offers great value for money. It comes as a pair making it great for couples and interestingly, it costs just $35. It tags along with a two-year warranty and from the high ratings it has maintained in online reviews, it should be the perfect purchase on a budget. The support holds up the weight of the head while the plush feel ensures you have a comfortable night.
To give sleepers the feel of natural down pillows, the pillow has been filled with 100 Polyester down-alternative cluster fiber fill. It doesn't get lumpy and offers a bouncy feel. This pillow will hold up much longer, and this is backed up by the excellent reviews. When it comes to the cover, 100% cotton has been used. For durability and comfort, this is a great material, but it lacks breathability. But we liked the double-needle stitching and the 235 thread count shell.
The only issue with this pillow is the lack of breathability which may make it hard for hot sleepers to get through the summer nights. All the same, we're glad it is hypoallergenic and comes at an affordable price, not forgetting the excellent reviews.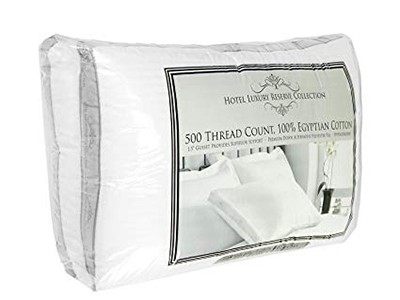 This pillow offers the best in class sleep courtesy of the luxurious design and materials. It comes as a pair for couples and the king size costs under $30. This gusset pillow suits back and stomach sleepers. The premium down-alternative feel offers a plush feel; it is neither soft nor hard.
The Hotel Luxury Reserve Collection is a 500 thread count weave that offers a soft, comfortable sleeping surface. The cover is 100% Egyptian Cotton for the best durability even after long cycles of washing. After washing, however, tucking the pillow into the case and bringing it back to shape can be a hassle, so we recommend you get a pillow protector.
One concern, there seems to be a different pillow from the same manufacturer or some imitations in the market. Some customers receive a different pillow, under the same name, brand, and price. The loft is also very thin and won't suit the side sleepers who need a higher loft for the perfect cervical alignment with the rest of the spinal column.
This pillow is best suited for the combination sleepers and those who want an adjustable loft. It may sound quite expensive considering you are paying almost $90 for a pair, but in the long run, it offers value for money. The pillow is made in the USA using CertiPUR-US certified foam.
This pillow comes with both an inner and outside cover, and both are zippered. The outer cover has been crafted from 60% Polyester and 40% bamboo-derived viscose rayon for breathability, and moisture. Above all, it is hypoallergenic and resistant to dust mites. Inside, it has been stuffed with shredded cool gel memory foam to enhance thermal regulation. The poly-fibers, on the other hand, ensure that the pillow fill doesn't flatten or get lumpy and above all, it allows for unrestricted air flow. The gusseted design, on the other hand, prevents pillow pinching when the edges slope together.
Here, a major concern is the high price tag of the pillow. The pillow also releases a foul smell that takes long to dissipate – maybe a week or so. But then, the reviews are excellent and also, you get a generous 30-days free trial, so if you don't like it, you can return the pillow.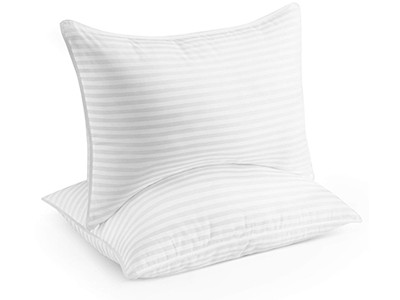 Last, we have the Beckham Hotel Collection, a pair of gel pillow designed for the hot sleepers. Gel is best known for its thermal regulation properties as it dissipates heat faster allowing you to sleep cool. If COOP Homes Eden is too expensive for you, this one is a great alternative at $50 for the pair. The comfort and durability are almost the same as that of Coop Homes Eden only that this one doesn't have a bamboo cover.
One thing we liked about this pillow is the no-shift construction that ensures the fill material stays balanced. The gel fibers, on the other hand, provide a cool plush and fluffy sleeping surface. Even though the firmness is compromised, it still offers excellent support for back, stomach, side and combination sleepers. The cover is cotton for durability and also, easy care.
Even though the company promises that the pillows are wrinkle and stain free, we have already seen some negative reviews of packages that arrived stained. But we understand that this may be caused by poor warehousing. The 30-day satisfaction guarantee will come in handy if your pillow arrives in bad shape or you just don't like it.
PILLOW BUYING GUIDE: HOW TO SELECT THE RIGHT KING SIZE PILLOW
Now that we know about the best king size pillows, it is time we acquaint ourselves with several buying tips.
In this section, we have discussed all the critical factors regarding the purchase of pillows, particularly the king size models.
So, even before we move further, let's try to understand the available pillow sizes and who should buy a king size model.
Types of Pillows
There are so many classifications of pillows. Some are categorized depending on use while others depending on the construction. For this review, we will base the classification on the types of materials used.
Down vs. Down-Alternative Pillows
If you have shopped around, you must have met these three terms; down vs. down-alternative. So, what are the characteristics of each fill material, advantages, and disadvantages?
Down Pillows
A down pillow is the crème de la crème of pillows. But what is down in the first place?
This is the insulation layer under the plumage of waterfowls like geese and ducks. Down pillows are filled with this natural, soft and fluffy material.
Some down pillows will also incorporate down and feathers in the ratio of 3:1. The difference between down and features is that the former is a cluster under the plumage while the latter is derived from the tails and wings of waterfowls and have quills.
Advantages
Plush comfort – These pillows offer the best in class comfort and plushness
Durability – Down and down-feather blend pillows retain their support and comfort for longer because the materials are all natural.
Eco-friendly – Down and feathers are natural and are not petrol-derived like the synthetic pillow fills.
Breathability – Because of the higher fill power, down pillows offer better breathability because of lesser stuffing.
Disadvantages
Not hypoallergenic – Down and feathers harbor allergens that may trigger sneezing and other respiratory allergy symptoms.
Intensive maintenance – Most down pillows are not machine washable and require dry cleaning which doesn't get rid of the hard dirt.
Costly – Down and down-feather pillows will cost you more than their synthetic counterparts.
Down-Alternative
As for down-alternative, these are simply synthetic materials that are used instead of the expensive down materials. Down alternative mimics the comfort of down but does not live up to the expectations. There are several down-alternative materials including Polyester, foam, latex, gel and so on.
Advantages
Affordability – A down-alternative pillow costs much less than a down pillow because the former can be manufactured in large scale.
Sleeps cool – Down-alternative materials like gel and latex sleep cooler than down and feathers which are known for heat retention.
Hypoallergenic – Save for the little offgassing during the first days of use, synthetic pillows are hypoallergenic making them best for allergy sufferers.
Easy maintenance – Cleaning a down-alternative pillow is easier as they are machine-washable.
Disadvantages
Not Eco-friendly – The fact that down-alternative consists of synthetic materials make it less Eco-friendly.
Shorter lifespan – Synthetic materials have a shorter lifespan as they flatten too quickly.
Heavier – Synthetic pillows need more stuffing to hold up the weight of the head, and this makes them heavier.
Less breathable – Down-alternative pillows are stuffed with more fill material to achieve high fill power, and this reduces breathability and air circulation.
Regular vs. Specialty Pillows
Regular pillows are the ordinary type that you purchase for comfortable sleep. You don't necessarily have a cervical complication or other conditions that may call for a special pillow.
On the other hand, the specialty pillows, also known as orthopedic pillows are designed for cervical conditions and other similar applications. Examples include sleep apnea pillows.
All these pillows are available in different sizes, depending on the model and brand. That takes us to our next subtopic; pillow sizes.
Understanding Pillow Sizes
In this section, we want to understand the different pillow sizes and why king size pillows are the best.
There are three pillow sizes; standard, queen, and king.
The standard measurement of these pillows is the width. The height, also known as the loft and length varies.
The standard pillow measures 20-inches x 26-inches.
The queen size pillow measures 20-inches x 30-inches.
When it comes to the king pillow, the length stretches to 36-inches, but select models may be negligibly shorter.
Factors to Consider when Buying King Size Pillows
Looking to buy a pillow but you don't know exactly what to look for? Here are the major considerations.
Brand
There are hundreds of different pillow brands in the market. Just like in the mattress market, some offer excellent comfort while others are junk.
We always insist on the household names like Coop Homes, AmazonBasics, Snuggle-Pedic, WEEKENDER, and MyPillow among others. They have quality and expensive pillows that guarantee value for money. As for the cheap brands, they flatten very fast and hardly last a year.
Budget
How much do you want to spend on a pillow? This is an important question that should be answered beforehand. A lot of people go to the market and end up overspending. So, how much do pillows cost?
Well, there is no fixed price range for pillows. You will find them from $10 all the way to $100 for the high-end models. Some specialty pillows may even cost more than $100. Now, what determines the price of pillows?
As mentioned above, top brands are expensive, but for a reason. Here, always remember the mantra of cheap is expensive.
Besides the top brands, the materials used also determine the price. For example, a natural fiber pillow like Talalay Latex or down feather pillow will go for a higher price than polyester fiber pillows.
The origin of the pillow, or where it is manufactured also plays a part. The USA manufactured pillows are definitely expensive than their Chinese and imported counterparts. The reason is that the latter has lower manufacturing costs and also, US manufacture pillows are derived from quality raw materials.
Cover Material
The pillows cover protects the pillow from catching dirt. It also offers a soft, plush and comfortable sleeping surface. But what exactly should you be looking for in the best pillow?
The cover material is key here as it's the only aspect that determines the quality of the cover. Let's look at the available cover materials and the pros and cons of each.
Cotton
This is the most common pillow cover and is among the commonly used fabric. The advantage of cotton is the comfort it offers and the durability as well. Cotton also wicks moisture and is less irritating to those with respiratory allergies. Cotton covers are more durable but then, they catch dirt faster and require frequent washing.
Bamboo
Bamboo-derived rayon covers are the best for hot sleepers and allergy sufferers as well. As a naturally occurring and fast growing plant, bamboo use in mattresses and pillows is sustainable. The fibers are soft and plush, and most importantly, they enhance moisture wicking and breathability. The problem is that bamboo covers are hard to maintain especially from the fact that machine-washing damages the structure.
Poly-threads
Polyester threads is a petroleum-derived synthetic pillow cover. It is commonly blended with other materials like cotton and wool, and the outcome is a breathable and smooth sleeping surface. Above all, Poly-Threads last longer and withstand long machine-wash cycles.
Eucalyptus fiber
Some covers blend Eucalyptus fibers to promote moisture wicking. The fibers are also soft and guarantee a smooth sleeping surface.
Copper infusions
From chemistry, copper is known for its ability to release positive ions consequently enhancing blood flow and promoting healing and recovery Copper infused pillow covers have been sewn with copper filaments in different styles.
Wool
Just like wool fill, wool cover materials are used for special reasons. The advantage of wool covers is that they are great in thermal-regulation and most importantly, they are durable. Wool covers are also machine washable.
Fill Material
The most important consideration in a pillow is the filler material. It determines the comfort, support, and longevity. The fill material is also used to classify pillows though we agreed that the two main classifications depending on the material are down vs. down-alternative.
So, which are the most popular fill materials?
Down and feathers
These are natural pillow fills derived from the plumage and feathers of waterfowls like ducks and geese. We have already discussed much about these materials when analyzing the two types of pillows in the market. As a recap, down and feathers are great because they are durable, and offer a more comfortable and cloud-like feel.
Memory foam
This is a conventional mattress and pillow fill material. In pillows, foam is used in two ways; as a solid block or shredded foam. The solid memory foam pillows are great because they don't flatten easily and require no fluffing. As for the shredded foam pillows, the advantage is that the loft can be adjusted, but then, they flatten and get lumpy requiring frequent fluffing.
Gel
Gel layers and gel-infused fibers are also used in pillows. The advantage of these materials is the fact that they sleep really cools. Gel draws heat from your body and dissipates it much faster.
Latex
This material is used in pillows as a solid block or when shredded. Just like in memory foam, the solid latex pillows offer excellent support, but they are non-adjustable. As for the shredded latex pillows, you can adjust the loft by reducing or stuffing more shred in the case. The problem is that shredded latex pillows get lumpy much faster.
Wool
This is a natural and highly breathable pillow fill material. The problem with wool is that it is expensive when used as a standalone pillow fill. Most of the wool pillows in the market are specialized for different sleeping conditions.
Water
Just like waterbeds, we also have water pillows, and these are great because of the moldability. Another thing, they are hypoallergenic and can be adjusted by adding or reducing water. The problem is that on cold days, they get cold, but on summer nights, the water helps you to sleep cool.
Innerspring
We also have pillows that use coils springs for support just like innerspring mattresses. They last longer but tend to be very firm. Innerspring pillows are also great for allergy sufferers as they don't harbor allergens.
Pillow Loft
Lofts simply put, is the height of the pillow. Pillows can either come with fixed lofts or adjustable lofts. Most memory foam pillows have fixed lofts while shredded foam pillows can be adjusted by stuffing more shredded foam or reducing.
There are three categorizations of pillow loft.

We have the low lofts which have a thickness of 3-inches and below.
Next up is the medium loft pillow and this is 3-5-inches high.
High loft pillows are 6-inches and above.
Should you choose a pillow with a high loft or one with low loft will be the best?
Just like mattresses, there is no universal loft. Several factors inform your choice of pillow loft.
The first question to ask yourself is, what type of sleeper are you?
Back sleepers will benefit from a medium loft to ensure the head and neck are aligned with the rest of the spinal column.
Stomach sleepers should buy a low to medium loft pillow.
As for the side sleepers, the high loft pillows are always the best to cover the wider shoulder to head area.
Lastly, combination sleepers will need both high and low lofts so here; you need a pillow with adjustable loft or one that molds around your head.
The size of your head is also a significant factor.
Sleepers with larger heads require a high loft to enable the pillow to support the weight of the head without sinking too low.
On the other hand, those with small heads will be comfortable on low to medium lofts as their heads don't exert a lot of pressure on the pillow.
Mattress firmness also plays a part here.
When sleeping on a firm mattress, it means your head is high up because the mattress doesn't allow any sinkage. For this reason, get a high loft pillow.
For those sleeping on soft mattresses, your body sinks a little bit, and that means your head is closer to the surface and that requires a low loft pillow.
Your body weight also affects the choice of pillow loft in the same way as mattress firmness.
Heavy sleepers exert more pressure on the mattress and cause sinkage. That means you will need a low loft.
For light sleepers, there is no, or minimal sinkage with the head remaining up high, so a high loft is necessary.
Lastly, consider your shoulder width if you are a side sleeper.
Broad shouldered sleepers have their heads high from the mattress surface, and that calls for a high loft pillow.
Narrow shouldered sleepers, on the other hand, have their heads closer to the mattress, and that requires a low loft.
Sleeping Posture
Just like when choosing a mattress, how you sleep should also influence your choice of pillow.

As you are aware, there are four types of sleepers; side, back, stomach and combination sleepers.
So, what should you buy for each sleeping need?
>For side sleepers, go for a firm to extra-firm pillows. It will ensure the spinal column, head and neck are properly aligned at a consistent loft height. We recommend the latex and foam pillows here.
Back sleepers will reap the benefits of a medium-firm pillow to support your head and neck and most importantly, to align with the spine. Foam pillows are the best here.
If you lay on your stomach, a plush flat pillow will suit you best. This is because it supports your head and neck without raising the head too high not too low – in perfect alignment with the spine.
For the combination sleepers, buy a soft to medium pillow. Some sections might be firmer than others. The soft areas are best for back sleepers while the firm areas are good for side sleepers. Pick a pillow filled with different materials.
Pillow Use-By Date
Some pillows have some sort of expiry dates called use-by date. This applies mostly to synthetic fill pillows.
If you are buying them, make sure to check the label.
Warranty & Sleep Trials
You need to look out for the most extended warranties when buying mattresses and pillows as well.
An extended warranty is like a guarantee that the company offers quality and durable pillows. It also covers you against defects like premature flattening, staining, and other workmanship defects. Make sure you go through the terms and conditions of the warranty and understand what it covers and what it doesn't.
Sleep trials are also available for pillows just like in mattresses. Some brands offer sleep trials while others don't offer trials at all. Go for a pillow with the most extended sleep trial.
It is important that you get a free trial. This is because you can't confirm that a pillow suits your sleeping need in a single night.
When to buy a new pillow
It is unfortunate that many people don't know when it is time to get a new pillow.
If you experience cervical pains, despite having a good mattress, then you need to get a new pillow. The pains could be because you have the wrong pillow or you need special orthopedic pillows.
Mostly, it is an old pillow that is causing the improper head and neck alignment.
So how do you know that it's time to replace your pillow.
A simple test is to fold the pillow halfway and place your sneakers on top of it. If the shoe is sprung, your pillow is in great condition, and if it stays there, you need to replace your pillow.
How to maintain your pillow
Among the common questions, our readers ask us is, how long do pillows last? Well, we have said before that the top brands hold up the abuse quite well and last longer. But still, maintenance is a major dynamics when it comes to your pillow's durability.
So, how do you keep your pillow in great condition always?
A pillow protector is a great accessory that should accompany your pillow. Even though most brands insist that their covers and pillows are machine washable, they get some wear and tear with every wash. With a pillow protector, you will keep dirt at bay, and also, they can withstand washing. Pillow protectors are very affordable so consider adding a pair or two for regular change.
Daily, fluff it up by shaking it a few times. This will help in air circulation and removing dust mites and other allergens like dust. In a week or a fortnight, consider giving it a gentle wash but if you have a pillow cover, no need for washing the pillow.
Frequently Asked Questions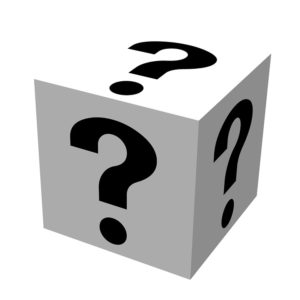 Below, we have shared with you the answers to common questions our readers ask us about pillows, in particular, the king size models.
Why buy a king size pillow?
From the measurements, the king pillow is wider thus giving you more space to lay your head. It can actually accommodate a couple. In addition, you can turn it and use it as a body pillow.
Do I really need a pillow protector?
A pillow protector is an asset if you want your pillow to last longer. But then, covering your bamboo pillow with another cover takes away the convenience of bamboo. It is a dilemma between durability and comfort.
What size is a king size pillow case?
How much bigger should a pillowcase be than the pillow? The fundamental thing here is that the pillow fits in the cover perfectly. A king size pillow measures 20-inches by 36-inches. We recommend getting the same size cover, with maybe an inch extra both sides.
Which pillow is best for side sleepers?
There is no such thing as the best pillow for side sleepers. It depends on your body size and mattress firmness.
Big sleepers need a firm mattress while small bodied sleepers will benefit from a soft mattress.
Do you need king pillows for a king bed?
King pillows have increasingly become popular just recently. They go well with king size beds, but the popular pillows for king size beds remain three standard pillows.
After how long should I replace my pillow?
Synthetic fill pillows should be replaced in six to twelve months depending on the model while down pillows will last two to three years.
Wrapping Up
There you have it folks: a review of the best king size pillows. Which one was your favorite?
Talk to us in the comments section below and also remember to drop us your questions. Our experts will be glad to advise you.