Lull vs Tuft & Needle Memory Foam Mattresses Face to Face Comparison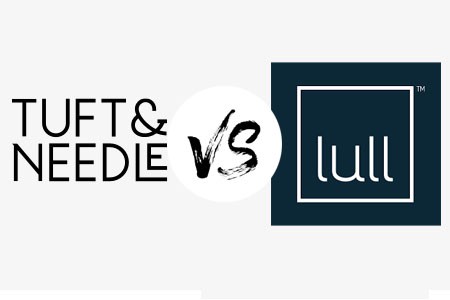 Proper sleep is the secret of daily health and energy. And while your night rest may depend on various reasons like your emotional state, air temperature, people around, the right mattress is still the most significant part of this puzzle.
A vast range of mattress products with close characteristics and prices often confuses even experienced customers. That's why many prefer simply purchase top models of the leading brands.
So, we decided to help you with your choice and took two best foam mattresses of the world-known brands.
In the course of this Lull vs Tuft & Needle comparison, we are going to scrutinize all pros and cons of each mattress. Let's figure out what requirements they will meet best of all!
Main Differences Between the Models
At first sight, it may seem that our today's mattresses are very similar. However, close face to face comparison reveals that there are more differences than common features. Here are the most important of them:
First of all, the Lull Memory Foam mattress consists of three layers. Its opponent Tuft & Needle has two layers, one cooling gel part, and a soft cover.
The mattresses differ in firmness (8/10). The Lull model is firm, while the T&N model is medium-firm (6/10).
Lull Memory Foam provides excellent edge support and motion distribution to make sleep comfortable for two people. Tuft & Needle has neither of the technologies.
But T&N mattress can boast of another nice feature. It has hypoallergenic and safe CertiPUR-US cover.
Finally, mattresses have a minor difference in weight. Lull is 69 pounds, and T&N is 72 pounds.
Comparison Table
Model

Layers

Firmness

Materials

Therapeutic Support

Cooling & Breathability

Trial Period

Warranty

CertiPUR-US Certified

Check
Price

Lull

3 Layers of Premium Memory Foam

Firm

Premium Memory Foam

100 NIGHT TRIAL

10-Year

Check Price

TUFT & NEEDLE

2 layers

Cushioned Medium-Firm

T&N Adaptive foam

100 NIGHT TRIAL

10-Year

Check Price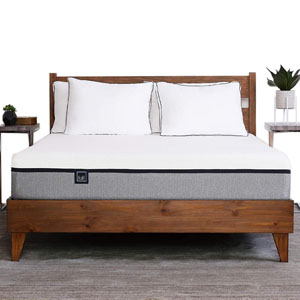 Lull 3 Layers Memory Foam mattress has become one of the bestsellers of 2019 and keeps this position even one year later. So, why is it so popular and is it really worth its money?
First of all, let's take a look at its construction. As you can guess from the name, this Lull consists of three layers, each of which performs a certain function. The thickest bottom layer forms the basis of the mattress, contributing to its durability. While it also supports your body, the middle layer is the main support that provides a therapeutic effect on your spine. Finally, a thin top layer help emit extra body heat, thus performing a nice cooling effect. The combination and design of the layers make it a firm model for those who need additional back support.
Lull 3 Layers mattress can be justly called a universal model since it suits all types of sleepers and bed frames. Besides, the manufacturer took care to provide all sizes from Twin to California King for any budget. Bigger size options will especially please couples since the mattress structure helps evenly distribute motions of one partner to guarantee calm sleep for another.
We'd also like to praise Lull designers. The mattress features an exquisite and stylish appearance with snow-white top and rich grey sides.
All the pleasures mentioned above will cost you about $800-$900. Though the mattress combines a lot of nice features, many users tend to consider it slightly overpriced. We believe that such high cost can be partly explained by extended 10-year warranty and primary 100 Night Trail period.
As usual, even the best model cannot consist only of pluses. Apart from the controversial price, some users find it excessively firm for normal-weight people. Also, don't forget to air your mattress before usage as it has a bit noticeable smell that keeps about two days after unpacking.
To conclude, we'd like to say that Lull 3 Layers Memory Foam mattress is a standard and truly universal model that meets all requirements of the majority of sleepers.

Advantages
three-layer design
excellent back support
the soft and cooling top layer
suits back, side, and stomach sleepers
for all types of bed frames
motion distribution technology
edge support
all size options available
lovely design
100 Night Trail
10-year warranty
Disadvantages
expensive
requires testing as may be too firm for you
smells a bit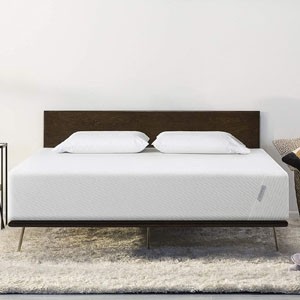 Tuft & Needle or T&N mattresses, as they also called it, feature the same popularity and similar characteristics for more affordable money.
Tuft & Needle Original mattress is a nice example. Here, we have the same memory foam structure with back support and temperature regulation.
The model consists of two layers: the upper Pressure Relief layer for balancing an ideal combination of softness and firmness and the bottom Support layer that distributes your weight and load on the spine. On the top, layers have special cooling gel foam, and all elements are covered with breathable fiber.
Thus, T&N Original provides medium firmness and comfortable hypoallergenic CertiPUR-US cover. It doesn't have any unpleasant or sharp smell, but be ready you'll need a couple of days to air it. The mattress is perfect for people with any sleep habits. Besides, the Original mattress doesn't depend on the bed frame and fits most of them.
However, this semi-firm model is not recommended for heavy sleepers. Also, as it doesn't have any motion distribution and edge support, tossing and turning couples may consider it as a drawback.
Like in the previous model, T&N Original comes with all sizes from Twin to California King. The brand also provides an exclusive 10-year warranty and compulsory 100 Night Trial period.
As we have mentioned, Tuft & Needle mattresses combine nice design and affordable prices. Thus, the Original Queen foam model will cost you about $600. The benefits that you get for this sum fully cover each cent.
The model features a fully white design. Please mind it as some people may find such cover a challenging cleaning task in case if stains and spots appear.
Our final thought is that this memory foam mattress by Tuft & Needle will be an excellent, almost budget option for medium-weight single sleepers. Heavy people and couples may also find it useful, but practice shows they need more firmness, support, and motion distribution.
Advantages
two-layers
cooling gel and breathable cover
standard medium firmness
nice back support
suits back, side, and stomach sleepers
for all types of bed frames
all size options available
CertiPUR-US free of chemicals material
lovely design
100 Night Trail
10-year warranty
Affordable price
Disadvantages
no edge support
insufficient motion distribution
not for heavy sleepers
needs airing
After a brief model presentation, let's come to a more detailed comparison based on several crucial features.
Face to Face Comparison
Design and Dimensions
Despite some differences, Lull and Tuft & Needle mattresses have similar size ranges and dimensions. Thus, they feature:
the same list of sizes includes Twin, Twin XL, Full, Queen, King, and California King;
80″ x 60″ x 10″ dimensions;
At the same time, the weight and design of the models are those categories that vary. The Lull mattress is a more lightweight model that weighs 69 pounds, while T&N Original reaches 72 pounds.
Also, while the T&N mattress is completely white, the Lull has a light grey bottom.
Verdict: In the majority of cases, the design doesn't pay any special role for customers. Dimensions are more important, but since our models are identical here, and the weight gap is insignificant, we can recommend both mattresses as peers.
Layers and Temperature Regulation
Lull Queen Memory Foam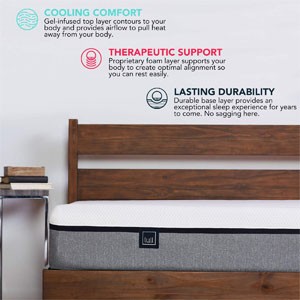 The Lull model consists of three layers:

The first top layer is a 1.5″ sheet made of viscoelastic gel. It has a bit spongy structure, thanks to which it perfectly contours your body shape, provides exquisite softness, and allows for normal air circulation. Airflow prevents overheating, that's why this layer is called a Cooling one.
The second layer is called Therapeutic Support. It is 7″ wide and made of more rigid foam. Such increased toughness supports your body, especially the spine, and makes it stay in the right position all night long.
The last third layer is aimed at Premium Durability. This is a basic element of the mattress that supports all previous layers, prolonging their service life for many years. Thanks to this part, we can enjoy an exceptional sleep experience.
Tuft & Needle Original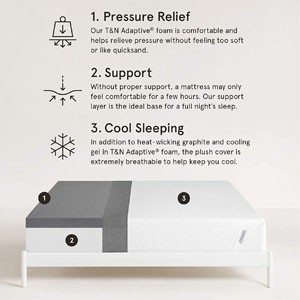 T&N Original mattress somehow differs from the previous model. It consists of two layers and an additional gel part, while the whole sandwich is covered with fiber. If we cut the mattress in half, we'll see:

Special soft and hypoallergenic white cover.
Cooling T&N Adaptive foam gel. The presence of graphite in its composition makes it a nice element that absorbs extra body heat.
Next, comes the first thick layer. It is Pressure Relief 2.5″ T&N Adaptive foam. On the one hand, the layer evenly distributes your weight, making sleeping more comfortable. And on the other hand, it prolongs the life of the whole mattress.
The second Support layer is presented by 5.5″ polyurethane foam. Once again, here we have the basis of the mattress that supports your back and other sandwich parts all through the night.
Verdict: Both models feature similar structures, but there are some differences that help us find a winner. The Lull mattress uses a full-fledged cooling layer. Tests and users` reviews show that this layer provides better temperature regulation compared with the T&N thin gel element. Thus, if we speak about cooling, the first model will do it better.
However, all Tuft & Needle Original mattresses come through CertiPUR-US certification. It guarantees that used materials are free of harmful chemicals and hypoallergenic.
Firmness
Here is another crucial difference between the models.
Lull Queen Memory Foam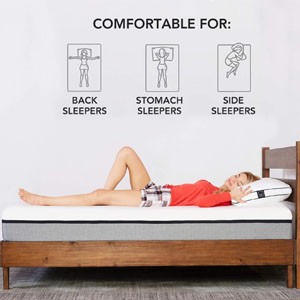 Lull Memory Foam belongs to the category of firm mattresses and gets about 8-9 points out of 10 on the firmness scale.
This model is a perfect choice for heavy sleepers, couples, and those who need extra back support.
Tuft & Needle Original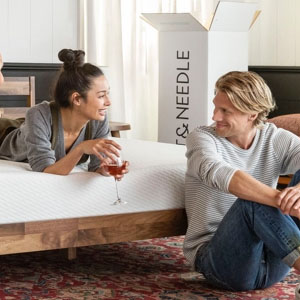 T&N Original is a medium-firm mattress with about 6-7 out of 10. This is considered a golden mean because most people prefer the combination of a rigid base and a soft top.
Thus, Original Queen is suitable for almost everybody, except for heavy and stomach sleepers and people with posture problems.
Verdict: Firmness is a very subjective factor, which fully depends on your preferences and health. Though they serve different purposes, both mattresses are winners here.
Motion Distribution
As you have noticed in our brief descriptions, motion distribution is quite a useful characteristic. It allows two people to sleep on one mattress and shift around without disturbing each other.
Lull Queen Memory Foam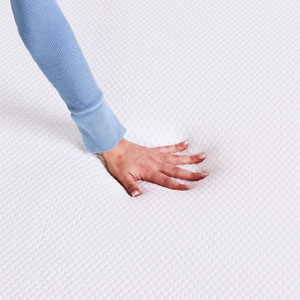 Lull mattress comes with a nice motion distribution. Besides, it has edge support that improves the sleeping position of people who lay on the sides.
Tuft & Needle Original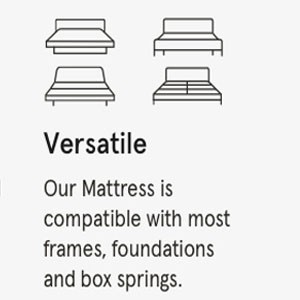 Unfortunately, Tuft & Needle has neither of these functions.
Verdict: Undoubtedly, Lull Memory Foam is a winner here. Even if you purchase a mattress for yourself only, edge support and undisturbed sleep are great features that shouldn't be neglected.
Types of Sleepers
The greatest advantage of the first mattress is its universality. It suits back, stomach, and side sleepers, teenagers and adults, single persons and couples. The only restrictions are too small weight (it isn't recommended for kids) and elderly age (60+). This group of sleepers doesn't need such strict back support.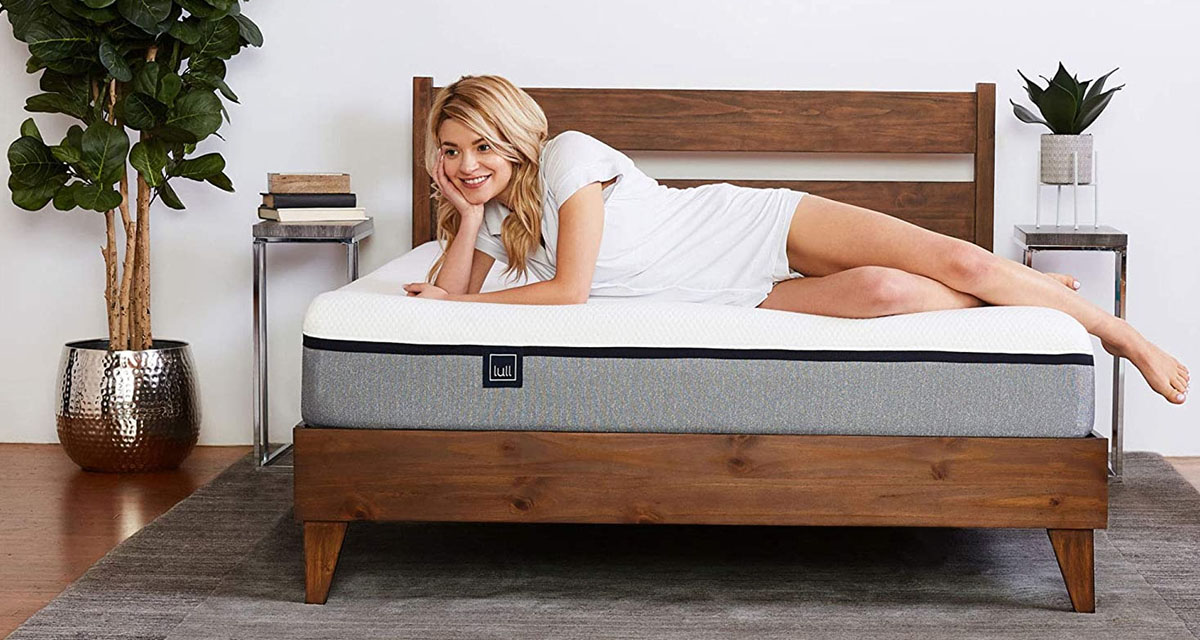 On the one hand, the second option is softer and, consequently, suits all age categories from children to seniors. But on the other hand, the stomach, heavy, and partner sleepers will not like its soft structure. As well as if you have back pains and problems, it is recommended to consult your doctor before purchasing.
Verdict: Tuft & Needle mattress seems to be a more suitable choice for healthy people of all ages. However, its rival gets additional customers from people of greater weight and couples.
So, once again, we cannot decide on which one is better here. This decision is all yours!
Warranty and Trial Period
The final part of the comparison allows us to show one of the few similarities. Both mattresses have a 10-year warranty. Moreover, if you didn't like your mattress, you can return it within 100 days after the purchase thanks to the 100 Night Trial program.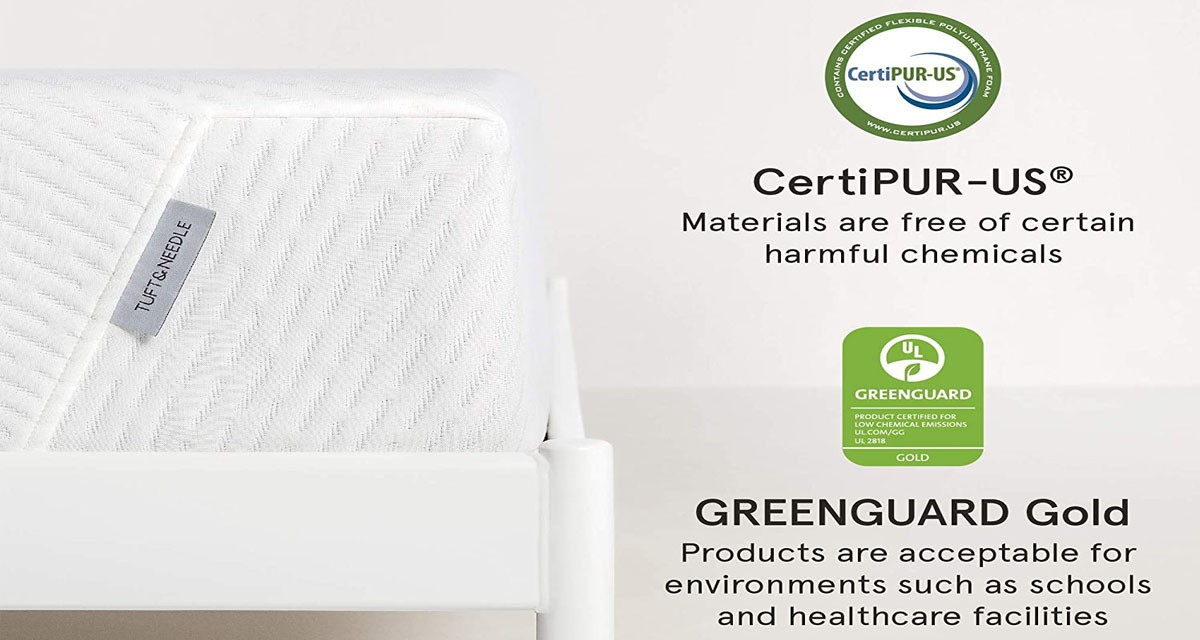 Verdict: Extended warranty for as many as ten years and long trial period make each mattress a safe and beneficial purchase even if you're not sure of your choice.
Buyer's Guide – How to Choose the Best Memory Foam Mattress?
Different people have very different mattress needs. And that difference is what makes a mattress purchase complicated. None mattress combines all features that would satisfy everyone. Still, if we make a list of requirements and moments to mind, each of us will be able to find one of several models that will suit them. Here are the most important tips on how to choose a mattress for your needs.
Firmness
This is one of the fundamental characteristics of an orthopedic mattress. A normal rest and back health of a person largely depends on the firmness of his mattress. Medium-firm models are considered to be the best option for comfortable sleep, but it is still the question of an individual choice.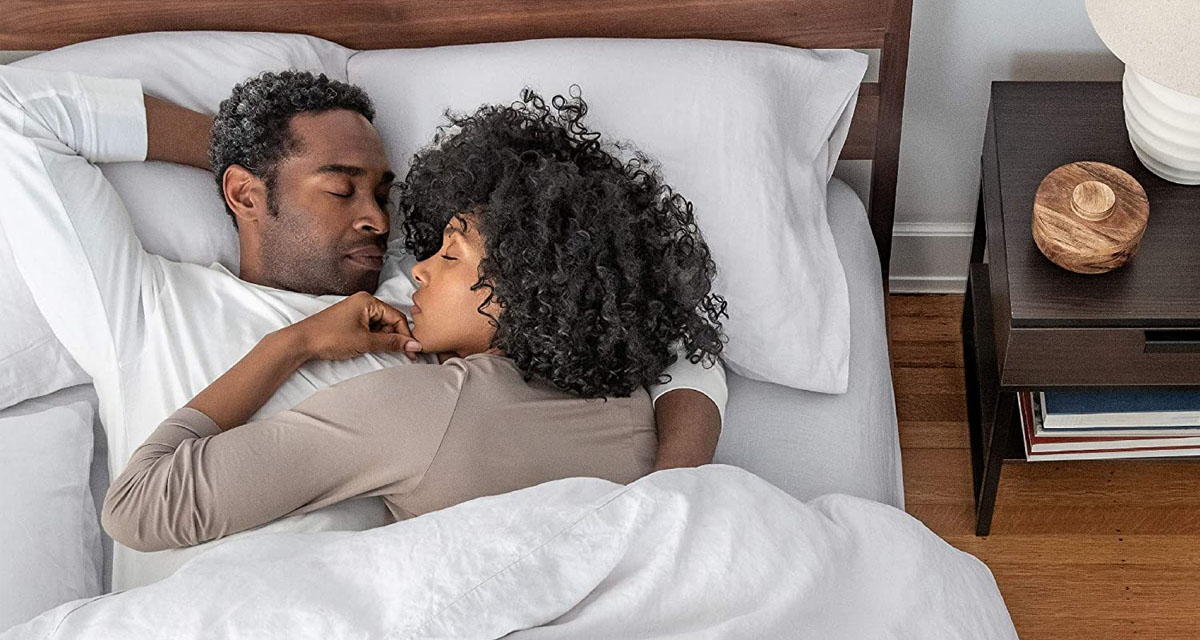 Firm mattresses are recommended for back pains and spine disorders. Their surface is not soft, but it ideally supports sick or damaged vertebrae. Also, people over 50 years old should be careful when choosing a firm mattress that is too hard.
Choose mattresses of low rigidity for your elderly relatives and children aged 8-15 years.
Weight of a Sleeper
In addition to the criteria mentioned above, the weight of the future owner plays an important role. It is crucial to take this factor into account since it influences the life of the product and your perception of the mattress's rigidity.
Follow the weight recommendations indicated in the characteristics of the mattress. It is better to choose a model with a weight reserve for several pounds.
Size and Height of the Mattress
Your comfort significantly depends on the height of the mattress. In addition, this factor is also important in aesthetic terms.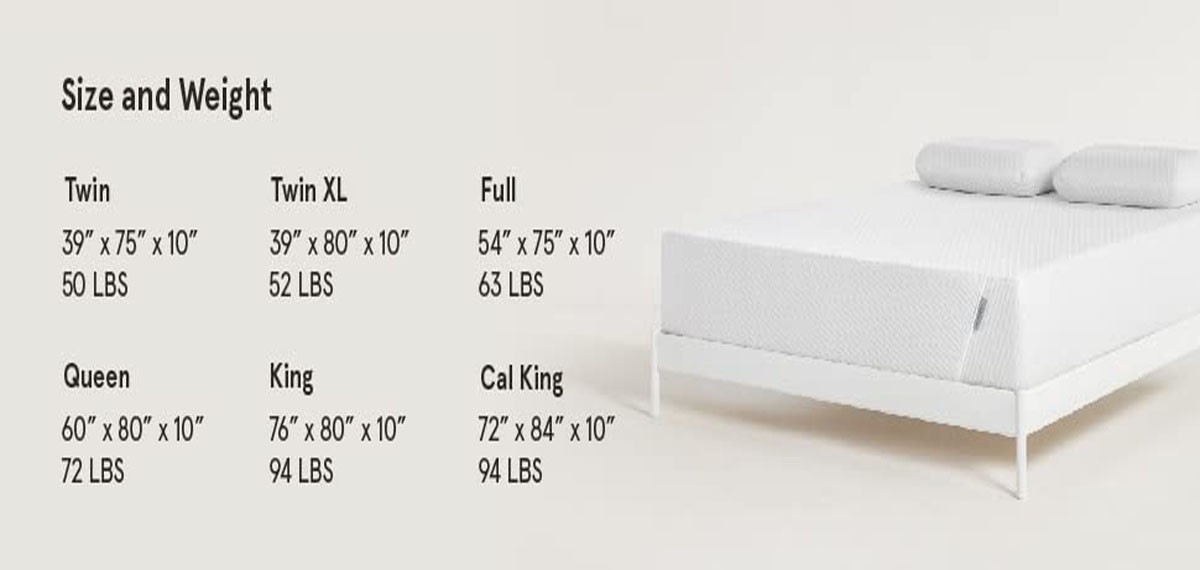 The thinnest mattresses up to 8″ are usually designed for children or infrequent seasonal use. Experts argue that thin models can negatively affect health and harm the spine of people with significant weight. Adults should choose standard 8″ -12″ models, while thick mattresses up to 20″ are suitable for almost all sleepers, especially for heavy people.
Please mind that a mattress should also fit your bed frame size. Don't allow your mattress to be too short, narrow, or, on the contrary, too large for your frame. The best way is to buy a mattress and a bed as one unit.
Type of the Mattress
Nowadays, you can choose between spring or springless systems.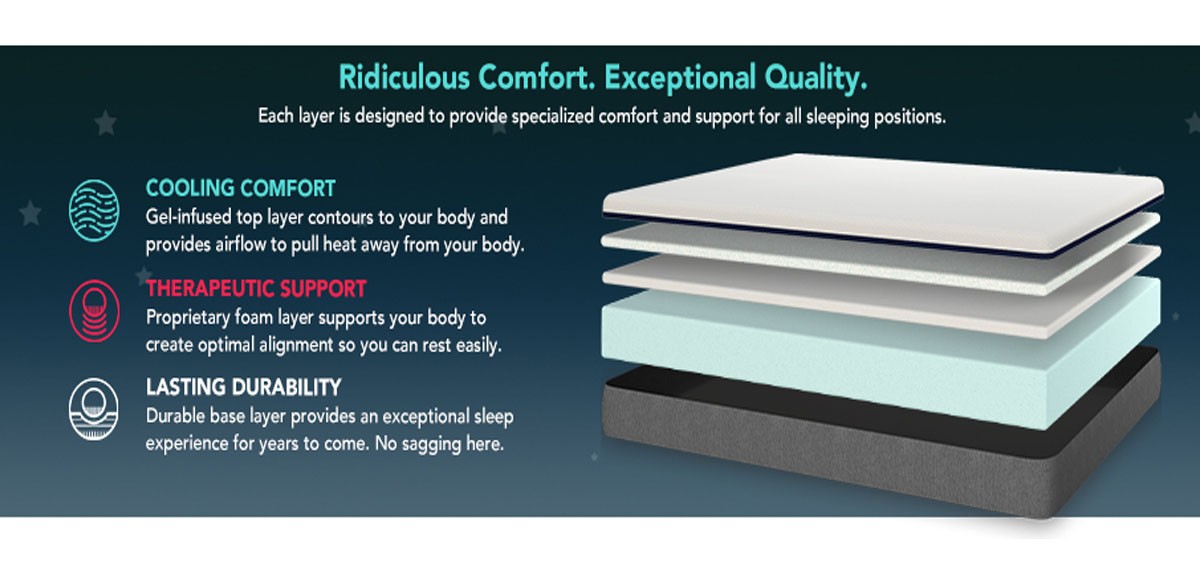 In a short word, spring mattresses consist of dependent spring blocks. They consider classic as we have been using them for centuries. However, please remember that such mattresses do not have orthopedic properties. Spring models are the cheapest, but their block damage fast, creak, and contribute to the development of parasites and harmful microorganisms.
Mattresses with independent spring blocks are much better as they feature convenient design and orthopedic properties. Each of the springs is placed in a separate case and move without contact with other blocks. This means that the mattress will ideally bend under the human body and provide the necessary spine support.
Springless mattresses are the most common type of inexpensive and efficient models. These units consist of several foam layers where some remember your body shape, and others provide support. Often they come in compact, twisted packaging. These affordable mattresses are frequently bought for all categories of users – children, adolescents, and adults. The best items are perfectly suitable for the role of beds for permanent use.
Filling
Various models offer absolutely different fillings that vary in firmness, spine support, and components. That's why the correct choice of the filling will allow you to purchase a model perfect for your needs.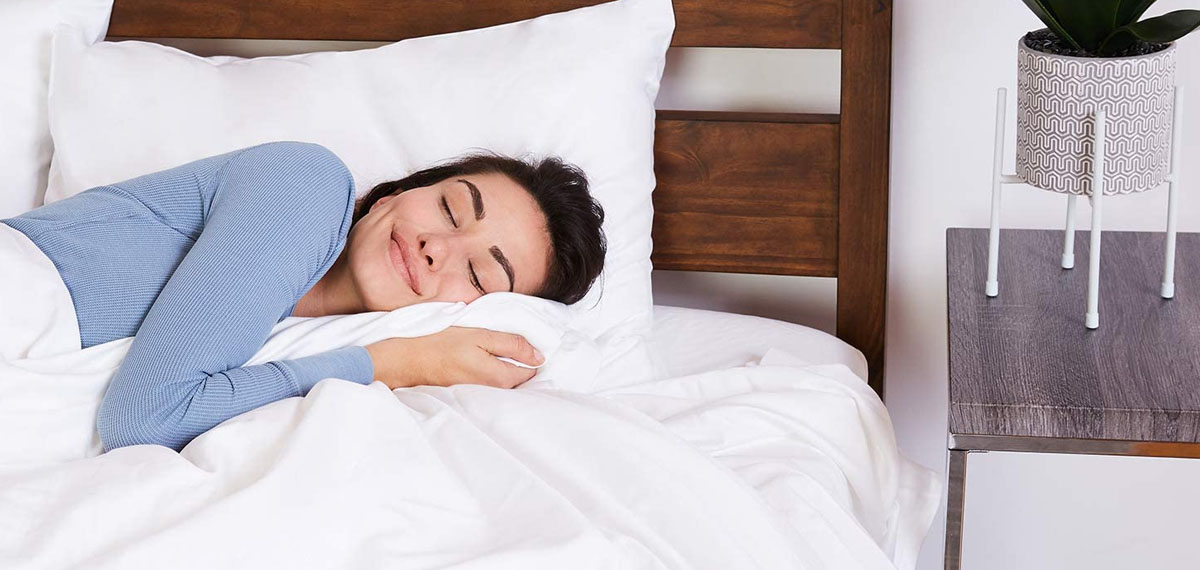 Nowadays, cotton, wool, feather are out of fashion. The best options include latex, polyurethane foam, coconut coir, hollow fiber, and memory foam.
Frequently Asked Questions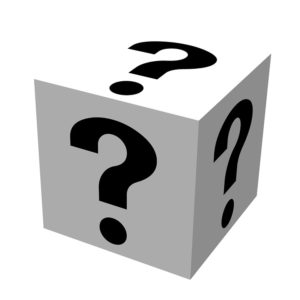 Lull vs Tuft & Needle: which mattress is better for people with spinal problems?
Lull Memory Foam mattress offers firm back support, which is a necessity for all people with back pains and diseases. Tuft & Needle Original mattress is of medium firmness. It's a perfect option for all healthy people but may not pay proper attention to a sore back. That's why Lull will be a better choice for people with spinal disorders. Anyway, please consult your doctor before purchasing a mattress!
Can sitting on one spot for a long time damage my Tuft & Needle Original mattress?
T&N Original mattress uses high-quality memory foam that contours your body and then returns its usual flat shape. Sitting on your bed for a long period will not affect the mattress. Besides, you won't sink in it when climbing or getting off the bed.
How can I clean my Lull and Tuft & Needle mattresses?
The manufacturers recommend performing regular vacuuming of the mattresses. Run your vacuum about once per month to maintain cleanliness.
In case of liquid spillage or spots that have been absorbed into the mattresses, please unzip and remove the mattress covers. Then try to absorb as much liquid as possible with paper towels pressuring them to the spot. It is also allowed to use spot cleaning with cool water, gentle detergents, baking soda, and vinegar. Do not forget to let your mattress dry before removing its cover and using it.
Many users also suggest purchasing a machine-washable waterproof cover to protect the mattress itself.
Is it safe to use a memory foam mattress on the floor?
You can safely use your memory foam mattress on the floor without any further problems for your spine. All that such mattresses require is a solid flat surface, which can be a bed frame or floor.
How long do memory foam mattresses last?
The service life of a memory foam mattress depends on the sleeper's weight and maintenance. Anyway, a proper high-quality model will last for at least eight years. Lull and Tuft & Needle brands provide a 10-year warranty to their products. It means they sure their mattresses will last for ten years or even more.
Conclusion
We can safely state that both models of our review cost their money and contribute to the health of your spine.
Though having a lot of common features, Lull and T&N models serve different aims. Lull Memory foam is a perfect option for people with spinal problems, heavy sleepers, and couples. It also provides much better temperature regulation and edge support.
Tuft & Needle Original will better suit single sleepers of all ages and standard weight. It is also safe for allergy sufferers as gets CertiPUR-US certification.
Besides, the mattresses have a good price, free delivery, and trial free period. So, even if you're not sure of your choice, you can test your mattress and experience all its 'pros' and 'cons' on yourself.