Zinus vs. Tuft & Needle Mattresses
We spend 1/3 of our life catching Zs, and the quality of our sleep has a significant impact on how we look, feel, and lead our lives physically, mentally, and spiritually.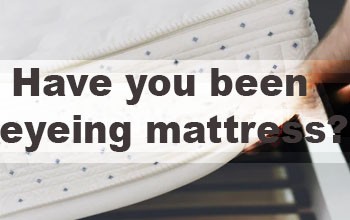 To ensure a good quality of life, we should also make sure we have a good time slumbering.
Start by looking at Zinus and Tuft & Needle mattresses.
Zinus has made a big splash in the mattress industry since the company launched its first product in 2004. Today, the company is best known for its memory foam mattresses that you can buy at modest prices.
Tuft & Needle, on the other hand, debuted in 2012 and stood out in the industry by showcasing exemplary craftsmanship that the average Joe can afford.
But which of these two brands should match your needs and your budget? Check out our Zinus vs. Tuft & Needle product comparison to know your options.

Product Comparisons
Model

Weight

Material Type

Sizes

Memory Foam

Warranty

CertiPUR-US Certified

Check
Price

62.5 pounds

Green Tea
BioFoam

Queen

12 Inch

10-Year

Check Price

20.6 pounds

BioFoam

Twin

6 Inch

10-Year

Check Price

73.3 pounds

BioFoam

Queen

12 Inch

10-Year

Check Price

62 pounds

Proprietary Adaptive Foam

Queen

10-Inch

10-Year

Check Price

68 pounds

Adaptive Foam

Full

8-Inch

10-Year

Check Price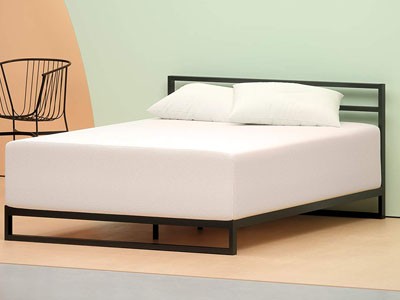 Size: Queen, 60 x 80 12 inches
The Zinus 12-Inch Green Tea Memory Foam Mattress is among the most popular mattresses you can find in the market today.
Given its size and high-quality features, you'd be hard-pressed to find a fantastic bed at its price range.
Although the bed is available in various thicknesses, we recommend the 12-inch version if you want something right in the middle of plush and firm.
As expected of memory foam, it conforms to your body shape and offers orthopedic effects. We like that the mattress doesn't sink too much and cause you to feel cocooned.
In terms of motion isolation, this bed aced this department, as well. The mattress responds slowly to pressure. There isn't much bounce to it at all, even if you throw a bowling bowl on the bed.
To top it all, the Green Tea Memory Foam Mattress is imbued with activated charcoal and green tea extracts to give it antibacterial and odor-neutralizing properties.
Having done so keeps the bed fresher for longer. In fact, it doesn't emit a sharp, intolerable smell after unboxing that other memory foams do.
Advantages
Offers a right amount of plush with a hint of firm
Knitted jacquard cover
Minimal bounce
Satisfactory edge support and motion isolation
Uses BioFoam infused with activated charcoal and green tea extracts
CertiPUR-US certified
Expands quickly
Disadvantages
The cover is loose, causing it to bunch up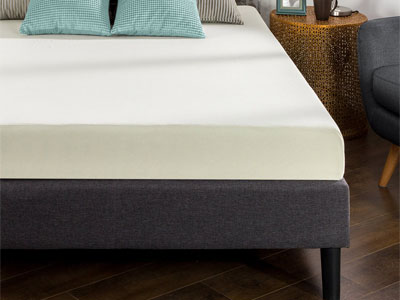 Size: Twin, 39 x 75 x 6 inches
People on a tight budget would love the Sleep Master Ultima by Zinus.
This model is another memory foam mattress, although not as thick as the Green Tea or Cloud.
The bed has a two-layer construction comprised of BioFoam and a thin layer of memory foam.
On the bright side, the bed doesn't warm up as much as others because it has limited memory foam.
Despite its modest construction, it still provides sufficient comfort and support for petite, lightweight combination sleepers.
We also appreciate that the manufacturer did not skip on the smooth jacquard cover.
Advantages
Knitted jacquard cover
Uses BioFoam
Very firm with minimal sinking
CertiPUR-US certified
Disadvantages
Doesn't support bony prominences as well as other Zinus memory foam mattresses
Takes a lot longer to decompress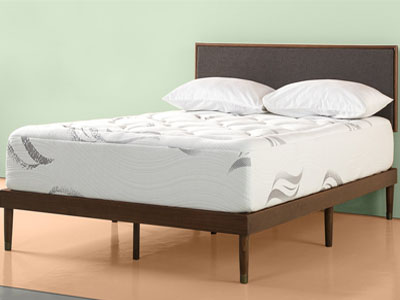 Size: Queen, 60 x 80 12 inches
If you wish to sleep on clouds, the closest thing you can get to emulate such experience is the Zinus 12-Inch Pressure-Relief Cloud Memory Foam Mattress.
This bed features a thick layer of memory foam. You will literally melt into the foam!
Even the quilted cover itself is velvety soft; you could sleep on it without the sheets.
This cloud-like bed is an excellent choice for side sleepers, given the comfort it offers.
We also recommend this bed to those who seek to alleviate pain in sensitive areas, such as the shoulders and hips. Instead of forcing yourself to contour to the bed, it will yield and adjust automatically to your body shape as you lay down.
Moreover, you can rest assured that there are no heavy metals and toxic substances used to make this bed. As with any Zinus product, it is CertiPUR-US certified.
Advantages
Quilted microfiber cover
Has thicker memory foam
Provides optimum orthopedic benefits
Satisfactory edge support and motion isolation
Uses BioFoam infused with activated charcoal
CertiPUR-US certified
Disadvantages
Warms up faster than other beds, but holds cold air during winter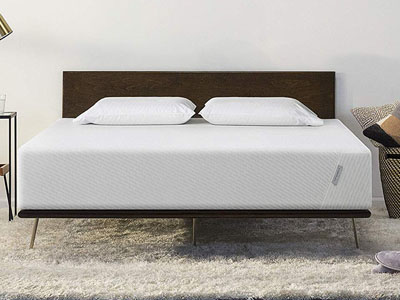 Size: Queen, 60 x 80 x 10 inches
If you are on a hunt for a bed that can withstand and cooperate rigorous nightly activities with your partner and causes you to feel rejuvenated each morning as if nothing happened, this bed is the way to go!
Tuft & Needle's Original 10-Inch All-Foam Mattress boasts of their very own T&N Adaptive® foam, which offers incomparable versatility.
It caters to different types of sleepers — jumpy kids, racy couples, arthritic seniors, restless combination sleepers, etc. The bed strikes the right balance of firmness, support, and comfort.
Using high-quality materials, this proud all-American product is the best in terms of durability.
Sleeping on this bed won't make you feel as though you've been cocooned in the hot Sahara Desert because it doesn't have a thick layer of memory foam.
The mattress consists of two layers of high-grade, open-cell foam imbued with graphite and cooling gel beads.
Most importantly, it offers unparalleled safety. When in doubt, you can always check what certifications signify its safety.
Advantages
Boasts of Tuft & Needle proprietary foam infused with graphite and cooling gel
Breathable polyester and Tactel cover
Firm enough for the back, but cozy enough for the neck, knees, hips, and ankles
Doesn't make you cave into the mattress
Excellent motion isolation and edge support
Certified by CertiPUR-US®, GREENGUARD Gold, Intertek's Clean Air, PTPA™, Today's Parent
Disadvantages
A lot more expensive than Zinus products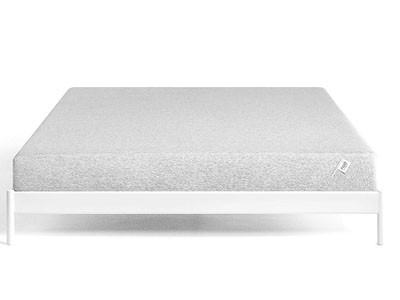 Size: Full, 75 x 54 x 8 inches
You won't find the Nod Foam 8-Inch Adaptive Foam Mattress in the official Tuft & Needle site, simply because it is Amazon's exclusive product. Still, it comes with the same company policies, including 100 nights to test out the bed before deciding whether or not you want to keep it.
This model is by far the company's cheapest offer, which sells like crazy online because of its approachable price point.
But as you might expect, its construction is basic. Despite that, we find the bed accommodating enough to cater to various people.
The product has a soft, neutral feel typical of foam mattresses. Thus, it is soft and comfortable enough, even without conforming to your curves.
This mattress also deserves praise for its adequate support for the trunk and lower back. The top layer is fairly responsive, as well. Hence, the bed pops back to place almost as soon as you get out of bed. We also found out that it does an excellent job of reducing motion.
But given its dimensions and construction, we would only recommend this bed for petite and light to average-sized individuals.
Advantages
Compatible with box springs and slatted/adjustable frames
CertiPUR-US and GREENGUARD certified
Made in the USA
Disadvantages
Just a cheaper and thinner alternative to the original bed
Zinus vs. Tuft & Needle Face to Face Comparison
Construction
Zinus Green Tea Mattress
Zinus' best-selling 12-inch mattress employs a four-layer construction starting with two 3.5-inch high-density support foam, both of which act as the foundation to the bed.
The middle is a 2-inch super soft comfort foam, while the top is 3-inch memory foam. Wrapping all these layers is knitted jacquard.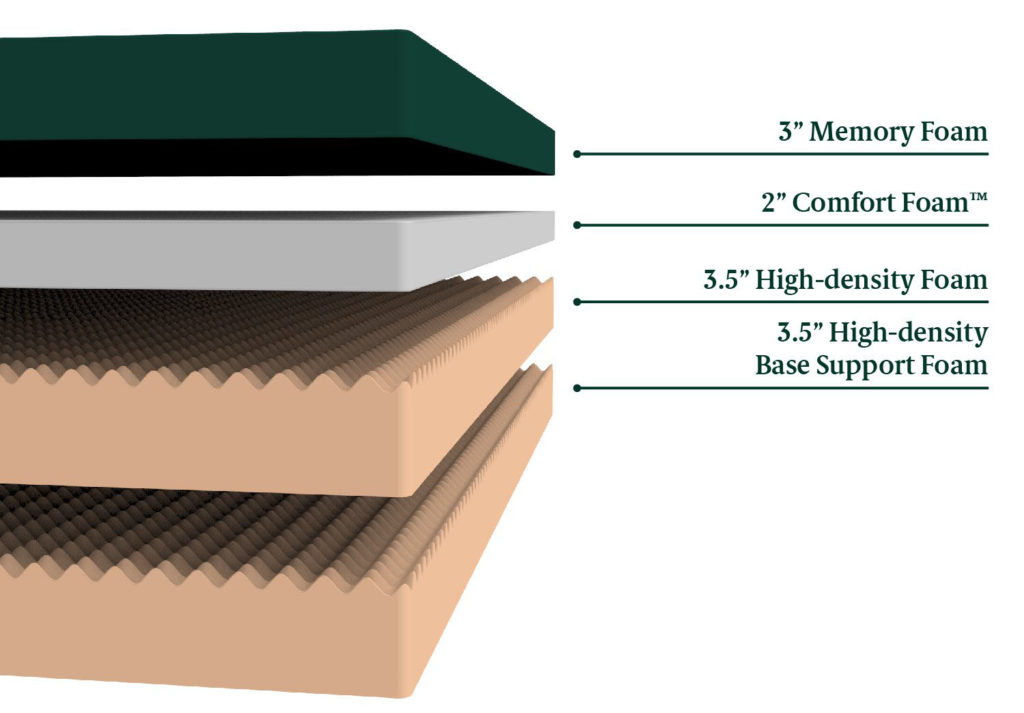 Although the cover is soft to the touch, it bunches up quickly, which can be annoying.
Zinus Sleep Master Ultima
The Sleep Master Ultima isn't as thick as the other mattresses on this list, but it still boasts of comfort and long-lasting performance.
The bed consists of a 5-inch high-density support foam topped with 1.5-inch memory foam.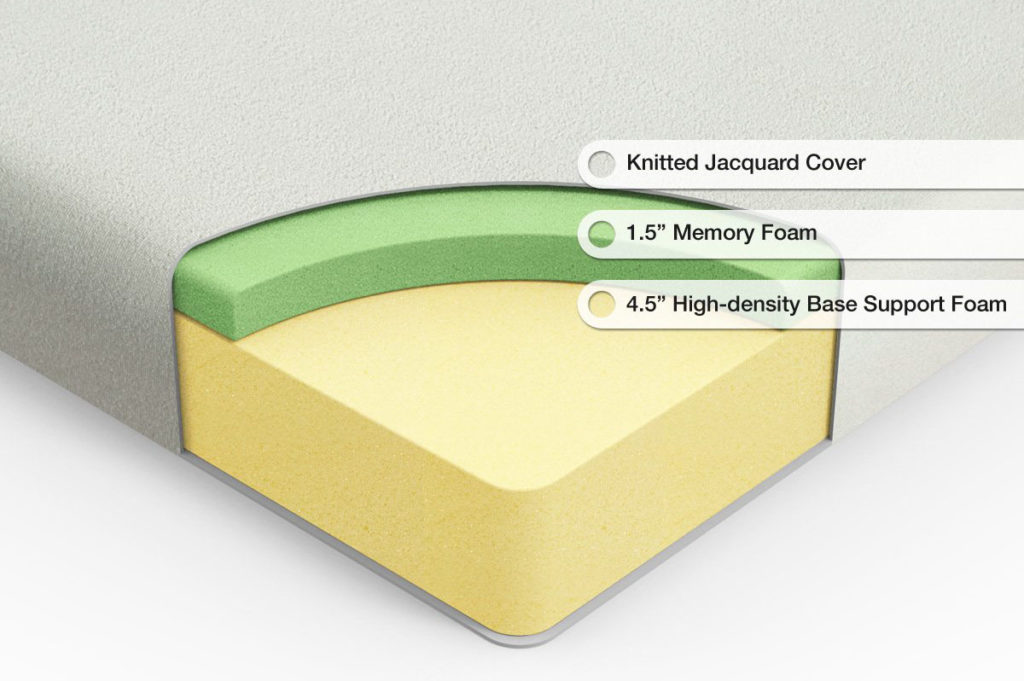 This product comes with a knitted jacquard cover, as well.
Zinus Cloud Memory Foam
This ultra-plush mattress includes a 5-inch high-density base support foam, topped by a 3-inch comfort foam, and a 2-inch memory foam.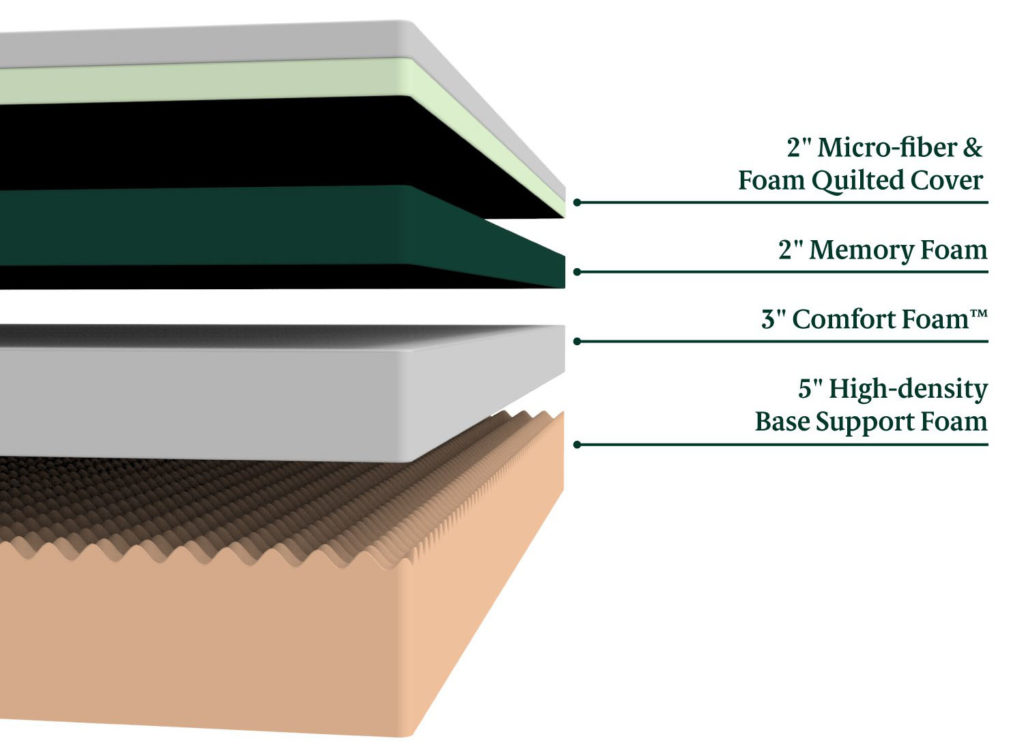 The uppermost is a 1-inch Viscolatex responsive foam to cradle you to sleep each night. Not to mention the quilted microfiber cover alone is soft and luxurious enough to make you catch Zs!
Tuft & Needle Original All-Foam Mattress
Compared to the Green Tea and Cloud mattresses by Zinus, the original Tuft & Needle mattress has a 10-inch profile comprised of two layers only — a 7-inch support foam on the bottom and a 3-inch T&N Adaptive® Foam, which is the company's proprietary foam built alongside America's top chemists.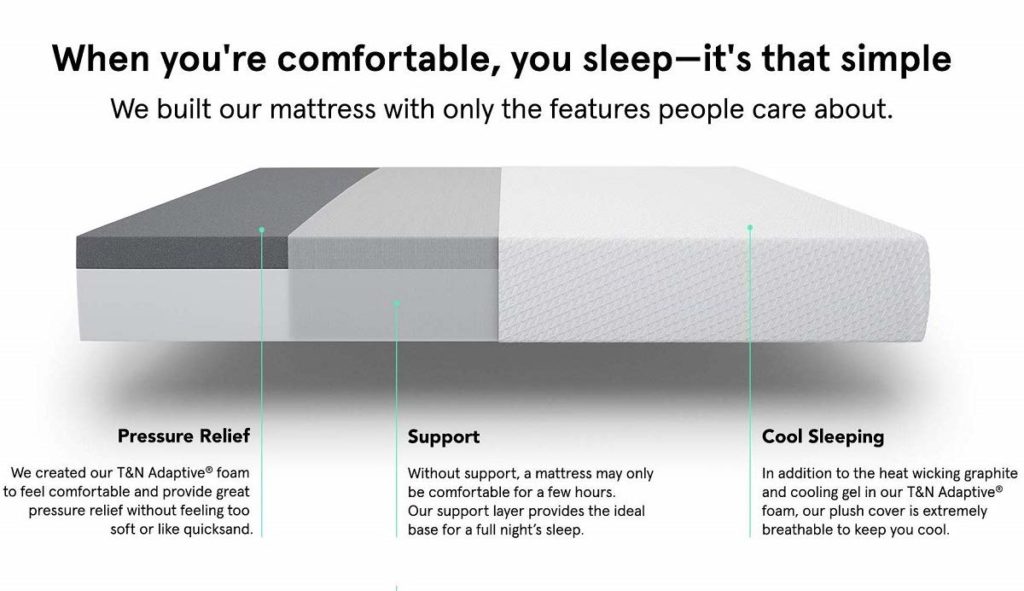 Adding to that, it comes with a breathable fast-drying cover made of polyester and Tactel.
Nod by Tuft & Needle
This bed has a basic construction of two polyurethane foam layers, which should come as no surprise, given that it is a budget option.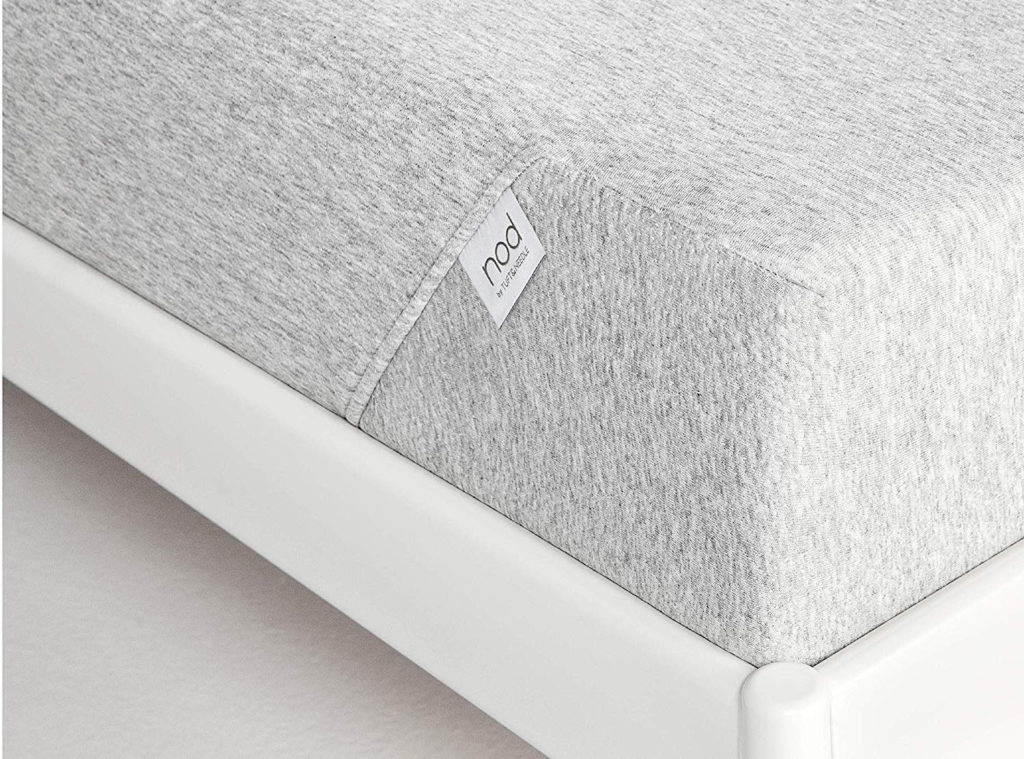 The support foam and comfort foams are 5.5 and 2.5 inches, respectively. Wrapping the mattress is a removable polyester cover.
Materials
Zinus Mattresses — Green Tea, Sleep Master Ultima, and Cloud
Memory foam tends to emit an unpleasant miasma, which sometimes prevents us from getting a good night's sleep. Thankfully, we don't have to deal with that if we choose Zinus mattresses. Their products may have been manufactured in China, but each of them has passed CertiPUR-US®* tests in flying colors.
Zinus even eliminated conventional materials from their beds, including petroleum. Instead, the company focused on Bio-Foam, which uses natural plant oil extracts.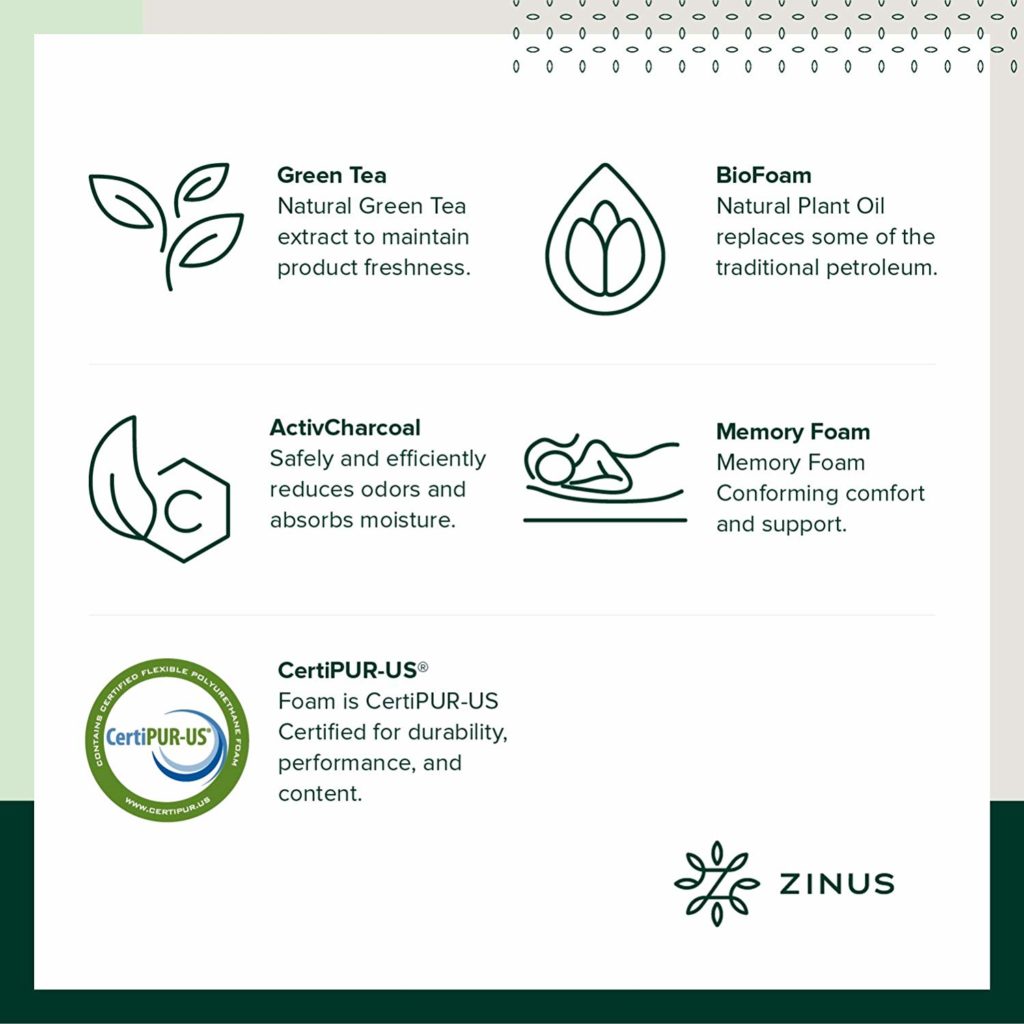 More impressively, Zinus infused green tea leaves into their Green Tea Mattress. This latest transformation using plant extracts helps keep the mattress fresh for longer.
Green tea is a potent antioxidant known for its antiseptic properties. At the same time, the Zinus Green Tea Mattress uses activated charcoal to neutralize odors and keep moisture at bay.
However, Zinus' continued use of fiberglass has raised some eyebrows.
Until now, many companies use fiberglass as a standard precaution for fire safety, while others use industrial toxic chemicals to meet specific guidelines enforced by the law.
Do note that fiberglass is a legal frame retardant used in mattresses, and although it isn't hazardous, it may aggravate asthma and bronchitis when inhaled. So, it is wise not to take the cover off the bed.
Tuft & Needle Mattresses — Original and Nod
Tuft & Needle is proud to say that their beds are handcrafted only in America. Also, the company states that they don't use fiberglass.
Each mattress comes equipped with a TB-117** compliant fire barrier, which is a fabric blend of rayon and small amounts of polyester and fine-grained silica sand. Bear in mind that the silica is ingrained deep into the fibers, preventing direct contact with the skin.
On the contrary, the company can't deny that they use petroleum in some of their mattresses, particularly the Nod, which comprises of polyurethane foams.
Nevertheless, all Tuft & Needle products have received CertiPUR-US® and GREENGUARD certifications, which means the VOC emissions are low enough to be considered toxic.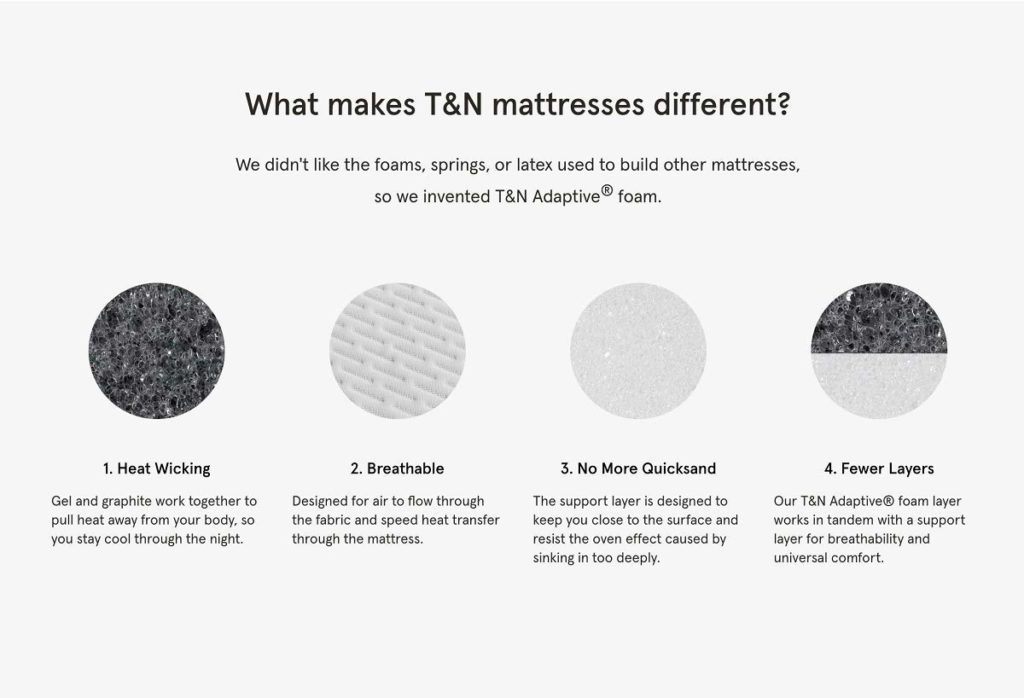 But if you have sensitivities or respiratory conditions such as asthma, it is best to air out the bed for a few days and make sure the off-gassing dissipates entirely before using.
*CertiPUR-US® certification – proof that a product has low VOC emissions and is free of CFCs, flame retardants, heavy metals, formaldehyde, phthalates, etc.
**TB 117 (Technical Bulletin 117) – Californian fire safety law
Firmness and Support
Zinus Green Tea Mattress
The Zinus Green Tea Mattress scored a 6 out of 10 on the firmness scale. By this, we mean it is a medium-soft bed. You can feel yourself melting into the mattress, but not as much as hate the sinking feeling.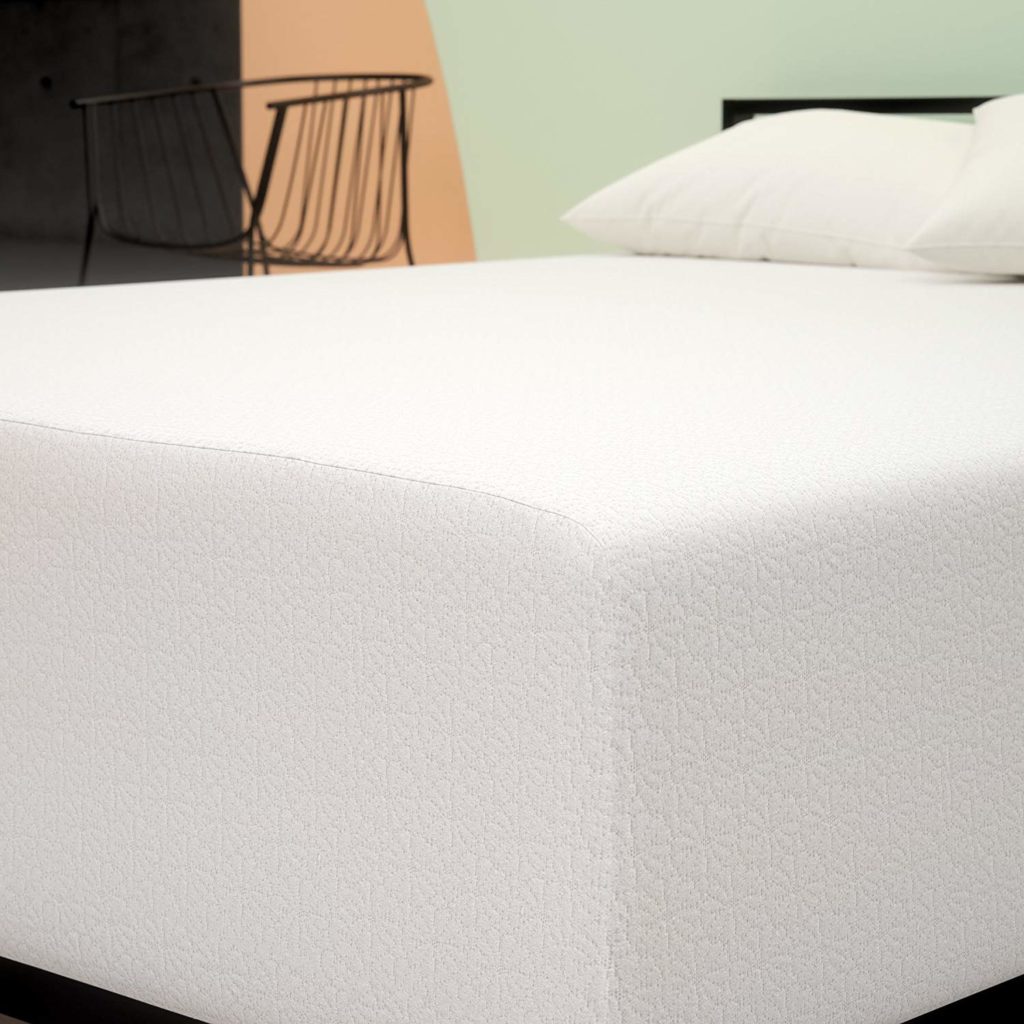 This mattress is an excellent choice for side sleepers and for couples where one partner is active in his/her sleep. In case you share your bed with your loved one, you can sleep without getting up in the middle of the night. But you may have to exert a bit more effort when it comes to intimate activities.
Zinus Sleep Master Ultima
We gave the Zinus Sleep Master a 6 out of 10.
We barely noticed any monumental difference compared to the Zinus Green Tea Mattress, except that the pain relief and support it provides is somewhat mediocre.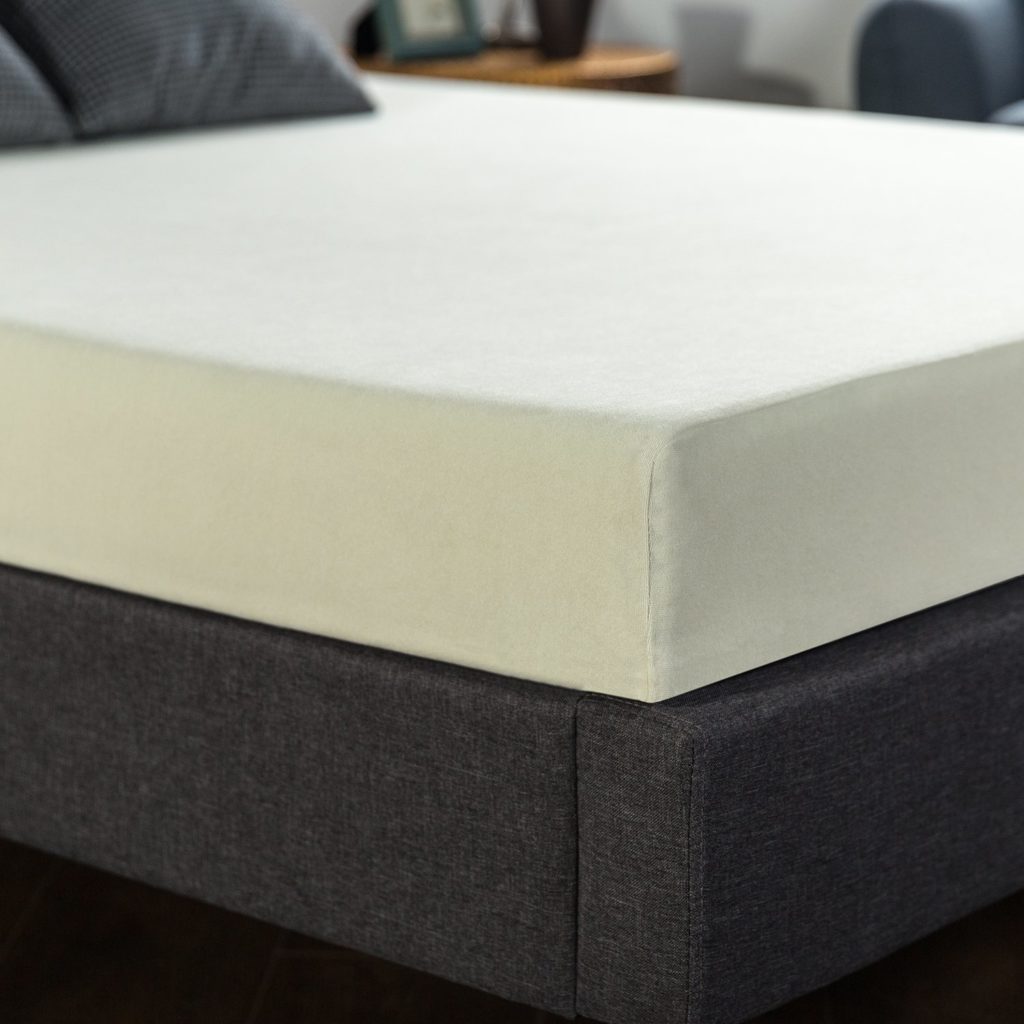 Zinus Cloud Memory Foam
We gave the Zinus Cloud Memory Foam a firmness ranking of 5 out of 10, which is softer than the industry standard. The thick, soft profile of the memory foam makes it a good fit for strict side sleepers. The memory foam hugs your body and alleviates pressure in the hips and shoulders by distributing body weight evenly.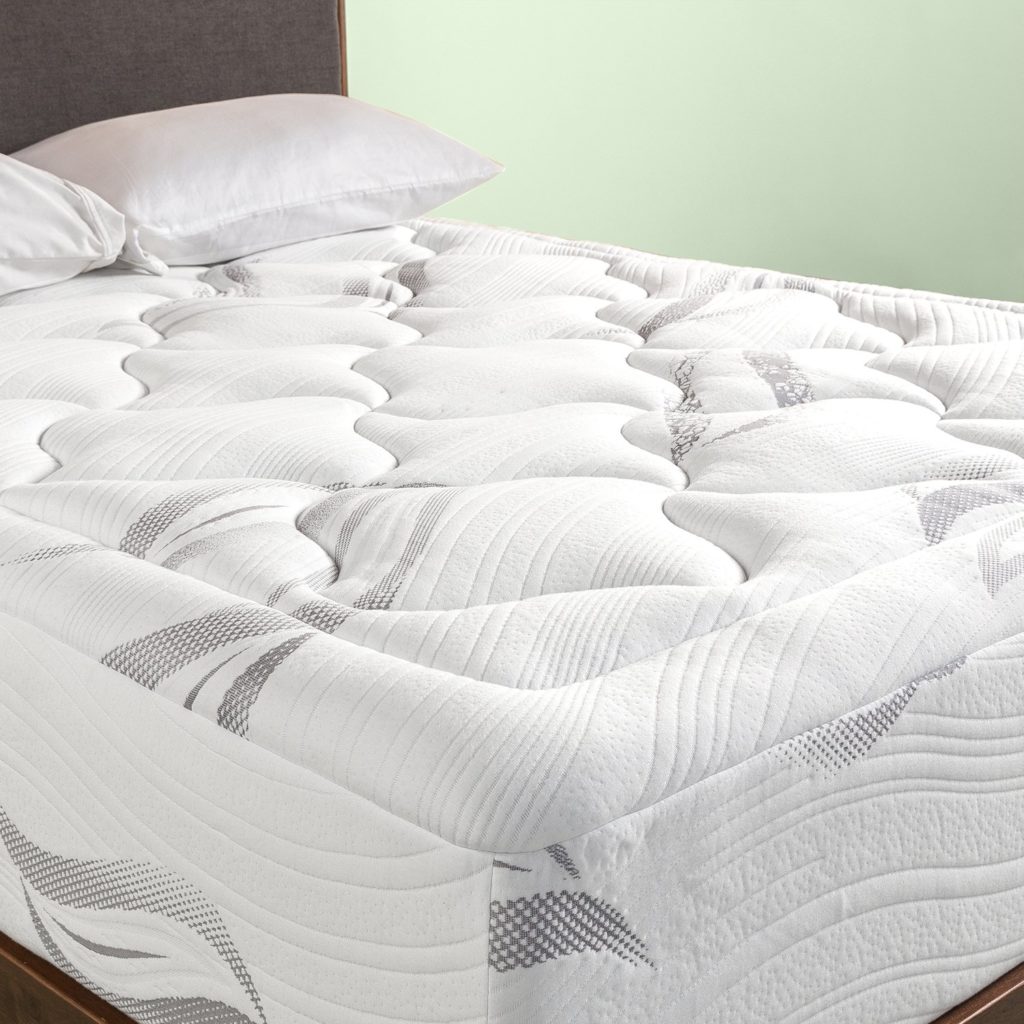 However, you need to enjoy the orthopedic benefits for this mattress to work for you. Some users feel as though they are sleeping on quicksand. Also, switching from one position to another does take extra effort on your part. Hence, combo sleepers may want to consider getting a different bed.
After a few months of use, we also noticed that the firmness level changes depending on the season. The bed tends to be firmer during the colder months, compared to the warmer months.
Tuft & Needle Original All-Foam Mattress
This bed offers a more neutral, light foam feel compared to the dense memory foam feel you get with the likes of Zinus. The Tuft & Needle Original All-Foam Mattress is also on the firmer side of the spectrum. On a scale of 1 to 10, we found out that it stands at 6.5, which is about a medium to medium-firm.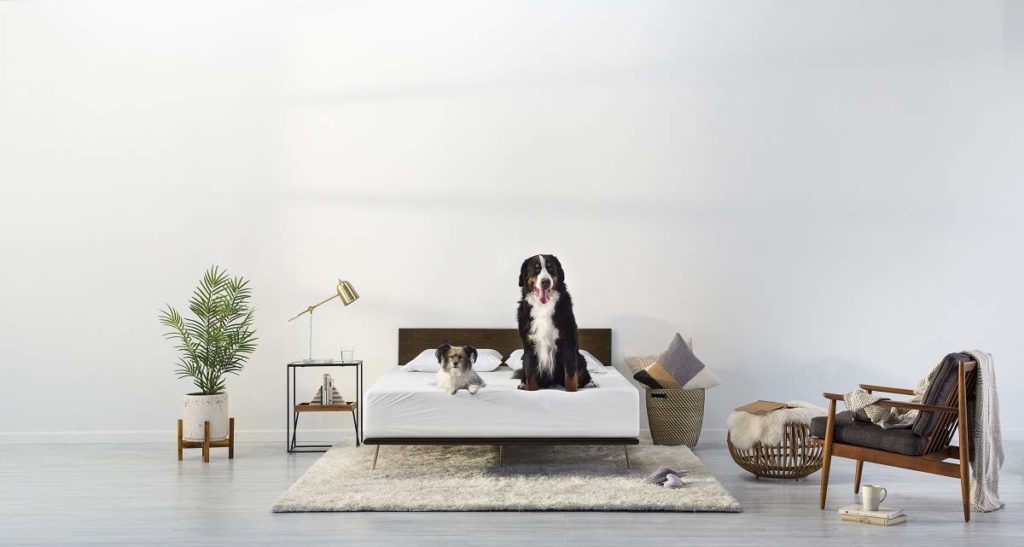 Moreover, this product impressed us with its edge support and motion isolation. These two features are crucial, especially if you share a bed with your partner — or pet! The T&N Adaptive® Foam sinks no more than 3 to 4 inches, regardless of your weight. The 7-inch thick high-density support foam ensures it holds your body weight, preventing you from sinking further.
Nod by Tuft & Needle
This mattress receives passing grades in this department. The extra-firm and thick bed limits cross-mattress motion and, at the same time, provide solid edge support.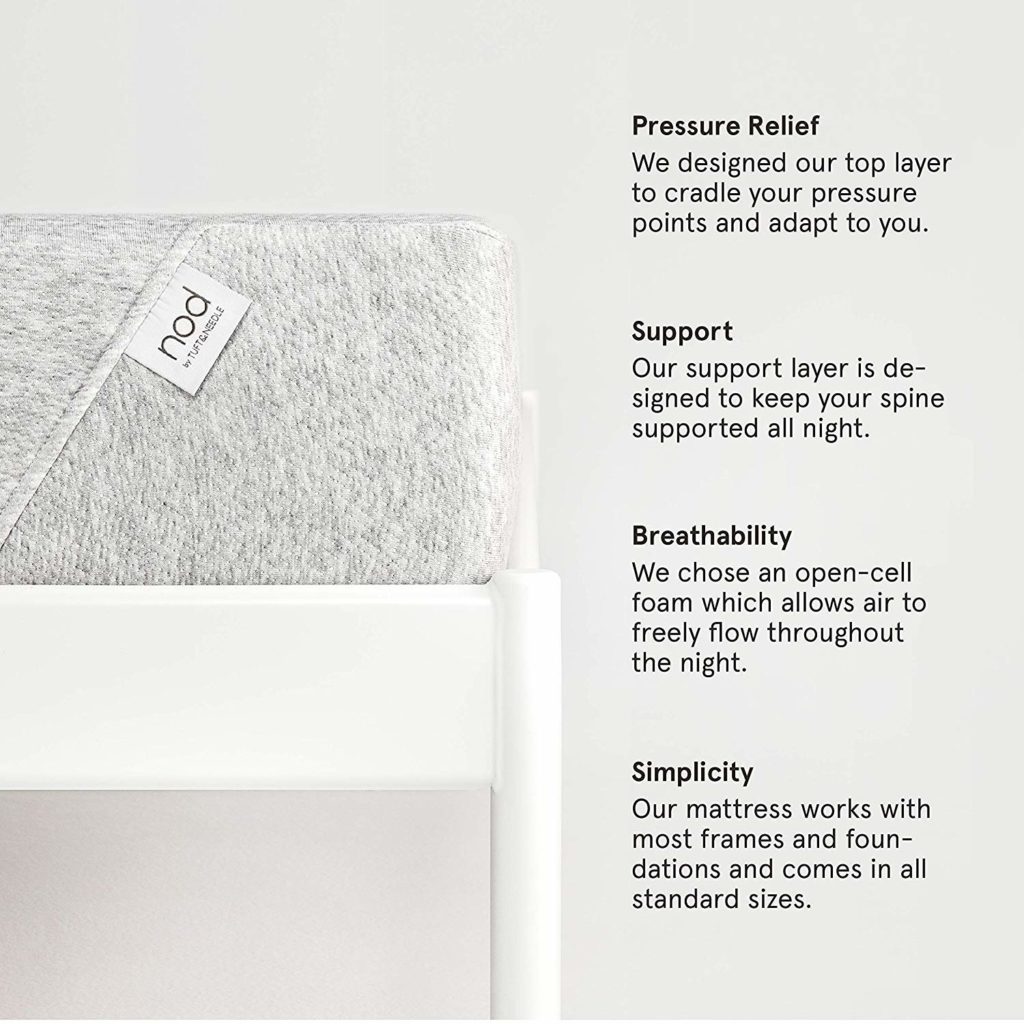 Temperature Regulation
Zinus Green Tea Mattress
The egg-crate design of the support foams on the bottom of the Zinus Green Tea Mattress help mitigate heat retention. Also, the bed uses a thin, breathable cover. But given how soft it is, we'd say this bed still sleeps warm depending on your weight.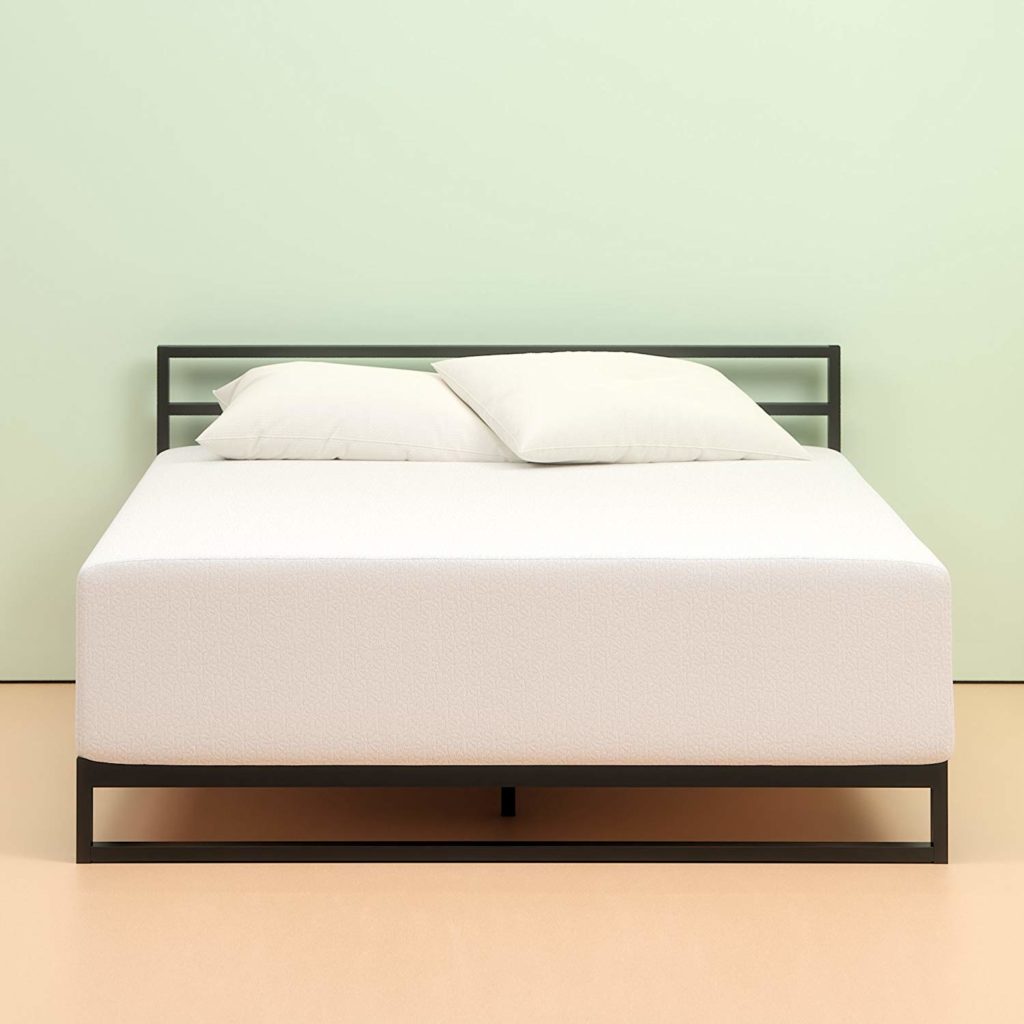 If you weigh lighter, you may sleep at a neutral temperature since you don't sink too deep. But if your weight causes you to nestle into the mattress, the temperature will rise slightly, and you would feel as though the bed is hugging you.
Zinus Sleep Master Ultima
The Zinus Sleep Master Ultima may heat up if you stay asleep in one position for too long. Nevertheless, we have slept on mattresses that are warmer, and it does an okay job if you compare it to others within the same price range.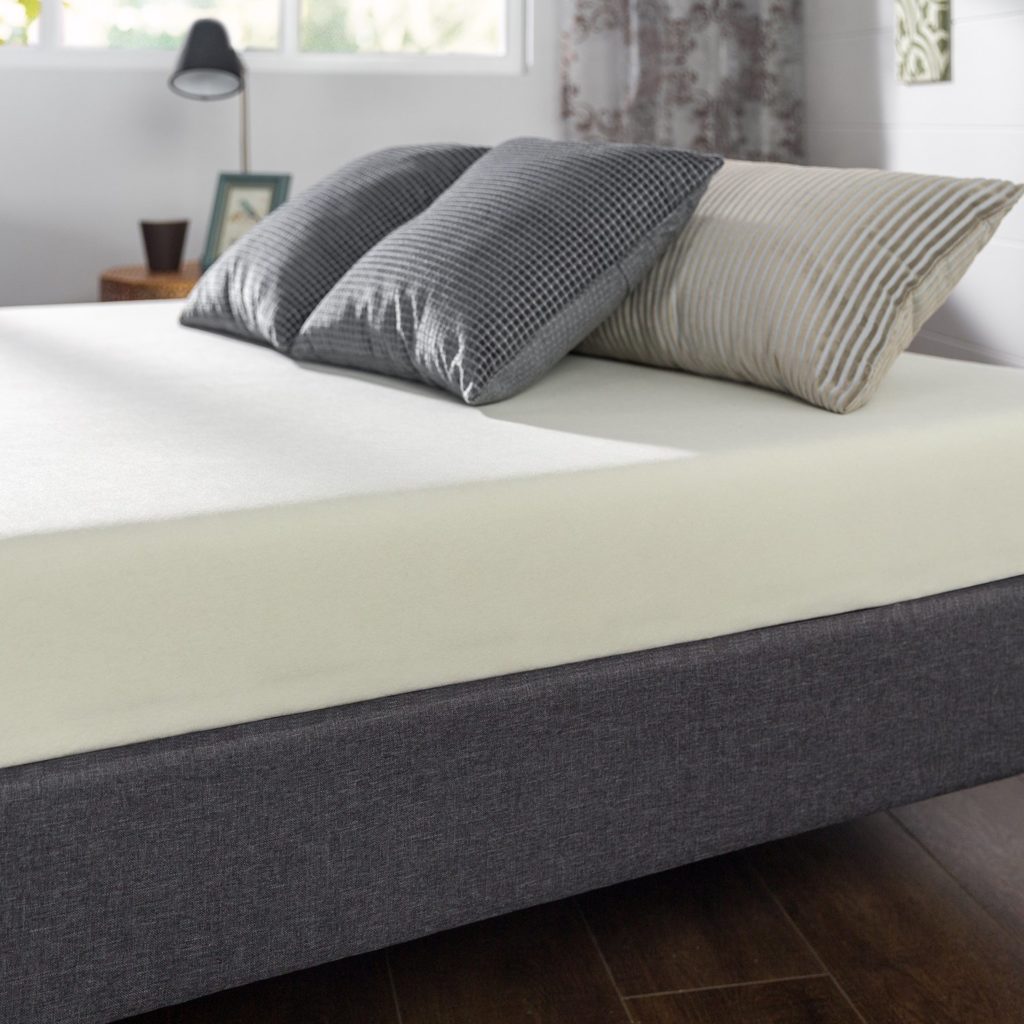 Zinus Cloud Memory Foam
The biggest downside to a memory foam bed is heat retention, and the thicker it is, the more it accumulates body heat. As a result, it warms up the sleeping surface of the mattress.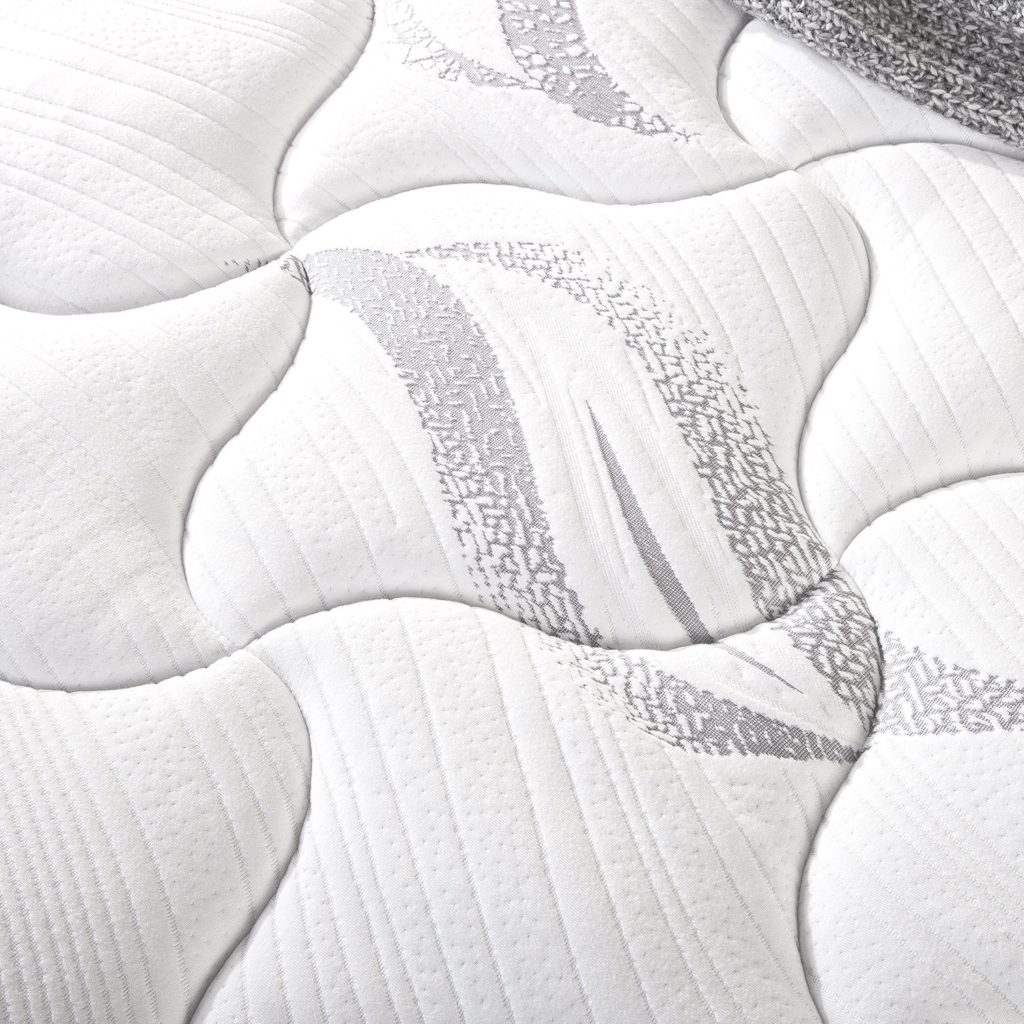 Tuft & Needle Original All-Foam Mattress
This mattress by Tuft & Needle may not be the coolest in the market, but it is the best option out of the five products we reviewed. The bed's cover isn't cool to the touch, but it dries faster compared to others since it is made of Tactel.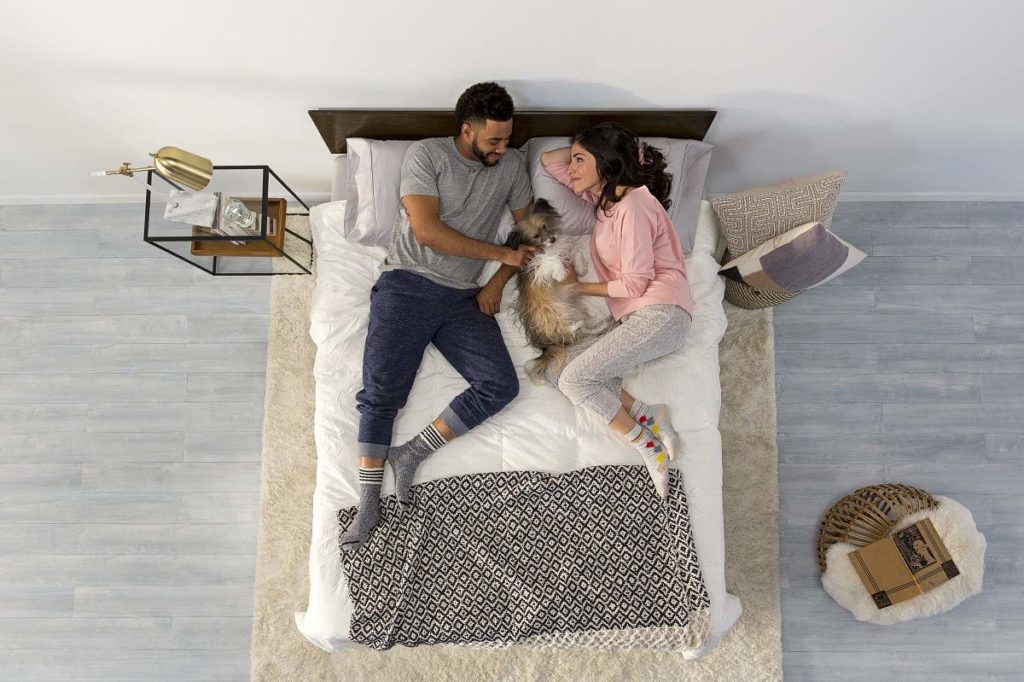 Best of all, the T&N Adaptive® Foam is infused with graphite and ceramic gel beds to absorb heat and moisture. Even the bed's support foam features an open-cell design to promote airflow.
Staying asleep on top, rather than sinking in, should also keep you from heating up at night.
Nod by Tuft Needle
This mattress doesn't use unique fabrics or embed cooling materials. But we wouldn't say the Nod Mattress sleeps hot. Nor does the bed sleeps cool.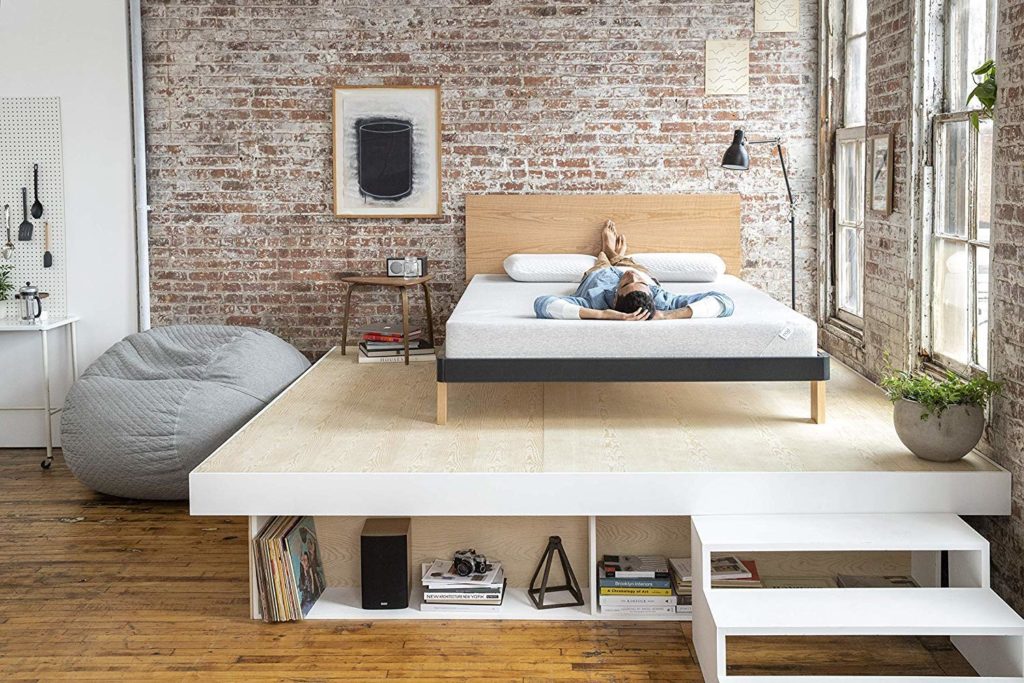 The firmness level of the bed, combined with the neutral characteristics of the top layer, should at least prevent you from warming up as you sleep.
Who Should Choose Zinus?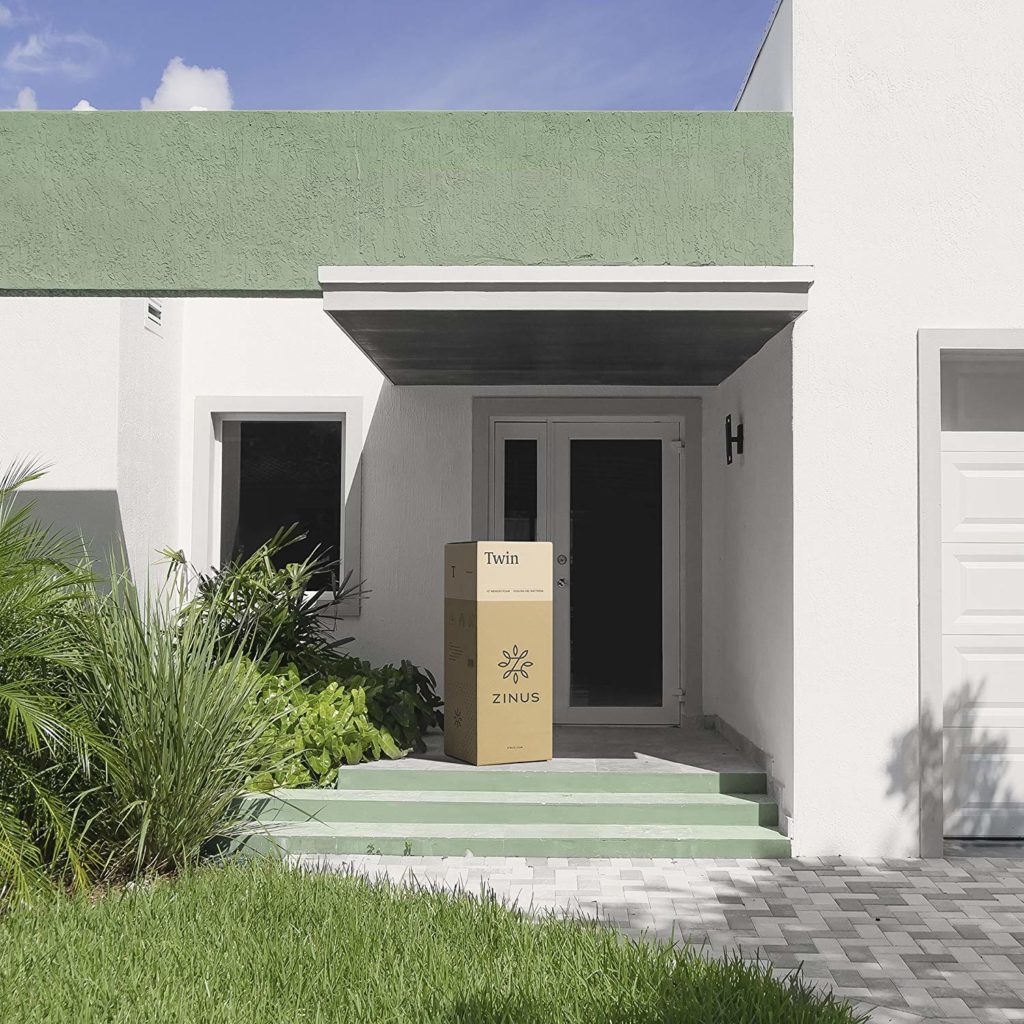 Side Sleepers
Strict side sleepers are better off with the Zinus Green Tea or Cloud Memory Foam Mattress.
Either bed will provide a sufficient amount of pressure relief for the shoulders and hips when sleeping on the side. Most importantly, it promotes proper alignment of the spine.
Cold Sleepers
The Zinus Green Tea and Cloud Memory Foam Mattresses offer therapeutic benefits, especially to those who live in cold regions. The memory foam will absorb heat and maintain it throughout the night while you sleep.
So, you might benefit from these beds if you always feel cold at night.
Who Should Choose Tuft Needle?

Stomach and Combination Sleepers
The Tuft & Needle Original All-Foam Mattress is ideal for back and stomach sleepers, given the firmness level of the bed. There is minimal sinkage. Likewise, we think this mattress is comfortable enough for the average combination sleeper. As an all-foam bed, it adjusts automatically to various sleeping positions. You will face minimal resistance as you move, rather than get that "stuck-in-the-mud" feeling.
Couples
Lively couples will not have any issues with the Tuft & Needle Original All-Foam Mattress, as it performs exceptionally well in terms of limiting motion transfer. Your partner can't disturb you if he/she bounces to his/her feet or when he/she tosses back and forth while you sleep. The edge support of the bed is excellent, too. You won't get that roll-off feeling when you migrate closer to the edge of the bed.
Children and Teens
You might want to consider getting the Tuft & Needle Original All-Foam Mattress for your kid. After all, it still has that nice bounce young ones love.
Budget Shoppers
The Nod Mattress by Tuft & Needle is an excellent alternative to the more expensive Original All-Foam Mattress. We see this product as an excellent option for college students, young professionals, and homeowners who want a comfortable bed without breaking the bank.
Frequently Asked Questions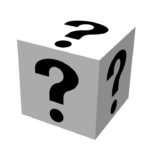 Zinus vs Tuft & Needle: what is the most affordable brand?
Model comparison shows that Zinus brand offers more beneficial prices. While Zinus mattresses cost about $180-$300, Tuft & Needle will require over $350.
What is the best size of a mattress for a couple?
There are several standard sizes of mattresses, including Twin, TwinXL, Full, Queen, King. Queen size is considered to be the best option for two people. On average, it measures 80" x 60", which provides a lot of personal space during sleep.
What is the best mattress for people with back pain?
If you have back pain, specialists recommend to choose mattresses of medium firmness. On a scale of 1 to 10, Zinus Cloud Memory Foam mattress gets 5 points. This is an excellent model for proper spine support.
Does Zinus Green Tea Memory Foam Mattress provide proper cooling?
Foam filling, breathing cover, and green tea helps Zinus Green Tea Memory Foam Mattress reach perfect combination of cooling and heating.
Verdict
The five mattresses we compared in this article are indeed budget-friendly options, but these products sell well not only because of their attractive price points but also because of their excellent performance.
After all, there is a reason why each product has solid ratings and thousands of reviews!
So, have you decided between Zinus vs. Tuft & Needle?
The Green Tea Mattress is likely the no.1 fastest-selling memory foam mattress by Zinus.
The best thing about it is that it is eco-friendly and it comes with green tea extracts for added benefits.
Also, it strikes just the right balance between comfort and support.
But if you aren't a fan of memory foam beds, opt for the Tuft & Needle Original All-Foam Mattress if you have the budget.
Tuft & Needle beds cost double the price of a Zinus mattress, but their Original All-Foam Mattress is quite the investment! Although the bed gives a little bounce, it offers excellent motion isolation and edge support, nonetheless.
Most importantly, it offers superior comfort and orthopedic benefits. As far as firmness goes, it is supportive enough to help ease chronic lower back issues but soft enough to make you relax and dream away. Not to mention the product comes with a list of certifications to give you the peace of mind you need.
Let's say… the Tuft & Needle All-Original All-Foam Mattress is the closest thing the average Joe can get to a Ritz-Carlton hotel experience!