The Best Cheap Mattress under 300$ and 200$ in 2020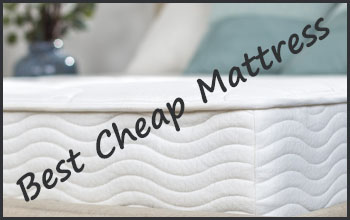 Who said the best mattresses must be expensive? There has been a myth that a good mattress costs a thousand bucks and above. Well, this is true, but some cheap mattresses have already dispelled this.
I agree with the mantra of cheap is always expensive; but if you do your research well, there are still some worthy bargains out there.
Today, we want to serve the budget buyer by revealing the best cheap mattress in 2020.
We will also be talking about several other important things that you should know when buying mattresses.

Best Mattress Under $200
With a budget of two hundred bucks, your options are limited to Twin and Twin XL mattresses. There are a few models that you can gamble with at this budget, but we don't want to spoil the show.
Yes, you are looking for a cheap mattress, but value for money is important too.
Here are our top picks.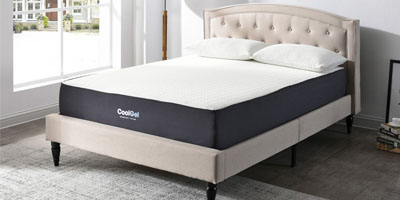 Opening our list is this 10.5-inch Twin size mattress from Classic Brands; a popular mattress brand.
It is affordable, offers great comfort, and value for money.
What we liked
It is ideal for those who sleep hot. The
gel-infused foam
dissipates heat faster backed up by an airflow supportive layer.
The support is a 4.5" high-grade polyfoam followed by three comfort layers; 2" gel memory foam, and two 2" soft polyfoam layers.
The firmness is medium-firm so that it can suit both back and stomach sleepers.
One unique feature is that this mattress is adjustable bed friendly that makes it perfect for sleepers with acid reflux and other complications.
If you are conscious about the environment, this mattress is CertiPUR-US Certified meaning all the materials used to manufacture it, including the foam is friendly to the environment.
What we disliked
It takes up to two days for the mattress to fully decompress and take shape. The mattress is also very hard when new.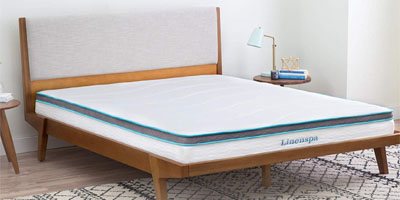 LINENSPA is a fairly known brand and features today in this list with an 8-inch Queen size hybrid mattress.
What we liked
This is the best cheap mattress if you are out there looking for
a bigger sleeping space
.
This Queen size mattress costs just $200 and offers some worthy comfort like the high-end models.
As a hybrid mattress, you get a blend of comfort and superior motion isolation courtesy of the enclosed coils support system.
The medium-firm feel makes it a great deal for stomach and back sleepers as well as combination sleepers.
What we disliked
First, the LINENSPA 8 Inch Memory Foam and Innerspring Hybrid Mattress is not for the light sleepers. It is somehow hard and doesn't offer the best comfort and body contouring. Also, the edges are not very firm, and the mattress has odor too.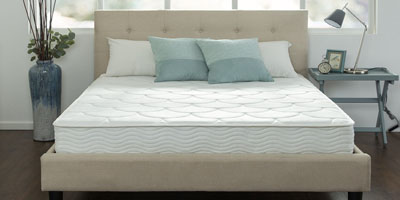 Zinus is among the best mattress brands and features today with a Twin size 8-inch innerspring mattress.
What we liked
Zinus has a tradition of
quality and durability
.
The Zinus Ultima, in particular, is very comfortable courtesy of 3 comfort layers.
The iCoil support system provides a bouncy feel and greatly reduces motion isolation.
Above all, it gives enough support to ensure the entire spinal column is aligned.
The Zinus Ultima is best for back and stomach sleepers as well as active sleepers.
It has improved air circulation and dissipates heat efficiently.
Zinus uses CertiPUR – US Certified foam and has a Fiber Quilted with Jacquard Fabric cover.
What we disliked
There are some fees associated with returning the mattress. Also, if you are allergic, know that it harbors dust mite and other allergens.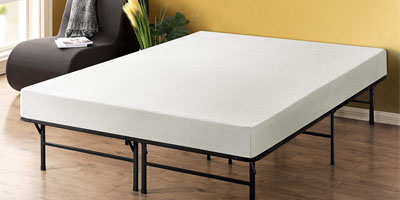 Best Price Mattress is another top American mattress brand, and for our budget, it offers an 8-inch Twin XL mattress suitable for the tall sleepers as it is 5-inches longer than the Twin size.
What we liked
The price is the major catch here, and as the name suggests, this is a really affordable mattress.
Besides the affordability, it offers great comfort and body support.
It has three layers. The first is a 2″ body-conforming memory foam, followed by 2″ air-flow comfort foam, and beneath, a 4″ high-density support foam.
The mattress also comes with a removable luxurious poly-Jacquard fabric cover.
Manufactured using CertiPUR-US foam, it is Eco-friendly and actually lasts longer and doesn't dip like an ordinary memory foam mattress.
What we disliked
Off-gassing is intrinsic to memory foam so be ready to put up with a rather foul smell.
Best Mattress Under $300
If you are not satisfied with the Twin and Twin XL mattresses in the $200 budget, an additional hundred bucks may get you anything from a Twin size mattress to the Queen size.
The below five mattresses made it in our list of the best mattress under $300.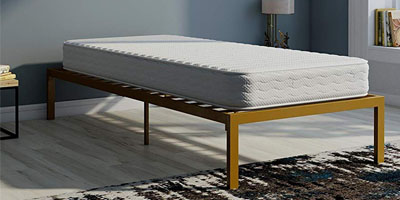 Signature Sleep is among the top mattress brands and features in this cheap mattress review with a Twin size 8-inch hybrid mattress. For those who have active sleeping patterns, this is the best choice.
What we liked
It boasts an
individually encased progressive coil support system
that eliminates any disturbance when turning at night.
On top of it is a 1.25" high-density foam for contouring around your body spectrum.
This is followed by a 12 Indentation Load Deflection (ILD) foam for extra support and comfort and also for solid edges.
But just like other cheap mattresses, the Signature Sleep 5426096 has flaws.
What we disliked
The 15-gauge coils are not so promising especially if you are a heavy sleeper. They will start sagging after two to three years.
You will also have to put up with a nasty odor for a couple of days.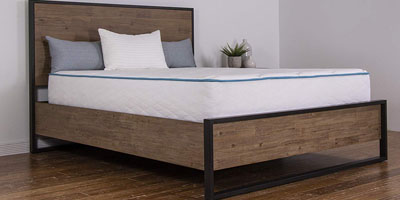 If you are scouting for the best cheap mattress for couples, this Queen size bed from Dreamfoam Bedding will be an excellent choice.
What we liked
It offers the best price to performance ratio considering it is a Queen size bed.
The mattress also has a 7.5" polyfoam support and 2.5" fast response Energex gel memory foam.
We also liked the 90-day sleep trial warranty.
You have the choice of returning or exchanging the mattress for another in case it doesn't meet your sleeping needs.
What we disliked
Even though it is very affordable, we didn't like the fact that it is not cool to the touch. Another thing, it starts dipping very fast, and the company doesn't seem to honor the warranty fully.
The mattress is also bulky and heavy, but gladly, it comes in a bed-in-a-box design for easy portability and storage.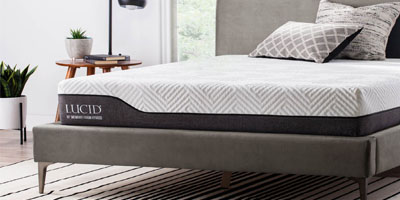 This mattress is the best for back and stomach sleepers as it offers a Medium-Plush and Medium Sink feel.
The support is sturdy enough to support your body and aligning your spine. The comfort layer on the other hand snugly hugs your body relieving all the pressure points.
What we liked
It is common to find memory foam off-gassing, but Lucid doesn't. There is a layer of
bamboo
and aloe vera infusions that suppresses the bad mattress odor.
The edges are also very firm and won't slide or collapse when sitting on them. This is courtesy of a 5" edge support that complements the 5" individually encased steel coils. Motion isolation is also greatly reduced.
What we disliked
There are claims of the fiberglass leaking, and this is a safety hazard. It is also uncomfortable for side sleepers because it is too firm.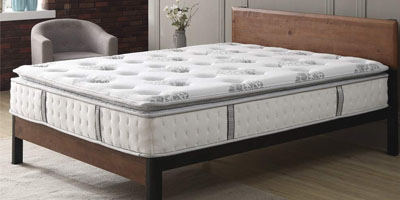 This is another great mattress from Classic Brands that blends affordability and comfort. The 12-inch thickness and medium-firm feel make it best for back and stomach sleepers.
What we liked
This mattress offers great comfort and support.
It comes with a wrapped 13-gauge coil innerspring system that solidly supports the weight of the sleeper.
It also reduces motion isolation thus reducing disturbance among active sleepers. For your comfort all night long, the Mercer has a gel infused layer that responds by conforming gently on your body.
The mattress is also naturally antimicrobial and resistant to all allergens, including mold and dust mites.
It is also adjustable bed friendly for special sleeping postures.
What we disliked
Many customers complain that the mattress is hard during the first months of use. It is also not ideal for side sleepers as it doesn't relieve the pressure points. But for the price, it is a worthy deal.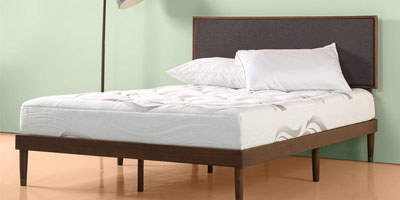 If you want a plush feel on your bed, then here's a great 8-inch pillow-top mattress for Twin size beds from Zinus.
What we liked
First, it's worthy to mention that Zinus is a top brand.
Despite being a memory foam mattress, there is no off-gassing at all with Zinus. The memory foam has been infused with green tea extract and natural seed oil to curb bad odor.
The best thing about this mattress is the luxurious feel.
It combines several layers of foam with the top being a Viscolatex Responsive foam and in addition to that, a plush cover. The result is indeed a cloud-like feeling.
What we disliked
Some customers claimed that it didn't fully expand to 8-inches. Another shortcoming is regarding the covers. We like this extra addition, but the quilted covers harbor allergens.
Buying Guide: What you need to know when buying a mattress on a budget
Now that you know which is the best cheap mattress let's have a more in-depth discussion on what makes a good mattress.
Later on, we will discuss the critical factors to consider when buying mattresses.
We will also be answering our readers' questions regarding cheap mattresses.
Why invest in a good mattress?
Sleep is essential to our health and well being just like diet and physical exercise.
Good sleep will help you have better focus, better memory, optimal blood flow, improved productivity and happiness in life.
But to get the best sleep, you need a mattress that supports your back and cushions all the pressure points. Without a good mattress, you won't be getting enough sleep, and most of the times you wake up with bedsores.
When to buy a new mattress?
When should you abandon your old mattress and buy another one?
Man people out there suffer a lot sleeping on a worn out mattress unknowingly. This is because our bodies adapt slowly to the changes they undergo over time. Changing sleeping needs also may mean getting a new mattress.
Below are the reasons that might push you to get a new mattress.
1. Physical wear – Check out for signs of wear and tear. These may be scratch marks, dents, bumps, and other physical damages.
2. Constant bedsores – If you wake up with backaches and joint pains, the problem could be a bad sleeping posture resulting from the wrong sleeping position.
3. If your mattress is more than ten years old – Mattresses have a lifespan of 7-10 years. So, if yours has been intact for more than 20 years, it's definitely time to replace it.
4. She recently moved in – If your partner moved in, you might want to consider a bigger bed and thereby, a bigger mattress. The baby might also need a bigger sleeping space.
5. You want a luxurious sleep – Got a few bucks to spare? You may want to invest in a bigger mattress or rather a mattress with better comfort and the latest technology.
Types of mattresses
There are different types of mattresses, categorized depending on the materials and composition.
Each mattress comes with its advantages as well as disadvantages.
Let's discuss the popular types that you will find in the market.
Memory foam
Also known as viscoelastic, memory foam was first used by NASA in 1966 but was first used in mattresses in 1991.
A memory foam mattress is an excellent choice if you always wake up with bedsores. It ensures proper spinal alignment and relieves pressure points. Memory foam is the best in contouring your body for a snugly feel.
Another advantage is that memory foam has reduced motion isolation so if you are an active sleeper, it is a worthy choice.
On the downside, memory foam may be a little bit uncomfortable for sweaty sleepers as it tends to get warmer.
Gel foam mattress
As the name suggests, a gel mattress has a gel in the upholstery layer only.
Below it, there is also a layer of polyfoam for body support and mattress firmness.
These mattresses are best for those sweaty sleepers as it dissipates heat more efficiently than other materials.
It also offers excellent body comfort just like memory foam.
Innerspring mattresses
Innerspring mattresses have been around since the 1850s and are characterized by a steel coil support system.
These coils are either individually wrapped or connected. In a connected coil design, all the coils are mounted as a unit giving it a bouncier feel.
As for the individually wrapped innerspring mattresses, motion isolation is significantly reduced.
At the top, there's an upholstery layer for comfort.
These mattresses are long lasting, but unfortunately, they are not hypoallergenic.
Hybrid mattresses
A hybrid mattress has a pocket coil support system and at least 2-inch foam.
The coil system is the bottom layer and is designed for support. On the upper layers, you may have a transition layer in some models and definitely, a comfort and upholstery layer.
The advantage of a hybrid mattress is that it combines the bouncy feel and still offers the premium comfort of latex, memory foam or gel.
The only concern is that the pocket coils lose firmness faster than polyfoam.
Latex foam mattresses
These mattresses use latex as the comfort layer.
Latex is quite similar to memory foam, but it is naturally made while memory foam is synthetic.
They offer excellent body-hugging and ensure proper spine alignment. Latex also provides a slight bounce.
On the downside, these mattresses are very expensive, and it is actually hard to find a good one for our $200 – $300 budget. Another thing, latex is heavier than ordinary foam.
These are the most popular types of mattresses in the market.
However, you will also find pillow-tops which basically have a thick layer of padding at the top for extra comfort.
We also have futon mattresses which can convert from a sofa cushion to a sleeping mattress.
Waterbeds and air beds, on the other hand, use water and air as the support and also have a comfort layer.
Which is the best mattress?
There are so many mattress brands and types such that choosing the best might be a challenge.
In this section, we want to answer the question; which is the best mattress?
Well, the truth of the matter is that there's nothing like the 'best' mattress. Simply put, what I find comfortable might not necessarily be what you consider comfortable. It all boils down to our different sleeping needs.
Here are recommendations for the best mattress depending on the popular sleeping needs.
Best mattress for back sleepers
Back sleepers lay on their back for a better part of the night. A mattress with proper support is the most desirable here.
This is to enable it to distribute the weight evenly and most importantly, to avoid sinking.
Best mattress for stomach sleepers
Stomach sleepers also have the same sleeping needs as back sleepers. Support is crucial to keep the body afloat, and the spine aligned.
Because the rib cage is what exerts most pressure, consider a little plush because now, all the weight is being anchored on the mattress on a smaller surface.
Best mattress for side sleepers
Side sleepers exert the entire body's pressure on a minimal surface. For that reason, get a plush mattress that contours around your body well, relieving all the pressure points (shoulders, arms, and hips).
It should also offer enough support to prevent pelvic rotation.
Best mattress for combination sleepers
Combination sleepers sleep on their backs and stomachs as well as their sides. You need to strike the right balance between firm support and a little cushioning.
The best choice would be a medium-firm mattress with gel, latex or memory foam comfort layer.
Best mattress for allergy sufferers
Some mattresses harbor allergens like dust mites, pollen, and so on. If you have allergies, get a memory foam, gel or latex mattress. Even though they are prone to off-gassing, it is rare to find allergens.
However, for the innerspring mattresses, you will often be sneezing and wheezing because of allergy.
Also, void the quilted top covers as well as pillow-tops. When shopping, look out for hypoallergenic mattresses as they are allergen-free.
Best mattress for sore back
Back pains in the morning are a sign of bad sleeping posture. Sometimes, bedsores are caused by improper spine alignment, but most of the time, it's the mattress that is not contouring on your body well.
That means all the pressure points font get relieved. While support is really important, often aim to get a mattress with latex, gel or memory foam comfort layer to support the entire body.
Best mattress for shoulder and hip pains
If you are a side sleeper, you lay on your shoulders, arms, and hips. To prevent pressure building on these points, make sure the mattress is not very firm.
The comfort layer should be able to contour around your body, providing support where it is needed most.
Best mattress for arthritis
Many people and one of the challenges they face is affording a silent sleep. A bad mattress doesn't cause arthritis, but it exacerbates the condition.
If you are looking for the best mattress for arthritis, make sure you go for something plush without sacrificing body support. The mattress should be comfortable enough, providing the necessary support on all pressure zones.
Best mattress for acid reflux
Acid reflux patients are advised to sleep at certain angles. This is to prevent acid from making its way up the gut. Buy an adjustable bed if you want to manage acid reflux bouts.
They allow you to sleep in an elevated position, and specifically to raise your upper body.
Best Eco-friendly mattress
If you are conscious of environmental protection, you need to buy an Eco-friendly mattress. The foam should be manufactured from equally Eco-friendly materials. To be sure you are buying such a mattress, always check out if it has a CertiPUR-US mark.
To be sure you are buying such a mattress, always check out if it has a
Factors to consider when choosing the best cheap mattress
Several factors should inform your decision to buy a particular mattress. In this segment, we have discussed all the important aspects that you should consider when buying the best cheap mattress.
Brand
If you've read our review of the best mattress, we emphasized on the top brands. But we also mentioned the fact that top brands are expensive.
So, what's in stock for understanding in the $200 and. $300 budget range?
We have some few top brands in this range, for example, Zinus, Lucid, Classic Brands, and Casper. But most of the models you will find here are middle tier brands like Linenspa, Dreamfoam, and Best Price Mattress.
We strongly suggest that you pick at least a known brand. These cheap and little-known brands have poor comfort and durability.
Size
There are different bed sizes in the US. In that token, mattresses are designed to suit the different sizes available.
Just for the record, we have the Twin and Twin as the smallest mattress size and they measure 38″ x 75″ and 38″ x 80″ respectively.
The next size is Full and Full XL which are 53″ x 75″ and 53″ x 80″ respectively.
Next up is the Queen size mattress measuring 60″ x 80″ and can accommodate couples comfortably.
Higher up the ladder we have the biggest mattresses; California King and King size which are 72″ x 84″ and 76″ x 80″ respectively.
For our budget, we are limited to Twin and Full-size mattresses from top brands, but we also have a few Queen size beds from smaller brands.
When shopping, don't be too ambitious going for the bigger mattresses on a tight budget.
Mattress thickness
The thickness or thinness of a mattress is an important consideration that determines the comfort of a mattress.
The common mattresses range between 8-inches and 15-inches. Your weight should be an important metric when deciding on the right mattress thickness.
The basic rule of the thumb here is that thick mattress is for the heavy sleepers while light sleepers feel more comfortable on thinner mattresses.
For teens and kids, and anyone below 100lbs. should get a 6-8-inch mattress while those within the 100 to 150 lbs. range should do 8-10-inches.
As for the 10-12-inch mattresses, they are ideal for sleepers weighing 150 to 200 lbs while 12-14-inch models are for those weighing 200 lbs. to 250 lbs.
Beyond this weight, get a 15-inch and above mattress.
Mattress firmness
The firmness of a mattress plays a crucial part in ensuring that you remain comfortable throughout the night. Many people ask, what's the best firmness but the truth is that this is a very relative subject.
What I consider as a firm mattress may not be what someone else will feel firm.
Choose the right mattress firmness depending on your sleeping position.
If you are a back or stomach sleeper, choose a firm mattress because you need maximum support.
As for the side sleepers, a firm mattress won't do you good as you need something that contours around your body parts to relieve the pressure you're exerting.
Another simple way to choose the right mattress firmness is to consider your weight. Heavy guys need a firm mattress while the light sleepers require a softer mattress.
Most of the times, you will hear of extra firm, firm, plush, and ultra plush.
These are all terms used to describe how hard or soft a mattress is. Firm implies hard while plush is used to describe softness.
Mattress support
Support is often confused for firmness. These two are very similar, but the difference is profound.
Mattress support is all about how your spine is aligned while firmness has everything to do with body comfort. When talking about mattress support, one thing comes to your mind; core material. We have mattresses with polyfoam as the core material while others have a coil support system.
The idea here is to have a solid core system that can hold the heavy parts of your body by providing the required resistance. I won't say that there is a better choice between a poly foam core and a coil system; it all depends on the grade of polyfoam used and also the strength of the coil system.
Edge support
Most of the times, we sit on the edge of the bed. Because you're exerting all your weight on a small footprint, the mattress takes a hit. Sooner than later, you find yourself sliding out when on the edges and this can be really uncomfortable and unsafe too.
If you are concerned about edge support, buy an innerspring mattress. The edges are firm and won't sag easily like the foam mattresses which tend to sink very fast.
Hybrid models also have sturdy edges courtesy of the coil support system.
Motion isolation
This refers to the energy transfer on the mattress when moving on your bed. If you or your partner is an active sleeper, motion isolation is an important concern when buying mattresses.
Ideally, you want a mattress that creates the least disturbance when turning, getting in the bed or getting out.
Motion isolation is determined by the core material as well as the upholstery.
The best mattress for active sleepers is a hybrid model. This is because the individually wrapped pocket coil support has reduced motion isolation.
Gel foam, latex, and memory foam are also great options as long as the mattress is firm and support is solid.
Temperature neutrality
This refers to the ability of a mattress to remain at room temperature even in extreme weather.
If you sleep hot, you want a mattress that dissipates heat fast least you end up sweaty and uncomfortable.
A gel-infused foam is the best choice, but memory foam tends to capture body heat and gets hot with time. Always check out for new features and technology that ensures efficient air circulation and consequently, faster heat dissipation.
Unfortunately, our budget doesn't guarantee these sophisticated features, but from $500 and above, you are sure of getting the best mattress for a cool night even during summer.
Eco-friendliness
If you care about the environment, you want to buy an eco-friendly mattress; nothing more, nothing less.
Make sure the main materials used, especially the foam, have no negative impact on the environment.
Choosing an environmentally friendly mattress may be a challenge. This is because almost all brands hype their products as eco-friendly, but there's only one true mark of an eco-friendly mattress;
CertiPUR-US certification. This is a voluntary program that seeks to recommend the truly eco-friendly mattresses manufactured with environmentally friendly foam. If it doesn't have this certification, then it's not a legit eco-friendly mattress.
Shipping and delivery
A mattress is quite bulky, so you need to be sure about the shipping and delivery.
First, make sure that the particular mattress you are buying can be shipped to your region.
The shipping fees (if any) is also a consideration, and this needs to be confirmed when budgeting because the fees are quite high.
If you are buying online, the delivery date is also a concern.
Most bulky orders take longer, so you better be patient.
Lastly, check the packaging and go for mattress-in-a-box designs for easy portability and storage as well.
Once you receive your mattress, inspect the entire package and check for any dents or tears as these may be signs of a damaged mattress.
Warranty and sleep trials
We all agree that a warranty is a great after sales service that should accompany all your purchases, a mattress is no exception.
Always go for the longest warranty period but then, don't confuse the warranty period for durability.
Besides the warranty, look out for mattress brands that offer at least 30 days sleep trial. With sleep trials, you can return the mattress if it doesn't offer you the right body support and comfort.
Remember, you can only be sure that it's the right choice after sleeping on it for at least 30 days. Without the sleep trial warranty, you may end up with the wrong mattress, and that's not what you want.
To get value for your money, consider a mattress with sleep trial; the 30 days test is the real litmus on whether a mattress is ideal for you or not.
Where to buy cheap mattresses
You can choose to buy a mattress online or in your local store. The local store gives you an actual feel of the mattress. But this is not in any way an advantage because it takes at least 30 nights to confirm if a particular mattress truly suits you.
You also get to go home with your mattress on the same day. Some stores will also come and collect your mattress.
On the downside, local stores are overpriced and may be expensive by 20-30%.
Buying mattresses online is the best idea because of the wide variety. The prices are also very competitive because many sellers are competing.
Online shopping
also offers the convenience of home delivery.
Frequently Asked Questions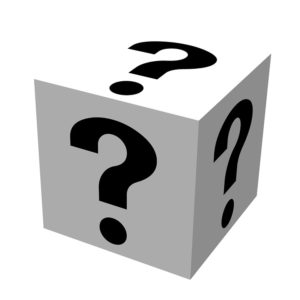 1. How long do mattresses last?
Mattresses have a lifespan of 7 – 10 years if you go for a good brand. Otherwise, some cheap knockoffs will do 2 – 3 years before the morning bedsores start again because of improper sleeping posture.
They type of mattress also determines the durability with the innerspring mattresses having the least durability while memory foam and latex have the best durability.
Above all, it depends on your usage. A mattress that is slept on daily will definitely wear out faster than the one in a hotel room that is booked less often.
2. Which mattress is best for back pain?
A medium-firm memory foam mattress is the best for those with back problems. Memory foam can contour your body relieving all the pressure joints. The medium-firm firmness is ideal as it can support your entire back, distributing the weight evenly on the mattress surface.
3. Can mattress cause back pains?
The wrong mattress will definitely leave you with back pains and so many other bedsores. For example, a mattress that is too firm for you will put too much pressure on the shoulder area and hips as well if you are a side sleeper. As for a very soft mattress, the heavier parts of your body will sink leaving you in a non-aligned posture.
That said, make sure you sleep on the right mattress.
4. How to dispose of the old mattress?
Keeping your old mattress in the store doesn't seem to be a great idea. Neither is it a good idea to burn it as most people would do. Ask the company you are buying from whether they offer old mattress collection services. Better still, contact your local garbage and sanitation providers and request them to collect it if possible.
You can also take advantage of the Bye Bye Mattress recycling directory; maybe there are a few in your location. Just make sure that you appropriately dispose of the mattress.
5. Does the mattress warranty cover everything?
A few brands offer comprehensive warranties, but most have strict warranty terms. You find that there are set conditions that qualify for returns while others don't.
It is thus imperative to read the terms and conditions of the warranty to fully understand what kinds of damages are covered and which ones aren't.
Wrapping Up
Even though mattresses used to be very expensive, there is a sudden disruption in the market.
There are over 600 mattress brands in the US and countless others from the rest of the world. What that means is serious competition as far as mattress technology is concerned.
The battle also shifts to pricing, and that's how you find a Queen size mattress under $300.
So, if you have been looking for the best cheap mattress, you know the answers. It's not true that the best mattresses have to be expensive. That's it for today ladies and gentlemen.