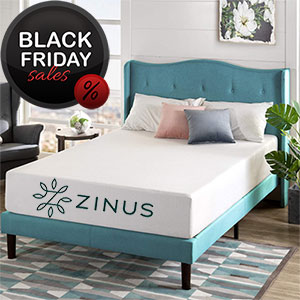 Today's review continues the list of top mattress brands available on sales this Black Friday. And this time, we welcome Zinus Black Friday review.
Zinus brand belongs to that small group of mattress brands that managed to combine the high quality of products, unique patented technologies, and humane prices. Many customers follow discounts on luxe models in the desire to get something costly with a very attractive drop. But we'd also like to draw your attention to another strategy. Zinus offers an opportunity of getting a smaller but guaranteed discount. So, let's check it out!
When Is Black Friday 2021?
But before we come to the main part of the review, let us briefly mention that Black Friday 2021 is set for the 26th of November. In fact, discounts will appear much earlier (you can already find some nice deals) and will go on till the next Monday.
About Zinus Black Friday
Zinus corporation distributes mattresses, mattress toppers, bed frames, pillows, and other home products for comfort and healthy rest. The brand was born over forty years ago in South Korea and is now known and appreciated worldwide.
During all these years, the Zinus team developed their own humanistic philosophy. It's fully implemented in environmentally friendly and safe mattresses available for any customer. Zinus products are very ecological, hypoallergenic, and use a variety of natural elements like green tea extract and charcoal.
When it comes to exact models, we highlight both construction types – there are innerspring and memory foam mattresses as well.
The list of memory foam models includes:

Green Tea;
Cooling Gel;
Ultima;
Cloud.
Green Tea memory foam model consists of three types of foams – gel-infused memory foam, comfort foam, and support foam. However, the top layer contains absorbing green tea and ActivCharcoal extracts. Thus, we reach the effect of ultimate freshness and coolness without bacteria and unpleasant smells.
The model is available in all sizes, feels medium firm, and costs under $300-$350. This Black Friday, we can save an additional $50-$70.
Cooling Gel memory foam mattress will please hot sleepers and couples with different comfortable temperatures during the night. This model consists of special Swirl foam with a cooling effect (and body temperature regulation), comfort foam and two high-density foams.
More innovative materials mean higher costs, so the unit is available for $550-$600. But Zinus Black Friday is expected to launch a 25% off on this model.
Zinus Ultima memory foam features a similar set of layers. There is a Zinus brand Green Tea top layer with ActivCharcoal component to absorb extra heat, moisture and odors. The unit also has Z:Comfort foam and high-density Z:Base foam that carefully repeat your body shape and support you during the night. The mattress feels medium firm.
When it comes to price, it's comparable with the Green Tea model. So, the expected discounts are also the same – $60 on average or $100 as a maximum.
Cloud memory foam mattress is a perfect option if you prefer an extra-plush sleeping experience. This Zinus comes with new plush microfiber and cradling memory foam. This time, memory and comfort foams are hidden between high-density layers. The new construction of a traditional sandwich results in both super-soft sleep and decent back support.
This November (just like one year ago), we can save about $100. Average sales deals will vary between 25%-35% off from the $450-$500 original price.
However, Zinus also thinks about customers who prefer more solid support or just don't trust purely foam mattresses. The company also developed a series of hybrid mattresses that combine both the above-mentioned foams and traditional coil systems.
Surprisingly, the hybrid collection contains much more models. Thus, Zinus offers:

Green Tea Hybrid;
Cooling Gel;
Pressure Relief Olive;
Support Plus Pocket Spring;
Comfort Support Pocket Spring;
Cooling Copper Adaptive Pocket Spring;
Cool Touch;
Mint Green;
Euro Top Pocket Spring;
Tight Top Spring;
The first two Green Tea and Cooling mattresses copy foam brothers since they use the same materials complemented by a set of Zinus iCoil spring layer. The Cool Touch and Mint Green continue Zinus super-cool mattress collection.
Pressure Relief Olive, Support Plus, Comfort Support, and Cooling Copper mattresses also use the same foam layers and Adaptive moisture-absorbing materials, but springs add extra spinal support.
Also, while all hybrids feature the so-called pocketed springs (individually wrapped steel springs to extinguish motions), the last two Top mattresses come with Bonnel spring, which is a traditional technology.
verdict
All in all, the main difference between Zinus hybrid products is the height of springs, degree of cooling effect, and firmness. Though hybrids feel firmer compared to all-foam models, we can say they are medium and medium-firm.
The combination of springs and memory foam ensures a therapeutic effect. These mattresses are recommended for back pain relief, heavy sleepers, couples with one uneasy sleeper (thank you, excellent motion isolation).
Zinus hybrid mattresses may seem a bit more expensive than foam products. But it's not completely correct. In these collections, prices vary from $250 to $600. But since some models are already available with a 50% off sale (check the Pressure Relief Olive on the official site), we can hope to find similar deals closer to November. At the moment, we can predict 20%-25% Zinus Black Friday sales for hybrids.
How to Find the Best Black Friday Mattress Deals 2021?
The diversity of modifications and wise price policy makes Zinus one of the most beneficial Mattress brands this Black Friday. We'll keep checking new deals on these mattresses for you, so stay with us to learn even more about the Zinus brand.
However, you can increase your chances if you conduct simple research yourself. Here is a list of steps that will help you:

look through different brands and choose several most suitable for your sleeping preferences and budget;
also, try to concentrate on specific mattress models to monitor their price changes;
regularly check brands' official websites;
you can also log in on these sites to get special mailing, discount codes, and coupons;
subscribe to Amazon mailing to be in the loop;
join Amazon Prime program members of which receive exclusive and limited deals unavailable for others.
With these tricks, hunting for the best Zinus Black Friday deals will become easier!