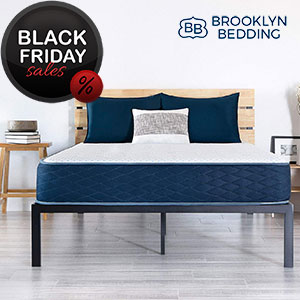 We all love to sleep. But few of us completely realize the importance of healthy sleep that sums up from many variables. And a high-quality mattress is the key but pricy element of this scheme.
Luckily, Black Friday 2021 provides us with an excellent opportunity to invest in our health with optimal benefit for our pockets as well. During this review, we'd like to speak about a young but extremely popular American mattress brand called Brooklyn Bedding. We'll briefly highlight their best models and sales expected this autumn. So, let's get started!
When Is Black Friday 2021?
Brooklyn Bedding Black Friday 2021 deals have already been posted on some web platforms. You can easily find discounts, but the main price drop is planned for November.
Black Friday 2021 will start on the 26th of November and will also cover the following weekend. So, this is a great chance to please yourself with a new mattress or prepare such a necessary X-mas gift for your beloved ones.
About Brooklyn Bedding Company

The world has known Brooklyn Bedding brand since 2008. A family manufacturing established by two brothers boasted affordable prices (thanks to totally online realization), handcrafted products, and growing quality.
important
It was the first company in the industry that suggested the bed-in-a-box concept.
At the moment, the prices for Brooklyn models have grown to $1900 (the latest and best ones), while basic mattresses are available for $500-$700. That's why we cannot call it a completely affordable brand anymore. But Black Friday sales gift us an opportunity to save significantly.
The Brooklyn Bedding collection counts several lines, including Signature, Aurora, Sedona, Spartan, Bloom, Rubix, Chill. The brand allows you to choose between three main firmness levels. Most mattresses are hybrid, but if you prefer totally foam products, you'll also find some here (like the Brooklyn Bedding Chill).
Chill version is a fully foam, dual-layer mattress for a firm and firm-medium sleep experience. We deal with a very simple and affordable mattress, the main aim of which is cooling and body countering. Get a unit for $200-$300 right now or wait until November for a $30 drop.
The Signature is a soft hybrid mattress both with solid innerspring support and patented TitanFlex memory foam a 1" VariFlex™ transition layer. This is the best option for a tight budget. At the moment, the mattress costs about $600. But the brand can low prices up to $430-$400 this autumn.
The Aurora is a more innovative product consisting of new patented CopperFlex foam (better contouring and pressure relief), TitanCool layer for temperature regulation, and hypoallergenic and antimicrobial cover. Considering the $800 everyday price, we can safely count on 30% off for Brooklyn Bedding Black Friday competitors.
Brooklyn Bedding Sedona mattress belongs to luxurious models. It combines an improved coil system core, gel-infused memory foam, advanced contouring, and a lovely woven top for cooling. This time, only medium firmness is available, but it indicates that Sedona suits most sleepers. As we said, this luxurious product costs over $1200. But the higher the price, the greater discounts might be. So, let's hope for a $300 off.
The Spartan series plays on unique heat transformation technology and Sedona-level coils. Choose this one if you need better temperature regulation during the night. That's why we can call it a top model. The inner layers are foam manufactured according to the CopperFlex and TitanFlex technologies. Once again, all three firmness options are available. This Black Friday, customers expect price drops from $1000 to $800-$750 per item.
Brooklyn Bedding Bloom mattress boasts a Joma Wool layer, organic cotton, and ultra-breathable materials. The model is perfect for allergic people, people with lungs problems, and children. The mattress feels plush and cozy for full relaxation. Here we also highlight premium Talalay latex, Ascension coils delivers, and pressure point relief. The Bloom features a similar price to the Spartan. So, sales will preliminarily reach 20%-25%.
We found the Rubix mattress an optimal choice for customers who doubt about the desired mattress firmness. The model features a set of Energex foams. Each ranges from soft to firm, so the combination of layers ensures an ideal result. There is also stunning motion isolation provided by Ascension coils and a cozy quilted cover. Right now, the official Brooklyn Bedding website offers a 20% fall sale. By November, discounts may reach 30%, so keep monitoring prices.
How to Find the Best Brooklyn Bedding Black Friday Mattress Deals 2021?
We usually recommend customers taking three simple steps for getting the best Black Friday Mattress offers:

Follow all our updates and new reviews over the autumn;
Subscribe to all major platforms (Amazon, eBay, Target, Macy's, etc.) since they daily post new offers and Black Friday offs;
Enter Amazon Prime program to get limited and special deals for the club members only;
As we said, right now, Brooklyn Bedding offers 20% discounts on all its mattresses. But these are only primary deals that prove more generous deals are coming soon. And the investment is certainly worth your attention – the brand covers all price niches and sleep preferences. So, stay with us to learn more about Black Friday 2021!