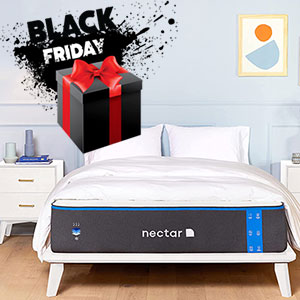 Many homeowners are ready to spend hundreds of dollars on a bed, but few of us can invest the same sum in a mattress with a light heart. Even though we realize the importance of a good mattress for the quality of sleep, greed often wins.
In this review, we'd like to speak about an excellent opportunity to kill two birds with one stone – get a nice orthopedic mattress suitable for you and save money.
The opportunity is called Nectar Black Friday deals.
When Is Black Friday 2021?
The year 2021 stays as profitable for online sales as the last year. And Black Friday is justly considered one of the greatest online sales events that benefit both customers and sellers.
This autumn, the famous Thanksgiving discounts are planned for the 26th of November, while the craziest offs may appear during the weekend. So, we still have a couple of months to make the wish list and choose the best deals. But today, we'd like to focus on Nectar Black Friday deals for everybody who cares about the quality of his sleep.
In the course of the review, we're going to highlight Nectar's top mattresses and expected discounts briefly.
About Nectar Black Friday

Without a doubt, Nectar is one of America's most favorite mattress brands. The company began with a bed-in-a-box concept, and, at the moment, its products are sold all over the world and are widely known on the international market. Nectar belongs to the Resident corporation family together with such mattress brands as Awara and DreamCloud.
Nectar gained such popularity thanks to an excellent combination of price and quality. While modern mattresses usually cost about $700, the Nectar price range starts from $499, with an average model cost being about $600.
The Best Nectar Models and Discounts
So, if you're looking for something budget, pay your attention to the Nectar Mattress, which is also called the Nectar Memory Foam Mattress.
This model is a best-seller that meets basic needs for comfortable sleep without ruining your budget. Here, we deal with a springless mattress composed of several foam layers with memory function. While the price starts from $500, we can count on a $50-$70 off this Black Friday.
Nectar Premier has become the second brand generation. This time, customers get a cooling cover as well as the so-called Smart Layer with ActiveCool HD. Thus, the mattress automatically adjusts to your body temperature. Cooling layers are placed upon a support layer and a rigid, stable base both for pressure point relief and back support.
This model will suit heavy sleepers and those who are ready to invest in cooling. During Nectar Black Friday, you can purchase the Premier with a 30% discount, while its everyday cost reaches $1200 (for the largest modifications).
Premier Cooper crowns the Nectar top three mattress series. This is the most innovative line based on the Premier technologies with important additions. Copper introduces the latest cover fabric technology with heat-conductive copper fibers. This means even more intelligent cooling as well as hypoallergenic and environmentally friendly treatment. We also notice Smart Layer with ActiveCool HD, support, and base layers. But this time, support foam becomes higher, which leads to a more significant therapeutic effect.
Besides, Premier Copper features better motion isolation. That's why we recommend this model to family use, heavy and anxious sleepers. Black Friday 2021 is a perfect opportunity to save up to $300 on this model. So, look for 30% off offers.
important
Let us also briefly mention that, in our opinion, Nectar Black Friday deals suit most customers since the brand produces all six standard mattress sizes from Twin to California King and make its models medium firm. All products pass CertiPUR – US certification and come with a 365-night trial period and forever warranty.
Right now, $100 offs are available on Nectar mattresses. Last Black Friday, we witnessed drops up to 30%-35%. So, as we can conclude from this experience and existing primary offers, Nectar Black Friday 2021 promises to be equally beneficial for customers.
How to Find the Best Black Friday Mattress Deals 2021?
And if you'd like to know the first about this discounts, we suggest taking a couple of simple steps;

1) Follow all our updates and new reviews. Our team weekly monitors the best brands' and retailers' offers and sorts them out for you.
2) Subscribe to brands' official websites, Target, Amazon, Macy's. These platforms post all deals and inform their followers first.
3) Amazon launched the Amazon Prime program, members of which receive limited and exclusive offers.
Good sleep is impossible without a good mattress. In our Nectar Black Friday review, we considered all brand models and top deals. Let's hope that the manufacturer is going to delight us even more with new discounts to be launched closer to November.