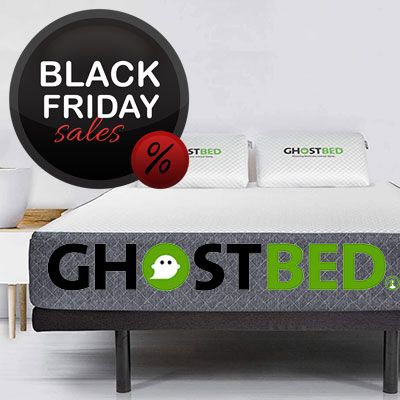 Welcome to the latest review on the GhostBed mattresses you can get this Black Friday. Our team prepared the list of the GhostBed best-sellers and expected discounts during this sales season.
Stay with us if you want to find a pleasant and comfortable mattress for an optimal price.
When Is Black Friday 2021?
Black Friday is an annual sales season that occurs in autumn, about the month before Christmas. As you can guess by the name, sales start on Friday but keep going during the whole weekend.
This year, GhostBed Black Friday sales will become available on the 26th of November. This is the official date of the start of Black Friday 2021 sales.
About GhostBed Company
During the last 20 years, GhostBed has become a familiar name for many Americans and foreign customers.
A company that was established over 100 years ago as the ladder corporation got involved in the manufacturing of mattresses in 2001. Since that time, we have witnessed the development of quite a successful brand that combines affordability and modern technologies.
Besides, many find it important that all brand's products are manufactured in the USA.
So, what can GhostBed offer us this autumn? In fact, manufacturers developed two major mattress collections – Classic and Luxe. Let's take a closer look at each.
Classic


GhostBed Classic mattresses offer the basic set of characteristics. The lineup includes four layers:
high-quality cooling gel foam and cover;
memory foam;
aerated latex foam;
support foam.
The mattress ensures great spinal support and weight spreading. Rigid support foam layer maintains mattress shape, while memory foams repeat your body curves. Such a combination sets up anatomically correct body position during the night, which means a basic therapeutic effect.
GhostBed Classic supports not only the body but also the temperature. This is the merit of the cooling cover.
Here, we deal with medium-firm products. While some customers with sophisticated preferences may be disappointed, the majority will find it an optimal model as such firmness suits everyone.
Finally, all GhostBed mattresses pass CertiPur-US certification. So, you can be sure your mattress is safe, hypoallergenic, and eco-friendly.
The Classic doesn't differentiate within the series. We face the same construction but in 6 standard sizes from Twin to California King. That's the only difference between the mattresses within the branch. All models are 11-inch high.
Consequently, depending on the size, this mattress will cost you from $450 to $895. We found it more than a nice price for a mattress of such quality.
"So, what's about Black Friday 2021 discounts?" – will ask you. Last year, the company cut prices by 30%. We've already found several deals with 25% off this September. All this information allows us to suggest similar discounts during this GhostBed Black Friday Mattress sales. Thus, Twin model customers will be able to save about $100-$150, while California King product may lose over $250.
Luxe


The Luxe collection uses the same materials. Once again, we deal with CertiPUR-US certification, US manufacturing, and same four layers:

cooling gel foam and cover;
gel memory foam;
non-allergic aerated latex foam;
high-density support foam.
However, the Luxe mattresses have become a step-up for GhostBed thanks to patent-pending Ghost Ice technology. This includes a new fabric layer with unique fibers and Ice foam that adjusts material temperature to your body temperature for the most comfortable sleep without overheating or freezing.
Support base relieves pressure points as well as stops motions. Thus, you will not disturb your partner. Finally, Luxe mattresses became thicker (13 inches), which feels more pleasant for sleepers.
So, better cooling technology and motion retention are the main distinguishing features of Classic and Luxe. The Luxe series itself includes six mattress options that differ in sizes only. But this time you'll have to pay more. Luxe's price range starts from $999 and reaches $1863 for California King quality.
Luckily, we have Black Friday Mattress discounts coming soon. So you can buy a Luxe model for the price of a Classic Ghost. Discounts are expected to stay unchanged compared to last year. Customers may save from $200 to $400. We also recommend looking for 30% offs.
Plus, Black Friday 2020 deals included not only price reductions but also nice gifts like GhostBed free pillows in the kit. If you find such an offer during Black Friday Mattress 2021 sales, grab it!
How to Find the Best GhostBed Black Friday Mattress Deals 2021?
If you'd like to see even more GhostBed Black Friday deals, subscribe to us. We make regular updates and constantly look for fresh offers.
Active users are recommended to log in on the manufacturer's official website and major retailing platforms. Amazon, Target, eBay, and others make exclusive offers and info mailing for their members.
GhostBed often launches sales coupons, so this is one more nice opportunity to save this November.
As you see, GhostBed company has a limited but high-quality and affordable set of mattresses. Besides, considerable Black Friday discounts speak in favor of this brand.