Lull vs. Purple Mattress: Face to Face Comparison

Today, I will be reviewing Lull vs. Purple – two of the most popular online mattresses to date. This article will focus on the biggest reasons you should buy any of these mattresses. Likewise, I will discuss how these two beds contrast.
If you are in a hurry, you may check the box below to see what each product has in store for you.
The Lull Mattress is a ten-inch thick bed topped with gel-infused memory foam to promote proper spinal alignment and adequate support without the prototypical memory feel. If your budget is under $1000, this mattress is the way to go.
The Purple Mattress relieves pressure from your shoulders and hips, while it makes the rest of your body feel like it is floating on air. Using a proprietary material called Hyper-Elastic Polymer™, this bed manages to be soft and firm simultaneously – it feels like magic! The truth is, everything about this magical mattress is a result of rigorous scientific research.
Lull vs. Purple: Main Differences
Price
The biggest advantage of Lull vs. Purple is the fact that it is more affordable. Looking at their queen size mattresses, you will notice a price difference of about $150. Purple seldom runs a promotion.
Accommodating Feel
Lull provides a more familiar feel to sleepers since it is a blend of foams. You can tell right off the bat that it has memory foam without the overwhelming sinking feeling.
As for Purple, it offers a new and somewhat bizarre feeling of comfort due to the properties of the Hyper-Elastic Polymer™. Some consumers describe this proprietary material as a blown-up version of a Dr. Scholl's insole – squishy, stretch, and ultra-responsive.
Cooling Effects
Ventilation is the key to sleeping cool. With that in mind, Purple crafted their queen-sized bed with a grid topper to allow copious amounts of airflow.
Lull, on the other hand, uses a gel-infused memory foam that releases trapped heat better than standard memory foam. However, this might not be enough to neutralize the combined body heat of sleeping couples.
Foam Density
Lull is .5-inch thicker than Pull. However, thickness alone is not a criterion that determines the density of the bed. To give you an idea of how dense these two beds are, Lull weighs approximately 77 pounds when fully assembled, while Pull weighs about 100 pounds or so.
Manufacturing
Lull mattresses are made in various factories throughout China and America. The foams are CertiPur-US certified, and so each product has met all the rigorous standards. But if you prefer to shop exclusively for American-made products, choose Purple.
Comparison Table
Model

Layers

Firmness

Materials

Therapeutic Support

Cooling & Breathability

Trial Period

Warranty

CertiPUR-US Certified

Check
Price

Lull Firm Mattress

3 Layers of Premium Memory Foam

Firm

Premium Memory Foam

100 NIGHT TRIAL

10-Year

Check Price

Purple Original Mattress

3 layers

Firm

Polymer, polyethylene foam, Polyester

equalized pressure and proper spine alignment support

The Free Air Flow technology with breathable channels 

100 NIGHT TRIAL

10-Year

N/A

Check Price
If you are looking for a Queen-sized bed under 1000 bucks, you should consider the Lull bed. The majority of people who bought this bed acknowledge that it is indeed a comfortable one, as it uses a 1.5-inch thick gel-infused memory foam.
This bed is a fantastic choice for stomach sleepers and back sleepers. The memory foam lets your shoulders and hips sink in a bit to promote proper spinal alignment, but you will not feel the overwhelming feeling of getting stuck.
And unlike traditional memory foam beds, it does not trap heat. This bed also absorbs and isolates motion quite well.
If there is one thing I don't like about the Lull mattress, it is the cover. While I love that it is soft to the touch, it would bunch up here and there since it is a bit loose. Also, the cover is not removable for washing. You can only perform spot-cleaning using cold water and mild laundry soap.
Pros
A more affordable option (compared to Purple)
Great for stomach sleepers and back sleepers
Isolates motion and absorbs noise
Close-conforming but does not allow you to sink deeply, unlike traditional memory foam beds
Cons
Does not feature edge support
Not recommended for heavyweight sleepers
Not the best option for those who tend to sleep hot
If you are on the hunt for an innovative mattress, there is a high chance that you will love the original Purple bed. The most outstanding feature of the Purple bed – and probably the only reason consumers are willing to pay extra – is the Hyper-Elastic Polymer™. This sturdy, squishy, and bouncy material comes in a grid format that spans the entire surface of the bed.
If you rotate between multiple positions at night, you will be surprised by how you could freely move around on it because the Purple grid is so responsive. Going from your side or back to your stomach should be effortless, as well. As such, this bed can cater to various types of sleepers. The nature of this bed also means it is a fabulous choice for feisty couples.
When it comes to temperature regulation, I doubt that you will find a bed better than Purple. The bed does not necessarily feel cool to the touch, but the unique grid topper with its 1800 channels performs an exemplary job of promoting airflow.
However, the lack of surface area makes some people stand on the fence about this bed. Nevertheless, this mattress comes with a three-month trial and free returns within that period. And if you wish to keep the mattress, which I bet you will, you will enjoy a 10-year warranty.
Pros
Excels in breathability and airflow
Build-quality of the entire bed is on point
Rotating positions is a cinch, making it viable for all types of sleepers
Only the columns that will receive direct pressure collapses, while the others stay upright
A lot more responsive than Lull, which makes it ideal for couples
Cons
The edges lack reinforcement
Not recommended for heavyweight sleepers
A more expensive option
Lull vs. Purple: Face to Face Comparison
Design and Construction
To get the ball rolling, let us take a closer look at each mattress's overall construction.
The Lull mattress consists of three layers of foam, totaling to 10 inches thick:
Top – Lull topped this bed with a 1.5-inch thick memory foam infused with gel polymer.
Middle – The bed's transitional layer is a 1.5-inch thick proprietary foam, aiming to promote optimal spinal alignment.
Bottom – Its core support layer uses 7-inch thick polyurethane foam to provide you magically swift and balmy sleep for years to come.
Cover – Fashioned with polyester and rayon, it is a durable and comfortable cover, but it can bunch up because it feels loose.
The original Purple mattress is 9.5 inches thick, but it has unique and more exciting layers than its competitor.
Top – Instead of a monolithic slab of memory foam, it features a 2-inch thick Purple Hyper-Elastic Polymer™ laid out in a grid. As expected of a proprietary material, Purple will not disclose how they make this product, but its name denotes that it is made of polymers with exceptionally high elasticity.
Middle – A 3.5-inch thick polyurethane foam follows the Purple grid. The responsiveness and bounce integrated into this layer are meant to complement the Purple grid's performance.
Bottom – Stabilizing the bed is a 4-inch thick high-density polyurethane foam with a non-skid bottom made of 100% polyester StitchBond and non-FR coating.
Cover – Purple envelops their mattress in a luxuriously soft cover made of 29% viscose, 67% polyester, and 4% lycra. The manufacturer purposely designed the bed sheet to be stretchable and breathable to allow the optimal performance of the Purple Hyper-Elastic Polymer™.
While both mattresses boast artisanship and high-grade materials, Purple's innovative construction takes the win in the first round of my review. Then again, I do not guarantee that everyone will love the unique feel of this bed.
Give the Purple some time. Once you get to spend a few nights on the bed, I am pretty sure you will never look at other mattresses the same way ever again.
Orthopedic Benefits


Lull takes off pressure from your elbows, shoulders, and hips by distributing body weight evenly. Whether you sleep on your side, front, or back, the mattress will conform to your body to relieve your muscles of stress.
Most importantly, the combination of the gel-infused memory foam and the comfort layer promotes proper spinal alignment as you sleep without that "stuck-in-the-mud" feeling that traditional foams provide. Neither your neck or back will feel sore due to insufficient stability.
Now, let us talk about how Purple compares to Lull.
According to Purple founder Terry Pearce, the Purple Hyper-Elastic Polymer® works on a principle called "column buckling." The columns span the entire surface of the mattress and collapse dynamically when supporting the shoulders, hips, and other heavier areas of your body. The rest of the columns that have not received direct pressure will remain stable and supportive.
You can also achieve slight body contouring and pressure relief from mattresses that use memory foam, such as Lull. However, memory foam does not react immediately to your every move, which can get uncomfortable if you frequently change sleeping positions.
Temperature Regulation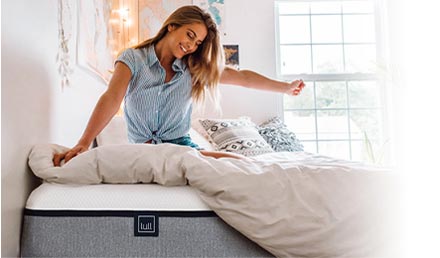 If this isn't your first encounter with memory foam, you are probably aware by now that it tends to retain heat in the long run. Thankfully, the creators of Lull countered this problem by infusing their memory foam with gel polymer. As a result, it does not retain heat the way typical memory foams do.
On the other hand, Purple has designed their Hyper-Elastic Polymer® to cool you down as you lie, as it neutralizes body temperature regardless of the weather conditions. With nearly 2000 air channels, it allows ample airflow through the layers. Even the bed sheet helps wick away sweat and heat.
With everything considered, I have to give Purple the edge in terms of temperature regulation. If you wish to sleep extra cool at night, you should consider getting the Purple mattress.
Firmness
Before anything else, I am writing this review from the perspective of an average sleeper who weighs between 150 to 200 pounds. Petite sleepers who weigh less than 150 pounds place minimal pressure on a mattress. Consequently, they would always assume that most beds are on the firmer side since they do not sink in as much.
Both the Lull and Purple mattresses are medium-firm options – the most common firmness level among consumers, especially those who are uncertain about the most appropriate setting for them. But if you want to wake up as though you have been floating on air, you should choose the Purple mattress vs. Lull.
Responsiveness & Motion Isolation

In terms of motion isolation, both Lull and Purple excel in this category, making them two of the best mattresses for couples or pet parents who prefer to sleep with their furred, slobbering kid. Likewise, the lack of squeaks and creaks ensure you get a good night's sleep, lest rolling over or changing sleeping positions will disturb your partner… or pooch.
But if you also desire a responsive bed, I have to recommend Purple. The Hyper-Elastic Polymer™ allows reasonably good freedom of movement. As mentioned earlier, the Purple grid columns snap back to its position immediately after pressure is released. Meanwhile, memory foam takes a while to revert to its original state.
Weight & Types of Sleepers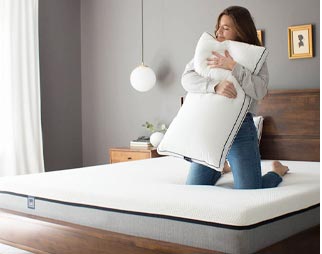 The Lull mattress offers exceptional support and stability for back sleepers. If you like to sleep sideways, you will find it comforting as if being cradled to sleep. You may sink a little to promote proper spinal alignment, but you would not feel like you got stuck in the mud that many memory foam beds do. The Lull bed is also viable for stomach sleepers who weigh no more than 130 pounds.
On the other hand, the Purple mattress is a fantastic match for all types of sleepers. Whether you sleep on your side, stomach, back, or a combination of any of the three, you will find the necessary support you need and comfort you crave. The unique construction of the Purple bed makes it most appropriate for sleepers weighing under 200 pounds.
If you weigh 250 pounds or more, you will have a more immersive experience with either the Lull's gel-infused memory foam or the Purple Hyper-Elastic Polymer™. Your weight will likewise affect the level of support and temperature regulation of the mattress. As such, it is wise if you opt for a coiled mattress instead.
Warranty and Trial Period
Lull shows up in a huge box, while Purple arrives in a cylindrical bag. Once the beds reach your doorstep, you have 100 nights to test each of them out. If you decide to keep either mattress, you will receive a 10-year warranty.
Frequently Asked Questions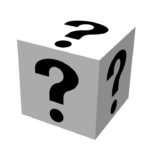 Can you flip a Purple mattress?
Purple mattresses are one-sided. You cannot turn the bed upside down.
What is the white powder on Purple mattress?
The manufacturer coats every Purple mattress with a non-toxic white powder called polyethylene copolymer, which you will also find in cosmetic products and plastic containers. The powder will keep the bed from sticking to itself when compressed for shipping.
What is the best mattress for side sleepers: Purple or Lull?
Both brands are fabulous options for side sleepers, but the Lull is a better option for those gravitated to sleep in a fetal position. The memory foam layer will envelop you in a hug, while at the same time, it relieves you of pressure or pain.
4What is the highest-rated mattress: Purple or Lull?
J.D. Power, an American-based data analytics and consumer intelligence company, has awarded Purple as the #1 bed in a box as it showcases unsurpassable support, durability, comfort, and value.
How long does the Lull mattress last?
You can rest easy for at least ten years. Lull also backs their products with a 10-year warranty.
Conclusion
The Lull mattress and Purple mattress feature a three-layer build. Both beds also isolate motion with enough precision to avoid disturbing even the lightest of sleepers. If you need to wake up earlier than your partner, you will not have to worry that you might wake the other up.
But because these beds use different materials in their construction, they vary significantly in the overall user experience. Personally, I would choose Purple over Lull in a heartbeat for its orthopedic benefits. If you are tired of all the traditional types of beds – pillow top, innerspring, memory foam, polyfoam, etc. – I recommend you get the Purple mattress, especially if you are suffering back pain, arthritis, or dysplasia.
The Purple bed appeals to side, back, stomach, and combination sleepers. But just like Almond Joy, not everyone will love sleeping on an oversized Dr. Scholl's insole. It all boils down to your feel preference, and of course, your budget!