Posturepedic vs Tempurpedic vs Serta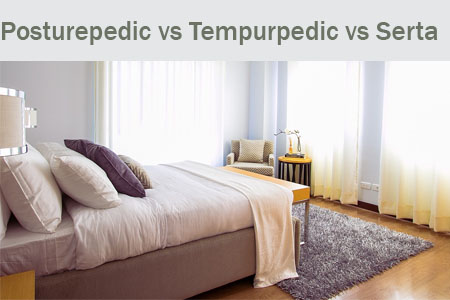 Has your doctor told you that a good night's sleep is just as vital as water and a healthy diet? Given that we spend a third of our lives sleeping, it is worth investing the time and money to find the best mattress. A good bed should give you comfort and cushion to sleep happily, and it should allow your body to repair.
In this article, I will be comparing Posturepedic vs. Tempurpedic mattresses so that you can decide which one is worth the investment.
Tempurpedic is a household name in the mattress industry. The company is best known for its proprietary Tempur® material, commonly known as memory foam. Tempurpedic had their body-contouring memory foam beds that skyrocketed to fame, but that was it.
Posturepedic, on the other hand, is a patented spring system developed and used by Sealy.
Tempurpedic is still notable for their memory foam beds, while Sealy is branching out into hybrid mattresses and integrated gel foam to their spring beds. Sealy has also used the term "Posturepedic" to refer to the name of its latest product line.
[toc]
Quick Summary
The Posturepedic Plus Euro Pillow Top is an excellent choice if you have back problems and aching joints due to arthritis. This mattress offers unique support characteristics for the entire body, but don't expect it to feel ultimately plush.

While it has memory foam, it doesn't let you sink in. Some folks equate the level of firmness as an uncomfortable mattress, but it all boils down to your preferences.

If you are looking for a plush feel, you will love the Posturepedic Hybrid Performance. Since there is a lot of memory foam to this bed, it will hug your body a lot. However, the coils are bigger (compared to Posturepedic Plus), giving you a little buoyancy.

The coils are also 20% more concentrated in the middle of the bed to benefit better core support in the lumbar region. Back and stomach sleepers will rejoice in this bed.

While the Tempurpedic Cloud Prima sinks you into a cloud, so it may be harder for you to move sideways during your sleep.

But if you will settle into a single sleeping position, you can enjoy all the comfort and orthopedic benefits it offers to feel rejuvenated for the next day.

The Perfect Sleeper is a fantastic mid-range product by Serta, and it is priced at an affordable level.

This bed is designed to reduce motion transfer and eliminates excess heat. The only caveat to this product is that it doesn't last as long as the Posturepedic and Tempurpedic beds.
Main Differences
Coil System

Comparing Posturepedic vs. Tempurpedic is a no-brainer. Sealy Posturepedic beds are gaining ground in this category, which should come as no surprise given they are perfecting spring beds for over a century.

The Posturepedic Hybrid Performance features Response Pro™ HD Zoned Coil System, while the Posturepedic Plus Euro Pillow Top features 1072 Response Pro™ HD Encased Coil System. The latter has a sturdier and thicker coil system, which makes it a firm mattress.

The Serta Perfect Sleeper also uses a coil system, but it is inferior compared to the Posturepedic hybrid mattresses.

Setup

The Posturepedic and Serta beds will arrive in massive boxes. Given the weight and size, you may need a strong friend to help you carry the bed upstairs. What I love about these beds is that you can use them right off the bat because they do not emit offensive smells. Likewise, these beds will articulate on any adjustable bed frame.

The Tempurpedic Cloud Mattress, on the other hand, arrives in a bag contorted and airtight. Regardless, you may still need someone to help you. Unpacking this bed is still a two-man-job. You also have to let the bed air out for two to three days before using it without the memory foam smell.
Comparison Table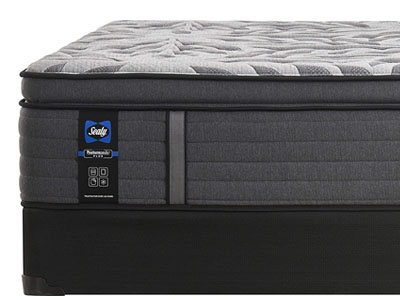 Three layers of memory foam go across the whole mattress. These are the .5-inch Sealy Cool, 5.-inch Sealy Cool Gel Memory Foam, and 1.5-inch Sealy Support Gel Foam. Despite having multiple memory foams, there is no melting memory feel that some sleepers prefer. The bed stays firm as it provides adequate pressure relief.
The mattress is enclosed with a breathable knit cover with Chill™ & AllergenProtect™. Essentially, the cover is made of a high-density yarn material that gives it a little bit of coolness to the touch. The cover is moisture-wicking, as well.
This particular Posturepedic bed by Sealy uses a different coil unit, making it a few steps ahead of others. Instead of the 911 Support Encased Coil System, it uses the 1072 Response Pro™ HD Encased Coil System, which is sturdier and slightly thicker to give you better support. Each coil has its seal so that it moves independently to help reduce motion transfer between sleeping partners.
The next thing this product highlights is the DuraFlex™ Pro Coil Edge System to give you a better seating edge each time you get out of bed. Having firmer coils running around the perimeter also gives you more sleeping space.
Overall, I am impressed with the quality of the Posturepedic Plus Euro Top Mattress. There are two handles for each side, so that it is easy for you to carry the bed and make adjustments. Most importantly, the construction is superior, as are the materials.
Advantages
Cozy moisture-wicking cover with Chill™ & AllergenProtect™
Triple-layer memory foam provides whole body pressure-relieving comfort
DuraFlex™ Pro Coil Edge System provides consistent edge-to-edge support
1072 Response Pro™ HD Encased Coil System allows independent movement of the coils and more support (compared to other Posturepedic beds)
Limits motion energy transfer
Compatible with lifestyle bed frames
CertiPUR-US (no off-gassing)
Has a total of eight handles for easy carrying
Disadvantages
Some sleepers may find it too firm
Heavy and expensive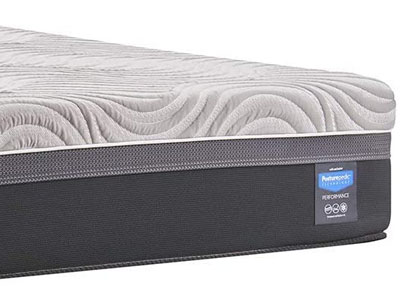 The Sealy Hybrid Performance line has three different levels: Essentials, Performance, and Premium. In this review, we will be focusing on the best-selling Kelburn II.
Let's kick things off with the cozy UltraStretch Mid-Loft Cover. One of the significant things that Sealy promotes about this cover is that it has Chill™ technology built into it. You can put your hand on the quilt and feel it immediately working. This feature is designed to provide a cool-to-the-touch sleeping surface to feel more relaxed as you drift off to sleep.
The quilt also has Moisture Wicking Technology to help keep the mattress clean for a long time. Likewise, you will not have to worry about pet dander and dust mites penetrating the bed because the quilt has AllergenProtect™ technology.
What makes this bed unique is that it features the new and improved 1.5-inch Sealy Immersion Advanced Cooling Memory Foam that uses the same Chill™ technology I mentioned for the cover. Only this time, the said tech is integrated into the memory foam. As a result, you get a double layer of cooling properties. Besides keeping you fresh, it contours well to your body to promote blood circulation and provide pressure relief and deep REM sleep.
This bed is likewise ideal for couples or pet owners who allow their pets to sleep beside them. If the movement occurs on the other side, you will feel less motion energy transfer because the memory foam dampens that.
Next is the 2-inch Sealy Comfort Sense Foam, which offers the same benefits as the Immersion Advanced Cooling Memory Foam. The only difference is that it is blended in gel and lacks Chill™ technology. Directly below the memory foams, you will find a 1-inch Sealy Cushion Extra Soft Foam, a high-grade CertiPur-US certified polyurethane foam.
Lastly, we have the back support system known as the Response Pro™ HD Zoned Coil System. There are more coils in the middle of the mattress to give you extra support in the lower back area. The encased coils are not connected with a helix wire so that each one works independently to contour the curves of your body where you need it the most. As a result, you get a gentle yet reliable overall support.
This bed also features the DuraFlex™ Pro Coil Edge System. Having a double row of extra thick coils keeps the perimeter of the mattress nice and consistent. You don't have to feel like you are going to fight over the center or roll off the side as you sleep to the edge.
Overall, the mattress is durable, and it will retain its showroom look for an extended period.
Advantages
UltraStretch Mid-Loft Cover with Moisture-Wicking Technology
Chill™ & AllergenProtect™ is imbued in the cover
1.5-inch Sealy Immersion Advanced Cooling Memory Foam with Chill™ technology
Limits motion energy transfer
Compatible with lifestyle bed frames
CertiPUR-US (no off-gassing)
DuraFlex™ Pro Coil Edge System provides consistent edge-to-edge support
Triple-layer memory foam provides whole body pressure-relieving comfort
20% more coils in the center to provide extra support in the lumbar region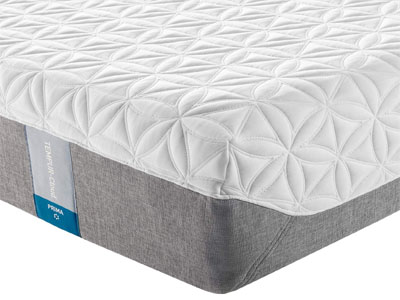 Tempurpedic has focused on building five different mattress choices with varying add-ons and firmness options, including the Tempur-Cloud. The Tempur-Cloud Prima Mattress, which I will review today, is among the newest and most affordable mattresses sold by Tempurpedic.
The first layer is the comfort foam, which is the softest part of the bed. But since this layer is so dense, it will take a while for your body to sink in, and it is likewise slow to recover. Nevertheless, you can guarantee that there will be a lot of contouring and pressure-relief in this area.
The middle layer is the typical transition layer, which will provide a little bit more resilience. This foam helps the top part of the mattress to recover a little faster. Then we have the base layer, which is going to provide firm support. All these layers are enclosed with a 360 knit cover, which is a lot thicker than most of the other cheaper brands.
The Cloud Prima has features that share in common with other Tempurpedic mattresses. But what separates this mattress from other models is that it has a layer of Tempur-ES material, which is a softer type of Tempur foam. This unique foam contours to your lower back and provides pressure relief like no other.
Another nice feature of this mattress is the fact that it has Tempur Support Core, which is a convoluted top that aims to increase body contouring, maximize support, as well as reduce motion between partners. Since air moves through the mattress, it also helps regulate temperature.
If you are looking for a firm bed that provides ultimate body contouring, the Tempurpedic Cloud Prima is one of the best choices you have available.
Advantages
Arrives in a bag for easier setup
Features high-density memory foams
Made with Tempur-ES material for ultimate comfort
Tempur Support Core provides maximum orthopedic benefits and helps regulate temperature
Disadvantages
Emits an awful chemical smell that may last for a week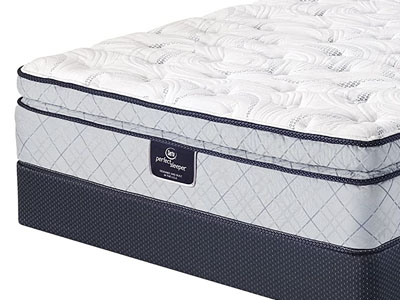 Serta is an award-winning brand that makes a suite of affordably priced mattresses, and among its best offerings is the Perfect Sleeper. This mattress consists of layers of cutting-edge memory foam to compliment a 704 coil system.
The 1-inch quilted pillow top is composed of fluffy fibers to give the sleeping surface extra oomph, followed by the 2 ¾ PillowSoft Aire Foam that cushions and conforms to make the mattress comfortable. The star of the show, however, is the 1.5-inch Cool Twist Gel Memory Foam. This high-density premium memory foam is infused with millions of solid beads of gel that help control body heat for a better sleeping experience.
The innerspring design of the Perfect Sleeper mattresses is similar to the Posturepedic Plus. There are individually wrapped coils that provide independent suspension and decrease motion distribution. Likewise, this bed features Excel Edge. There are more coils at the edge designed to provide edge support.
All in all, the design of the Perfect Sleeper provides a unique sleeping experience to enhance your sleep quality without breaking the bank.
Advantages
Comprised of multiple layers of exceptional foams and a coil system
1.5-inch Cool Twist Gel Memory Foam gives the bed a cooling sensation
Excel Edge provides great edge support
Disadvantages
Some consumers complained of its durability
May eventually sag at the middle, according to consumer reports
Face to Face Comparison
For this Posturepedic vs. Tempurpedic face-off, we are pitting the Sealy's Posturepedic Plus and Hybrid Performance against Tempurpedic's Prima Cloud. I also included Serta's best-selling Perfect Sleeper.
Setup
Unlike the Posturepedic beds, the Tempurpedic Cloud Prima arrives in a bag. You will have to take it out of the packaging.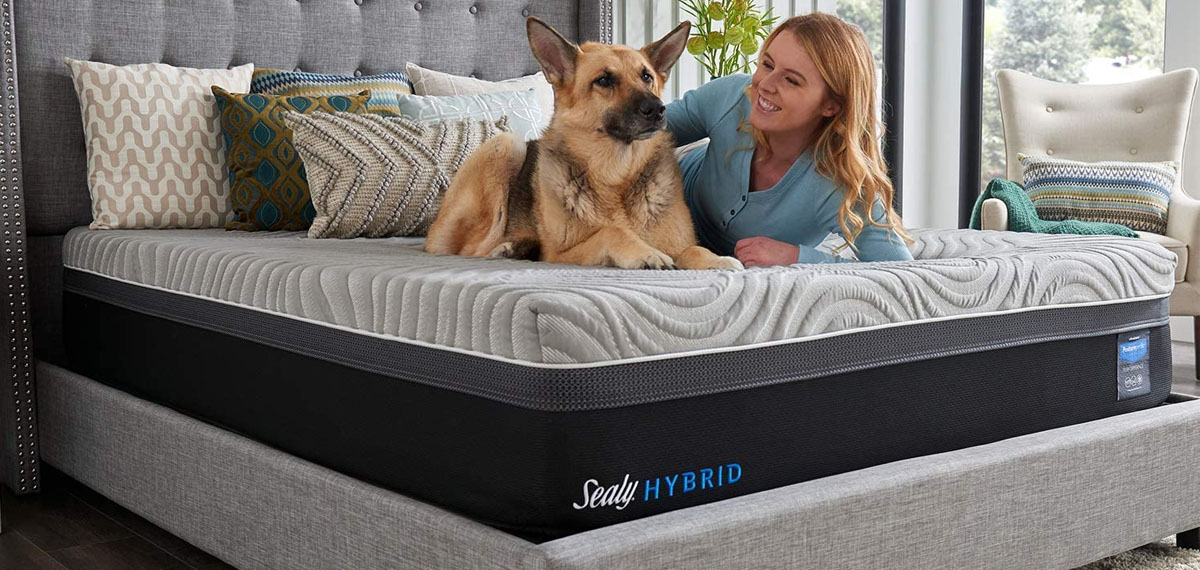 When you cut it open, it will take form quickly within 10 minutes or less. There will be some initial off-gassing, but usually, it will go away in about two to three days.
If you are sensitive, you may want to open your bag in a different room and just let the mattress breathe in.
Construction
The Posturepedic Plus and Posturepedic Hybrid Performance utilize a coil system and a multi-layer of memory foams. As hybrid mattresses under the same company, you can expect them to share many common features in terms of design.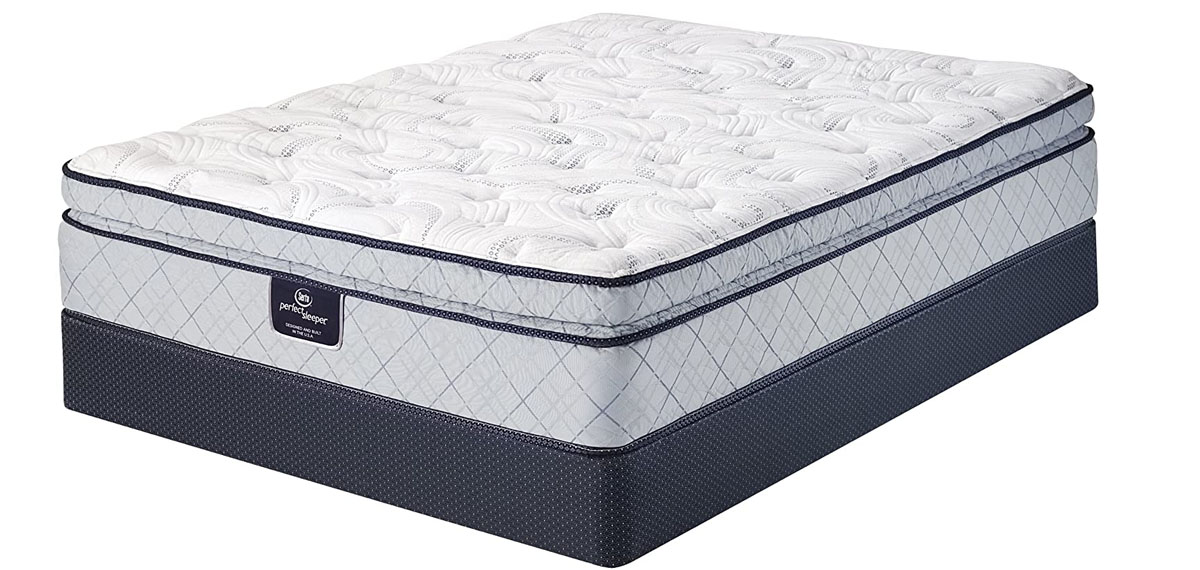 The only difference is that the Hybrid Performance has 20% more coils being reinforced in the center to help absorb more weight from the heaviest parts of the body, such as the hips and thighs.
The Serta Perfect Sleeper is also a hybrid mattress, but its innerspring system has fewer coils.
The Tempurpedic Cloud Prima, on the other hand, is a multi-layer memory foam bed that doesn't have springs or coils.
Cooling Features
The coil support layer in hybrid mattresses, such as the Posturepedic Plus, Hybrid Performance, and Perfect Sleeper, allows airflow throughout the bed. This, in turn, helps cool sleepers by reducing the amount of heat trapped in the bed.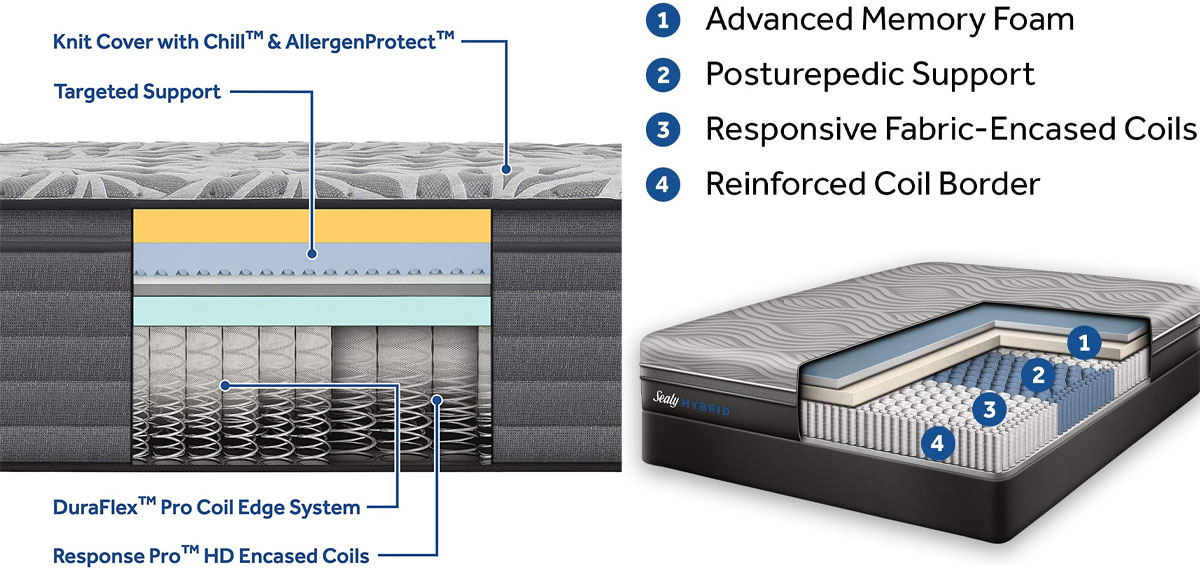 Also, the Posturepedic Plus and Hybrid Performance beds have Chill™ technology imbued into the covers and foams. Serta also uses Cool Twist Gel Memory Foam to one part of the Perfect Sleeper to make the mattress conform and control heat.
Unfortunately, the Tempurpedic Cloud Prima doesn't seem to have any related features. And according to some folks, its thick memory foam layer tends to retain heat, especially with the AC turned off.
Comfort Scale Rating
Stomach sleepers would undoubtedly want a mattress that is a little bit firmer, such as the Sealy Posturepedic Plus Euro Pillow Top. In my opinion, this mattress should earn a comfort scale rating of 5. With its upgraded coil system, it will not create an irregular shape. Therefore, it is suitable for stomach sleepers and back sleepers.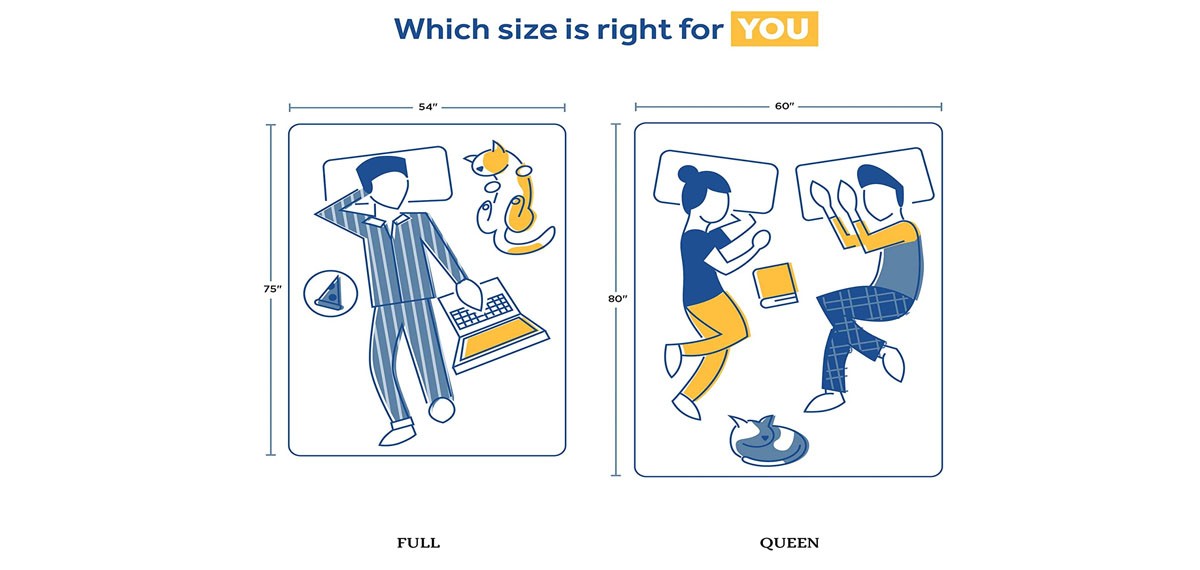 I am giving the Sealy Posturepedic Hybrid Performance (Kelburn II) a comfort scale rating of 6. This bed provides a nice medium-soft feel that is ideal for most body types and sleeping preferences. Whether you sleep at your back or your side, you can enjoy an excellent blend of body-contouring comfort and deep-down support.
As for the Tempurpedic Cloud Prima, I am giving it a comfort scale rating of 6.5. Although the Tempurpedic Cloud Prima is listed as a medium on their website, I think it is softer than what the company says. My upper body sank into the bed and felt comfortable as though a cloud had hugged me. But after some time, the bed felt a little bit stiff. Worse, I struggled from moving to one side. So, keep that in mind if you want a mattress that is soft and a little bouncy.
Lastly, we have the Perfect Sleeper by Serta. I would rate this bed a comfort rating of 5.5. The construction of this hybrid bed is suitable for side sleepers and back sleepers, as well.
Motion Isolation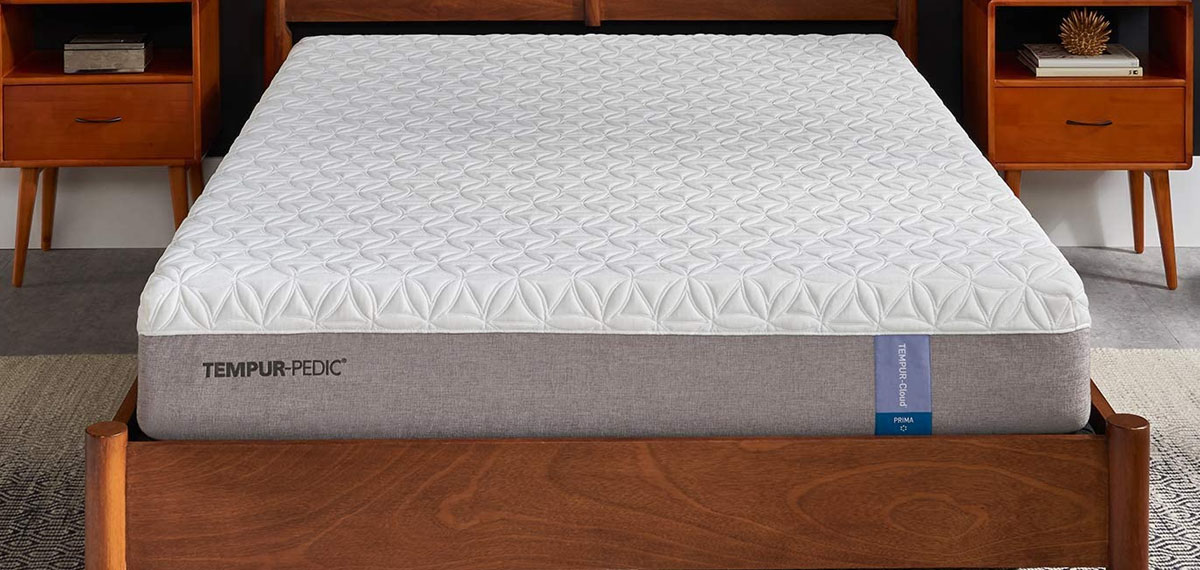 Each model has its method of isolating motion. Posturepedic and Serta use a coil system with varying coil counts, while Tempurpedic relies heavily on its memory foam.
Although all four mattresses perform well in isolating motion, nothing beats memory foam in this regard.
Edge Support
Whether your hogging partner or pet always pushes you to the edge of the bed, it is good to have excellent edge support to utilize every bit of space. Edge support also creates structure and reduces sagging along the edges so that you are less likely to fall off of the bed while asleep.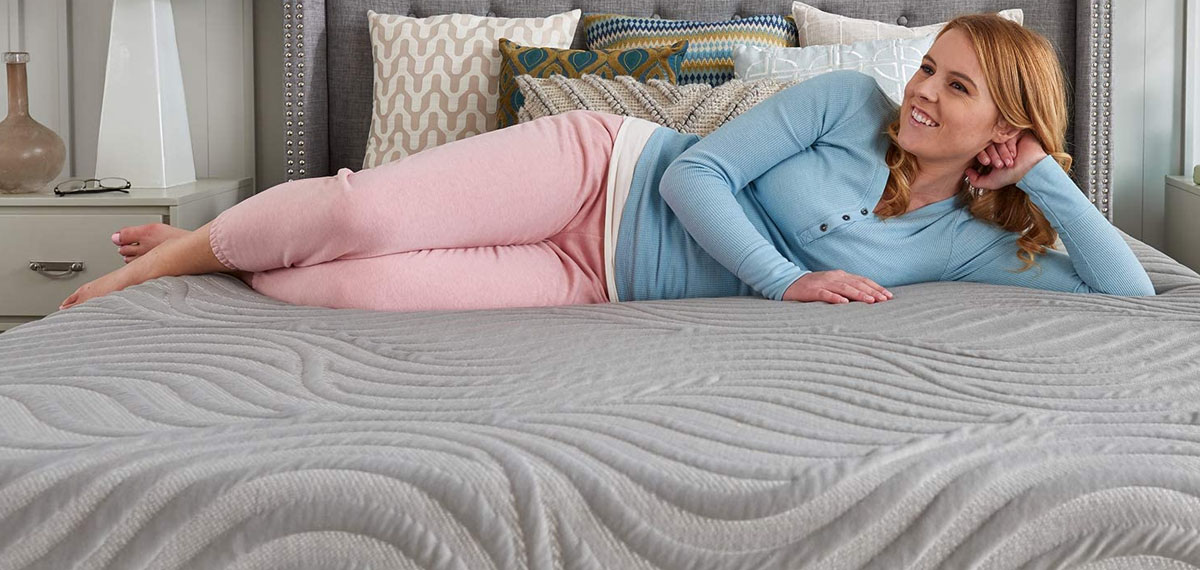 Not many mattresses have this feature. Fortunately, the Posturepedic Plus, Posturepedic Hybrid Performance, and Serta Perfect Sleeper have this feature. While it isn't much of a difference, the edge support on Posturepedic is better than Serta.
Warranty


Sealy Posturepedic, Tempurpedic, and Serta offer a 10-year limited warranty that warranty covers manufacturer defects in the mattress.
Frequently Asked Questions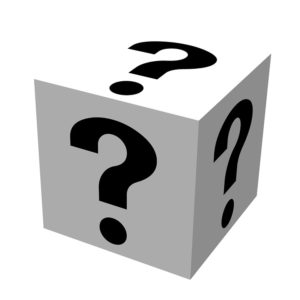 What is Posturepedic? "Posturepedic" used to be an umbrella term for certain features used exclusively by Sealy. Nowadays, Posturepedic refers to a line of products created by Sealy to provide comfort, orthopedic benefits, and long-lasting durability.
Where are Serta mattresses made?
Serta mattresses consist of either a traditional steel coil innerspring with foam or an all-foam support core.
Can I flip my Tempurpedic mattress?
No. The Cloud Prima features a multi-layer foam design – a high-density comfort layer, transitional foam support, and a hard supportive base. Flipping it over would invalidate the features and benefits of each foam.
Is Sealy Posturepedic good for back pain?
Yes. The Sealy Posturepedic line of mattresses facilitates proper spinal posture and contours to the body's natural alignment. It relieves pressure on joints and heavy parts of the body, such as the hips and thighs.
How long does Tempurpedic mattress last?
Tempurpedic mattresses are made with high-quality materials, and as such, it can last for eight years. And according to consumer reviews, it can last up to 15 years with proper care.
Which Serta mattress is best for side sleepers?
If you are a side sleeper or an edge sleeper, you will appreciate the comfort and support provided by the Serta Perfect Sleeper. But if you are willing to spend a little extra, you may want to consider getting a mattress from the iComfort line.
Conclusion
Each bed has its pros and cons. The first one would be the price, which applies to every model. But given the comfort level, orthopedic benefits, and quality of these beds, I think the price is justifiable.
Whether you sleep on your back, stomach, or side, any of these beds is an excellent fit! But if you tend to roll around as you sleep, it may not be wise if you choose the Tempurpedic Cloud Prima. Since the bed is dense, it is a bummer for people who like changing sides. You won't be able to move your body with ease.
While the Serta Perfect Sleeper is an excellent bed, I think this mattress is not up to par with the Posturepedic beds in terms of features. Nevertheless, the deciding factor is your budget and the support you need.